The console wars have spawned a number of arguments over the past decade, with PC fans laughing their heads off as they outperform these consoles with graphical superiority and an exceptional catalog of titles that can be accessed at anytime. With software selling giant Steam pretty much outpacing that of the console lineup in terms of accessibility and diversity, the PC master race can stand atop the podium as the leader of gaming at least for the time being. Now of course we're just poking fun at all of the banter going on about consoles, but truthfully the PC marketplace has really stepped up its game especially in the anime category and have released a mammoth amount of titles for otaku fans to choose from. Let's take a look at some of the more notable ones in our top ten PC anime games list.
10. Ys Origin

System/Platform: PlayStation Vita, PlayStation 4, Steam
Publisher: Nihon Falcom | Marvelous USA | Typhoon Games
Developer: Nihon Falcom
Release Date: December 21, 2006
Ys Origin is a classic RPG title that saw much of its success on the PC, but then eventually got ported to consoles so that fans of the series could relive the glory in higher quality. Ys Origin is a prequel to the seven other titles released under the name, and takes place 700 years before the events of Ys I. It also goes into explaining some backstory such as the Darm Tower and Black Pearl to name a couple. You get to choose from three characters, and as you complete the game with them different segments of the overall story are revealed.
While Ys isn't widely known when compared to other RPG hits, Ys still has its own cult following and still remains an underrated title that we recommend people to check out. With so much diversity in the game's story, allowing you to experience several parts from different perspectives, it's certainly a title that will chew up a lot of your time but in the most rewarding way possible. It's cute, quirky, and serves its purpose as a title that has a solid narrative along with gameplay that's simple yet pleasing for anyone.
---
9. Nitroplus Blasterz: Heroines Infinite Duel

System/Platform: Arcade, PlayStation 3, PlayStation 4, Steam
Publisher: Nitroplus | Marvelous USA
Developer: Examu
Release Date: April 30, 2015 [JP] | December 8, 2016 [Steam]
Who doesn't love fighting games, let alone anime ones? Nitroplus Blasters: Heroines Infinite Duel takes on the fighting game universe with various characters from the Nitroplus visual novel library as well as anime and manga counterparts, and places them against each other in a battle for the top spot. It's the sequel to the doujin original Nitro+ Royale: Heroines Duel and features a lot more perks than its ancestor to provide fighting game fans with more options.
It's pretty much an all out brawl in this one as you come up with clever ways to deplete your opponent's lifebar with long heavy hitting combos, or trapping your opponent in the corner with light and heavy mixups to break their guard. It's what you'd expect from any 2D anime fighter, as you air dash your way around your opponent to avoid damage, while using smart setups to tack on damage as the round progresses. If you're a die hard fan of Nitroplus and their titles, then Nitroplus Blasterz: Heroines Infinite Duel is the one for you.
---
8. Conception II: Children of the Seven Stars

System/Platform: PlayStation Vita, Nintendo 3DS, Steam
Publisher: Atlus
Developer: Spike Chunsoft
Release Date: August 22, 2013 [JP] | August 16, 2016 [Steam]
Altus always comes 100% with their games and Conception II: Children of the Seven Stars is no different, as you control a student with the power of conceiving Star Children to stop demons from causing harm to other students, fighting your way through the Dusk Circles with the help from other allies along your adventure.
Conception II: Children of the Seven Stars is a role playing game so much of the gameplay revolves heavily around turn based battles as you strategically must defeat the enemies that approach you, while protecting your party from dying. Using various skills and items to get the advantage over your foes, you'll be constantly challenged over time and with some pretty looking graphics tied to it, you'll be sure to stay hooked. Despite the game feeling somewhat superficial in areas, it's a game that's catered to fans of the series but also a nice change of pace from other RPG titles out there.
---
7. Yomawari: Night Alone

System/Platform: PlayStation Vita, Steam
Publisher: Nippon Ichi Software
Developer: Nippon Ichi Software
Release Date: October 29, 2015 [JP] | October 26, 2016 [Steam]
Honey's Anime was fortunate enough to grab a hold of Yomawari: Night Alone and review it for all of you fans out there, so be sure to check it out to get a closer look at what the spooky title is all about. Without going into too much detail, Yomawari: Night Alone follows a young girl who walks with her dog one night only for her dog to be involved in an accident. In a panic she runs home to tell her sister who then rushes out to find Poro, but then her sister disappears leaving the young girl alone and she must find out where these two are in the creepy streets.
The gameplay is so satisfying, so spooky that you're never too sure what to expect at times since your attention is never firmly placed on one event. Your eyes scatter the streets to avoid imminent death from these creepy monsters that pop up out of the blue, and one hit kill you without warning. It's a challenging yet rewarding game because you always find yourself backtracking, second guessing yourself, and then eventually dying all over again as you desperately try to search for clues to bring your soul to rest. Words alone can't express how much fun we had with Yomawari: Night Alone, so be sure to hit up the Steam shop to grab a copy or even better take part in our latest Christmas giveaway!
---
6. Akiba's Trip: Undead & Undressed

System/Platform: PlayStation 3, PlayStation 4, PlayStation Vita, Steam
Publisher: Acquire | Marvelous USA
Developer: Acquire
Release Date: November 7, 2013 [JP] | May 26, 2015 [Steam]
Otaku fans rejoice! Akiba's Trip: Undead & Undressed is on Steam for all to salivate over, as you take to the streets of the popular city in Tokyo and battle evil enemies known as synthisters who stalk and possess random passerby, feasting on their social energy. It's now up to you to restore peace back to the otaku city and rid of the corrupt Magaimono Organization that's conspiring to turn it all to ruin.
What's so amazing about Akiba's Trip: Undead & Undressed is not in the fact that you can tear your enemy's clothes off leaving them in nothing but their undergarments, but the fact that it all feels exactly like running through the streets of Akihabara. With over 130 real life shops that are used in the game, it totally brings more realism to the game, especially for those who've actually visited the famous city numerous times and know it like the back of their hand. With the sequel Akiba's Beat dropping in stores as you're reading this, there's more fun in store as the sequel will now play more as an action JRPG!
---
5. Danganronpa 2: Goodbye Despair

System/Platform: Multi Platform
Publisher: Spike Chunsoft | NIS America
Developer: Spike Chunsoft
Release Date: July 26, 2012 [JP] | April 18, 2016 [Steam]
Danganronpa 2: Goodbye Despair takes everything you loved from Trigger Happy Havoc, and gives you an enriching experience that you'll never forget. The story follows a group of students who find themselves trapped on an island by the dastardly Monokuma, and the only way to leave the island is by killing one of your peers and come clean with no traces left behind to indict you.
The visual novel genre always comes with something interesting to look forward to, and with Goodbye Despair you get all the perks along with plenty of surprises to keep you coming back for more. As you read through the story, you'll need to come up with clever decisions to avoid getting caught, while investigating other characters to see if they're behind it all. Having two styles of gameplay to choose from, one being School Life that's split up in two smaller sections, and the other being the Class Trial, you'll have a lot of contemplating to do as you earn hope fragments which can be exchanged for skills to further boost your credibility in Class Trial. Have fun with this one as it's available on Steam right now, and christmas is right around the corner!
---
4. Senran Kagura Shinovi Versus

System/Platform: PlayStation Vita, Steam
Publisher: Marvelous AQL | XSEED Games
Developer: Tamsoft
Release Date: February 28, 2013 [JP] | June 1, 2016 [Steam]
So why not put on Senran Kagura Bon Appetit! you ask? Well one there's a lot more oppai to experience in Shinovi Versus, along with all the bouncy brawling action taking place in glorious 60fps and high definition! But Nualpha, Bon Appetit! has cooking and oppai too, why not just throw it in? While cooking is great and all, nothing beats a fast paced action oriented Senran Kagura title because that's what the series is known for. You still get the undressing as you would in the other title, but there's just so much more fun to be had in Shinovi Versus as you take part in the epic battle between Hanzo National Academy and Hebijo Clandestine Girls' Academy.
Bras go flying, thongs are revealed, and otaku fans all around the world are staring wide eyed at the screen as their favorite characters go wild. There's so much value from Shinovi Versus and despite it being just a beat em' up in many regards, it still retains much of the comedy and ecchi hype you got from the anime. Expect there to many nosebleeds as you're constantly exposed to arousing moments, while laughing your head off from the random antics these young girls pull off.
---
3. Hyperdimension Neptunia Re;birth3 V Generation

System/Platform: PlayStation Vita, Steam
Publisher: Idea Factory International
Developer: Compile Heart | Felistella
Release Date: June 30, 2015 [JP] | October 30, 2015 [PC]
The Hyperdimension Neptunia series has grown to global stardom with its traditional RPG style tied in with action elements to entertain just about anyone. Neptune is on a brand new journey as she learns of a mysterious group called The Seven Sages, who have caused nothing but trouble and casted evil over the Gamindustri. Now it's up to Neptune to restore peace back to the new dimension before the evil spreads too much and cannot be stopped.
Teaming up with your party members in an all out battle for restoration never felt so satisfying as you come together, using attacks and your powerful EXE Drive to put a stop to the growing number of enemies that are trying to impede your progress. As you defend and use clever strategies to take out a horde of enemies, the story plot is truly entertaining which is what the Hyperdimension series is known for, straight humor and poking fun at RPG games.
---
2. Clannad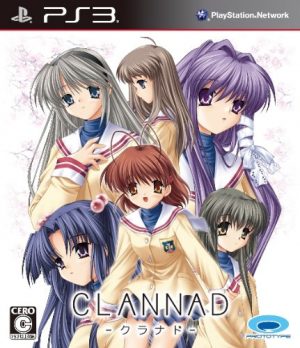 System/Platform: Multi Platform
Publisher: Visual Arts
Developer: Key
Release Date: April 28, 2004 [JP] | November 23, 2015 [WW]
Clannad will almost certainly go down in the history books as one of the best anime of all time, but also one of the best anime games as well. Take what you'd expect from the classic series and throw it into a visual novel experience, and you have a hit right out of the box. Clannad follows much of the story from the anime, focusing on the relationships Tomoya has with other girls around him, while coming to terms with his own inner struggles.
As you play through the game there are some additions that were thrown in to provide players with extra information pertaining to character backstory, but most of the fun comes in just reading your way through the game while becoming emotionally attached to everything taking place between various characters. We actually reviewed Tomoya After: It's a Wonderful Life for those who are interested in seeing the more personal side to Tomoya's life, so be sure to check that out. In the meantime, be sure to dive into the visual novel adventure that's Clannad and have some tissues next to you because it's going to be an emotional ride.
---
1. Shadowverse

System/Platform: Mobile, PC
Publisher: Cygames
Developer: Cygames
Release Date: June 17, 2016
The trading card game genre has really seen a resurgence as of late with major hits like Hearthstone: Heroes of Warcraft making waves, along with the classic Magic the Gathering that will always continue to see growth no matter how old. We can't forget Pokemon TCG as well as Yu-Gi-Oh, but at the moment there's a lot of talk around one TCG PC title and that's Shadowverse.
Taking what you know and love from games we've mentioned and tacking on a more anime feel to not only the character lineup but overall presentation, Shadowverse is the talk of the town and comes with a lot great features that newcomers to the TCG universe will enjoy. Rewarding you with 50 packs straight out of the gates, Shadowverse throws you into a unique fantasy world equipped with its own storyline to keep you engaged for hours on end. With a variety of cool classes to choose from such as Urias and his Bloodcraft, to the more heal driven Eris and her Havencraft, there's a plethora of ways to play the game and outplay your opponent on the rank ladder. While the game has a competitive scene for you to take part in, Shadowverse can be enjoyed casually as well and allows you to come up with creative decks to avoid damage and secure victory.
---
Final Thoughts
We may have forgotten a load of PC anime titles but let us not forget, Steam just has a gargantuan amount of titles to choose from that even the most diehard of anime fans will have a field day trying to sort out their library. With other notable titles such as the popular One Piece franchise, 100% Orange Juice, Steins;Gate, RWBY, Street Fighter, King of Fighters and just a ton more, you can see how daunting of a task it is. We'll let you finish up the work by letting us know what PC anime titles you enjoyed most by leaving your list down below! Maybe someday we may just play these titles for you and provide some great reviews in the near future!
As always, if you want to know about all the latest buzz straight from the bee's nest in Japan, be sure to keep it locked here at Honey's Anime.
---