Sasaki Kojirou (Fate/stay night)
There was a time and a place in Japan, where a unit known as the samurai were born, and made a huge impact to help mold what we now know as present Japan today. From countless TV shows to blockbuster movies, there has been no end to the popularity of samurai related film. Today is no exception as we will be slashing our way into the top 10 samurai in anime.
Whether you enjoy the slice of history that it provides, or the fast paced action scenes, this list is sure to have you excited. Let's begin.
10. Afro from Afro Samurai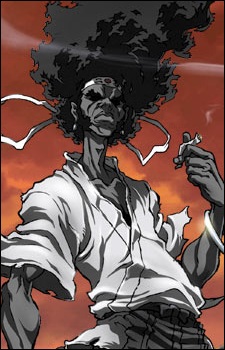 Episodes: 5
Aired: January 4, 2007 – February 1, 2007
Slicing its way into the number ten spot of the list is Afro Samurai. Known for its mixture of hip hop and Japanese historical reference, this anime really made learning about samurai really cool and fun.
Afro decides to devote his life to the sword after his father was killed in a duel by cruel villain "justice". We see Afro embarking on a journey to seek revenge for his fathers death, encountering numerous bloody battles with various other strong samurai. The reason Afro was chosen on our list was because he embodies the awesome persona of a man out to kill, with an urban attitude to back his claim. His words are as powerful as the sword he wields, as he is out to rid of anyone in his way. He just oozes confidence and embodies the true samurai spirit: standing by your morals.
---
9. Musashi Miyamoto (The gun samurai) from Gun-Dou Musashi

Episodes: 26
Aired: April 9, 2006 – October 8, 2006
The name Musashi Miyamoto should ring a bell in your mind if you're very familiar with Japanese history, as he was one of Japan's most revered samurai during the very feudal time in Japan. Throughout his life he had suffered numerous struggles, even at a very young age. While he became known for his exceptionally skilled blade work, most people know Musashi by his famous book called, "The Book of 5 Rings". This philosophical book became an extremely successful piece of work that would ultimately change the mentality of many Japanese even in modern Japan.
Gun-Dou Musashi is the more light hearted but still adventure filled anime, that uses the famous samurais name to give us somewhat of a taste of perhaps what things were like during that period. The main character wields both a sword with electricity, and demon sealing revolvers to put a stop the enemies at hand. Musashi's colorful personality shines as he is a calm, cool, and collected young man with aspirations of becoming stronger in each battle. His quirky behavior at times make the anime a lot more colorful, and add more interesting scenarios among the allies he encounters throughout the show. A wonderful character with whom we all can relate to.
---
8. Naoe Kanetsugu from Gifuu Doudou!!: Kanetsugu to Keiji

Episodes: 12
Aired: July 3, 2013 – December 18, 2013
Coming in at number eight on our top ten is Gifuu Doudou!!: Naoe Kanetsugu was a very well known military general of the infamous Uesugi family. Taking place in the very famous Sengoku era, Naoe is on a quest to attain the throne with the help of his fellow ally, Maeda Keiji, who also during the Sengoku era was a legendary warrior on the battlefield. They both come together to overcome to the extreme oppressive powers that were in control during arguably one of Japan's most dangerous and volatile moments in history.
Despite Naoe playing the role of the aggressive general, you can see a lot of harmony within him as he is playful in nature with characters in the cast. His strong analytical skills paired with his calm demeanor make him such a powerful individual to learn from. It's this well formed balance that gives Naoe a well deserved spot on our list of samurai in anime.
---
7. Hajime from Hakuouki Reimeiroku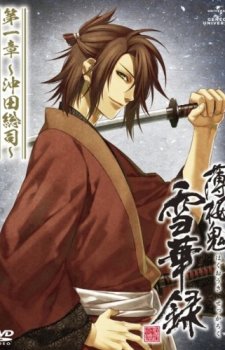 Episodes: 12
Aired: July 9, 2012 – September 24, 2012
Hakuoki Reimeiroku takes our seventh spot in the top ten samurai anime because of its great visuals, and real attention to detail pertaining to the events taking place during the ruling of the Tokugawa Shogunate. Japan's long battles with political strife and corruption have erupted into the streets, leading to numerous deaths among the public. The shogunate recognizes this ongoing problem and ships a new force of master-less samurai called Roshigumi, to aid the Aizu forces in Kyoto.
Hajime, much like the rest of samurai on our list has a purpose to serve, to protect those in danger while maintaining peace within. Hajime has an extremely strong heart as you can clearly see in the first episode where he is mistreated by his superior. His sheer passion to fight for justice can be seen all throughout the series, but despite his will to fight, you can see the more childish side of him when he's with his friends. His willingness to see all sides of the story make him an interesting character to watch and learn from.
---
6. Gennosuke from Shigurui

Episodes: 12
Aired: July 19, 2007 – October 11, 2007
If it hasn't already occurred to you by now, there definitely is an ongoing trend with regards to a strong tie to the now infamous Sengoku era. This is one era that is often used as a base to express the hardships Japan had gone through during the very tumultuous times during the rule of Tokugawa Shogunate. Shigurui is no exception to this trend as it slices its way into the number six spot on the list.
Before all of the onslaught began, the Edo era was one of Japan's most peaceful and economically rewarding times, as society had become more established and businesses flourished. In Shigurui, Tokugawa decides to hold a traditional tournament by which one must use a wooden sword to battle their opponent. However, things change as the rule now states that you must use a real sword and so competition is now more intimidating.
Gennosuke is a one armed blade master, which already speaks volumes considering that he wipes out his opponents with despite a handicap. It displays an enormous amount of confidence to be able to pull off such skillful attacks, while at an insane disadvantage. His clever tactics never fail him as he uses trickery to gain insight on his rivals, while maintaining the most mysterious demeanor. That characteristic is what gives Gennosuke the sixth spot, simply because his such an intelligent fighter and demonstrates to all of us that, despite our misfortunes we can all manage to do something amazing.
---
5. Mugen from Samurai Champloo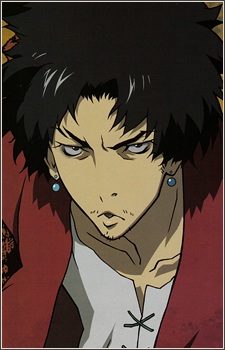 Episodes: 26
Aired: May 20, 2004- March 19, 2005
Coming in at the top five spot in the samurai anime list is none other than Samurai Champloo. Many fans of the show fell in love not with only the characters throughout the duration of the series, but more notably the musical score. Late musical pioneer Nujabes had created some of the best music that anime had ever heard in a very long time, and his spirit still resonates all throughout this anime. From great songs such as "Mystline" to the very powerful opening track "Battlecry" Samurai Champloo never disappoints in any way, shape or form.
Mugen is your typical vagabond, a wandering samurai with no purpose. However, when paired up with Jin and his new fond friend Fuu, his true character is revealed. He is an extremely hard working individual who truly has a big heart even though at times his foolish ways get him into trouble. His sweet and charming demeanor catch the eyes of Fuu which help to develop a nice character relationship in the story, and more so the brotherly love between Jin is also a pleasure to watch. It demonstrates the true value of friendship, and Mugen is a great example of a man of many traits but will always lend a hand to those he admires most.
---
4. Gintoki from Gintama

Episodes: 200 +
Aired: April 4, 2006 – Ongoing
We are now getting one step closer to that number one spot on the top ten list of anime that focus on the samurai lifestyle. Gintama is one of Japan's longest running anime, along with other popular jump franchises such as Dragonball, Bleach and One Piece. Spanning for almost ten years, Gintama is an anime that once seen cannot be unseen. Japan ranks it highly on their own top list of hot anime series, as its extremely popular with every age group all across the country.
This journey takes us back to feudal Japan yet again, but this time with main character Gintoki. This isn't your ordinary feudal Japan however, as every encounter Gintoki meets is unusally odd and quirky, which is what adds the spice and flavoring to this tasty treat of a series. Gintoki isn't very keen on finding a job like most other citizens and so we see Gintoki on an endless adventure seeking whatever job comes his way, while battling strange looking monsters, a weird Yakuza clan and much more. Gintoki is an extremely random character who at times makes you question whether he's even a samurai to begin with. But its that spontaneity and jubilant that makes Gintoki so fun to tune into. He is a great people person, as he is able to chat it up with almost anybody in the most innate way.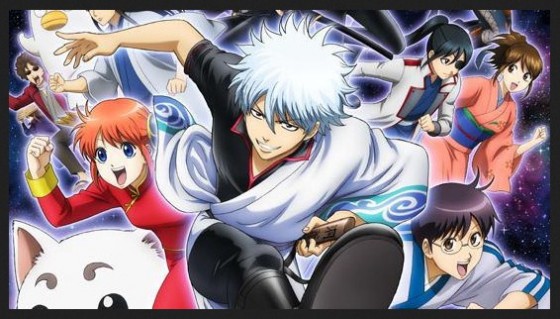 ---
3. Gennosuke from Basilisk: Koga Ninpo Chou (Basilisk: The Kouga Ninja Scrolls)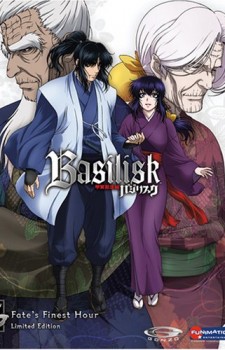 Episodes: 24
Aired: April 13, 2005 – September 21, 2005
Choosing a top three of any top ten is never an easy task, as there are a wide variety of popular anime that truly stand the test of time as being great. However, this number three spot could not avoid this list as Basilisk hops in to take the cake. This is one of the more darker and truly fascinating takes on samurai culture in Japan. Taking place in 1614 AD, Basilisk is all about Ninjas, swords, kunais, and more. It is nothing short of awesome, as it takes you in various different directions visually but also emotionally. Two warring ninja clans which are directly associated with the son of Tokugawa, send out ten representatives to fight each other to the death to obtain the ultimate prize: Absolute support from the Tokugawa government and completely eliminating each other in the process.
Gennosuke has the ability to look into his opponents eyes and completely take control of his enemies body, forcing themselves to commit deadly acts without thought. He maintains his calm most of the time, because he is madly in love with a woman who sees him as a loving and nurturing man. He tends to avoid eye contact in fear that his eyes may put her in danger, but their love is so strong that it has no effect on her. Gennosuke shows extreme loyalty with his allies, all the while having the insane power to dismember his opponents by just staring at them. It's this mixture of love and justice that gives Gennosuke the number three spot.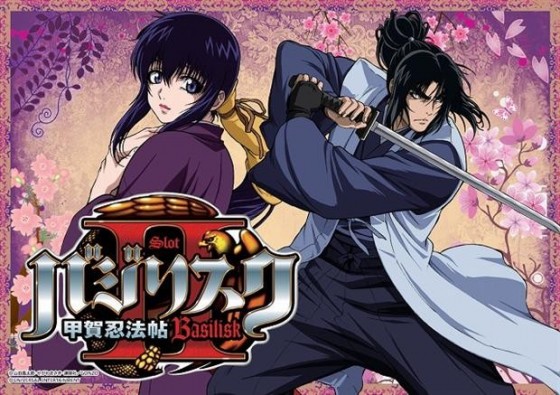 ---
2. Kenshin from Rurouni Kenshin

Episodes: 94
Aired: January 10, 2006- September 8, 2008
The name speaks for itself. Rurouni Kenshin is an anime that will truly stand the tests of time as being one of Japans most notable works, pertaining to anime. This series has had many sequels, spin offs, and merchandising through the roof due to its sheer popularity in Japan. Globally it has taken off as well, selling over a million copies of the manga on its own. What makes this series so special is how well scripted it is, and how relatable the main character is.
We all can learn from the mistakes and hardships that Kenshin goes through, displaying love and passion with a motivation for self discovery. Kenshin is a vagabond who has had his fair share of dark times, but is now on a journey to seek peace and harmony in his life. As a rounin, his job as an assassin was all tragedy and no triumph, but through it all he realized that it was time to walk away from all of that, and pursue more. He eventually comes across a female kendo master, former thief, all on brawler and a doctor who all join him on this epic journey towards change. in this wonderful series. If you haven't had a chance to check it out, please do so as you will most certainly be taken aback by all of the plot this story provides.
---
1. Date Masamune from Sengoku Basara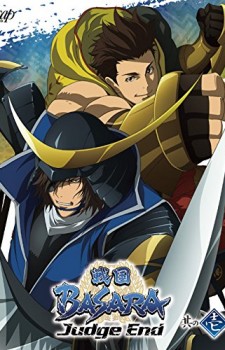 Episodes: 12
Aired: April 2, 2009- June 18, 2009
Number one is never an easy spot to be in, as there are others out there hungry to take the throne. However, this series encompasses everything that we would like to see in an anime samurai adaptation, that closely mimics the past feudal history of Japan. We are now greeted with our last anime on the top ten list of samurai anime, with none other than Sengoku Basara.
Every character throughout the series use real names that can be found all throughout the historical chapters in Japan's rich past. Date Masamune and Sanda Yukimura are the two heroines of the series, as we see the two battle it out in this action packed anime filled with great pieces of historical information to educate those watching. Date was a notorious leader in the rise of the Tokugawa period, and his impact can still be seen in Japan. His personality is that of a natural born leader, out to seek justice and stop at nothing to tear his enemies down. His eyes and swords intimidate anyone who stands in his path, and his roaring voice screams out confidence with every word he speaks. Don't let that fool you as Date is still a warm hearted man who shares a lot in common with Sanda. They have a passion for overcoming adversity and it what leads Date to lead his entire army to victory.
---
Hyakka Ryouran Samurai Girls
The history lesson is now over folks, have you learned about Japan's history a little? We hope you did while reading this. If words just fill that cup of yours, then we highly recommend giving these shows a watch to truly be immersed and experience a real treat.
While many of the anime on this list do take place during the very famous Sengoku era, there are other very notable times in Japan's wonderful past that you can also learn from, such as Meiji and the Edo periods. If you enjoy swords, samurai lifestyle, and overall great entertainment, then check out this list of top ten!
As always, for your sweet anime fill, keep it locked here at Honey's Anime.
by Robert "NualphaJPN" B.
---