Most stories in comics, manga, anime and cartoons feature characters who are young and impressionable – usually in high school or middle school. Their school-related angst and problems become our angst and problems and for those of us who are no longer in school, these give us sufficient reason to reminisce. While most anime fans never really get into stories from a certain part of the world close to the Japan we so greatly admire; that fact is not indicative of the quality of said stories. Comics from other South-East Asian countries like China and Korea are called Manhwa, and are growing in popularity. Like manga, manhwa comes in several forms, covering several genres and themes. Naturally, manhwa features countless stories about characters who are still in school. That brings us to introducing our topic: Top 10 School Manhwa; for those of us trying to experience school in another part of the world.
10. Something About Us

Manwhaga: Lee Yun Ji
Genres: Romance, School, Slice of Life
Chapters: 101
Published: October 2014 – October 2016
Ga Young and Woo-Jin have been best friends since high school and they were inseparable. However, due to the mandatory military service Korean males have to undergo after finishing high school, Woo-Jin was unable to apply to attend university at the same time as Ga Young. Despite this, the two are ever so close… almost too close. Something about their relationship screams that there is more than friendship going on, but will they themselves ever see it?
Commonly seen in anime and manga, a male and female friend duo have the lines of their friendship blurred by other people. In many ways, Something About Us is your classic story about romance blossoming from friendship and it does not steer too far away from this description. Ga Young and Woo-Jin have a strangely platonic relationship despite the fact that other people don't think so; strange because it is asynchronous to the usual trope of having one party in the friendship harbour romantic feelings for the other. The complexities of the characters aside, the art is clean and reflects the relaxed nature of the manhwa as a whole.
---
9. The Children's Teacher, Mr Kwon

Manwhaga: Ho Woo
Genres: Drama, School, Slice of Life
Chapters: 83
Published: April 2012 – November 2013
Ha Kwon, a former gangster, goes to a backwater town in order to fill in as a substitute teacher at a tiny school with only two teachers and five students. Having volunteered for the teacher post, Ha Kwon had no idea of what was in store, nor did he have any knowledge of those who came before him and couldn't last. What lies in store for a gangster-turned-teacher in this remote village in the countryside?
The Children's Teacher is a calm depiction of the reformed gangster trope present in well-known series such as Great Teacher Onizuka. The children in the series are all individuals with various issues which their new teacher, Mr Kwon, helps them manage and quell as his relationship with each student grows. In many ways, this manhwa highlights the fact that various people have various life situations and it could take meeting the right person to change life for the better. In that vein, it could be taken as a feel-good manhwa. The art is decent with cool colours which accentuate the simplicity of country life.
---
8. Afterschool War Activities

Manwhaga: Ha Il-Kwon
Genres: Action, Drama, School, Sci-Fi, Military, Psychological
Chapters: 50
Published: November 2012 – December 2013
The year is 20xx. Several days before the day of the college testing exam which determines the academic futures of Korean students and is imperative for university admission. Several strange spherical objects appear in the sky, ushering in an era of death and calamity as these strange objects cause death and destruction. Out of necessity, with the military Korean military slowly losing numbers, high school students have no choice but to join the fight against these mysterious objects if they are to have any chance at a future at all.
The premise of Afterschool War Activities is reminiscent of the highly successful Assassination Classroom series, with similar themes. The main theme prevalent throughout the manhwa is the militarisation of high school students out of necessity, out of desperation. It is in many ways, a nervy and intense read, reflecting the uncertainty of the various characters throughout; however, it isn't too stiff either – Afterschool War Activities has a good dose of suspense, angst and humour.
---
7. Skill of Lure

Manwhaga: Wo Sang Ho
Genres: Comedy, Ecchi, Romance, School, Shounen, Slice of Life
Chapters: 36
Published: March 2013 – January 2016
Jang Sung-Gi is an extremely unlucky student who, to everyone else, seems like a depraved pervert. Due to his bad luck, terrible social skills and some very compromising situations with women, he is incapable of expressing his feelings to women. However, his luck seems to be changing when his friend and fellow student, Jae Hwang, decides to teach him the art of attraction: the perpetually shabby-looking Jae Hwang is actually a pick-up artist! Jae Hwang decides to teach Sung-Gi everything from how to make good conversation to improving his own self-confidence – all so Sung-Gi can use these skills to get the girl of his dreams.
A short, sweet but pleasant ride, Skill of Lure reads much like a self-help book as one flips through it. The story is fairly simple and the protagonist is incredibly uncool, but likable because of his honest purity when being trusted with the ability to charm and woo. On a whole, Skill of Lure is a surprisingly uplifting classroom romance. Beautifully drawn and packed to the spine with comedy, Skill of Lure is the kind of manhwa one reads and comes away from it feeling just a little fresher, just a little wiser, just a little wiser and a little better.
---
6. DICE: The Cube That Changes Everything

Manwhaga: Yun Hyun-Suk
Genres: Drama, Psychological, Supernatural
Chapters: TBC
Published: 2013 –
Born at the lowest point in the social pecking order and rock bottom at everything from his physical appearance to his grades, Dongtae wished he had been born differently, born better. He gets his chance when he plays a strange game called DICE, which involves completing a set of quests. Upon completion, Dongtae receives a strange set of dice which, upon rolling, he gains the ability to boost his attributes much like a level up in a role-playing game! Gifted with this awesome means to improve his own life, Dongtae does not think about what it may cost him to live the life he has always wanted.
The depth of this series is apparent upon reading the synopsis. DICE deals with themes of self-loathing, depression, social hierarchy, self-esteem, among others, and does it in a way that is beyond entertaining. The story is immersive and as simple as it sounds at first, things do not always go the way they are supposed to, even if life is easy for you. The art is fairly good and the nature of each character is beautifully reflected in their appearance, with Dongtae breaking away from the mould of the classic protagonist. Where DICE is concerned, "dark" would be a severe understatement; this manhwa's unpredictability and jarring convolution makes it reminiscent of life itself.
---
5. Annarasumanara

Manwhaga: Ha Il-Kwon
Genres: Drama, Mystery, Psychological, Romance, School, Seinen
Chapters: 27
Published: July 2010 – December 2010
When Yoon Ah-Ee's mother died, her father and her little sister, Yui, were all she had left. Then her father racked up an enormous debt and ran away, leaving 16-year-old Yun Ai alone to shoulder the debt and take care of herself and her little sister. A rumour going around school about a crazy magician taking up residence at an abandoned amusement park. Rumour has it that this magician can make anyone disappear for good – Yoon Ah-Ee finds out for herself as she finds herself experiencing a fated encounter with the mysterious magician.
Upon seeing the art style, it becomes apparent that this isn't just another school romance. Annarasumanara is a calm, yet turbulent story which brilliantly presents profound questions about human life, poverty, opportunity, dreams and the future. Annarasumanara finds a mystical balance between fantasy and reality and as one might see as the story progresses, it isn't the kind of feel-good story you'd expect: it is intensely sobering at times. That speaks volumes of the sheer brilliance of the work – it keeps you dreaming, all while reminding you of the reality in which you find yourself.
---
4. Noblesse

Manwhaga: Son Jae-Ho (Story), Lee Gwang-Su (Art)
Genres: Action, Adventure, Comedy, School, Supernatural
Chapters: TBC
Published: December 2007 –
After an 820-year-long slumber, Cadis Etrama Di Raizel (also known as Rai), an aristocratic vampire awakens in what becomes modern-day Korea. Unfamiliar with the rapid technological, cultural and spatial changes that have occurred during his hibernation. Awake, Cadis first sets out to find his loyal servant, Frankenstein, locating him at a South Korean high school, where he happens to be the principal. Rai decides to enrol at the high school, befriending a group of students in order to blend in. However, Rai's awakening only signifies the re-emergence of the world he once knew, the supernatural world of old he once knew never changing.
An on-going series that has seen itself being adapted into an ONA and OVA, Noblesse is a staple supernatural manhwa. With brilliant art and awesome story that dives straight into things, Noblesse is the kind of manhwa one would recommend to any newbie. With thrilling action and hilarious moments, this school-based supernatural superpower in the manhwa world is essential to any list like this – honestly, it's a miracle this hasn't been greenlit for proper animated adaptation as of yet.
---
3. Girls of the Wild's

Manwhaga: Hun (Story), Kim Hye-Jin (Art)
Genres: Action, Comedy, Drama, Harem, Martial Arts, Romance, School
Chapters: 260
Published: August 2011 – October 2016
The Wild's Academy: an elite private all-girl's school known best for its annual tournament, the Wild's Tournament, a brutal martial arts event so intense, it is televised all over the world. Due to an executive decision, Wild's Academy opens its doors to male students. Song Jae-Gu is a high school freshman who lives in dire straits as his mother left him and his twin younger siblings to fend for themselves. Things are looking up for Jae-Gu as he receives a scholarship to Wild's Academy, planning on spending the next three years studying hard and staying out of trouble. However, blending in proves to be more difficult than he anticipated as he is the only male student at school and his schoolmates' wacky oestrogen-filled antics are enough to drive him to the breaking point.
There are a lot of different titles which have sported this same concept. A male main character finds himself surrounded by several beautiful girls vying for his affections; girls who by many accounts, boast inhuman strength and academic ability in contrast to his below average physical abilities. However, none do it quite this well. Girls of the Wild's is more than a martial arts harem; it is the living, breathing account of the changes in Song Jae-Gu's ever since he transferred into Wild's Academy. His poverty and bleak outlook on the future resonate ever so strongly with readers and his emotions become the readers' emotions. The art is impeccable, with jarring action scenes in contrast to cute comical scenes and overall, the manhwa conveys one basic message: your life can change within a year.
---
2. The God of Highschool

Manwhaga: Park Yong-Je
Genres: Action, Martial Arts, School, Shounen
Chapters: TBC
Published: July 2014 –
17-year-old Mori-Jin considers himself the strongest high school fighter in Korea. Having been taught Taekwondo by his grandfather from an early age, Mori-Jin's exceptional ability is apparent in his track record: 299 fights, 297 wins and not one loss. With stats like that, it comes as no surprise when he is recruited to participate in "The God of High School", a martial arts tournament which will determine the strongest high schooler in Korea. The winner of The God of High School will have any wish granted. However, Mori-Jin soon realises that there is more to the tournament than he initially thought.
A pure battle shounen in many ways, The God of High School is a martial arts manhwa like none other. With intense fights, incredible art and a likeable shounen main character in the form of Mori-Jin, The God of High School is a must-read for any manhwa fan. Much like Noblesse, this manhwa is a long-running series full of action, comedy and classic shounen awesomeness that fans of the genre can only drool over.
---
1. The Breaker

Manwhaga: Jeon Geuk-Jin (Story), Park Jin-Hwan (Art)
Genres: Action, Comedy, Drama, Martial Arts, School
Chapters: 72
Published: June 2007 – July 2010
Shi-Oon has a pretty terrible school life. He's a victim of constant bullying and wishes for some respite. Enter Chun-Woo, the new English teacher at Shi-Oon's school, with more to him than meets the eye. Chun-Woo is actually a powerful martial artist and having seen Chun-Woo's mettle for himself, Shi-Oon begs Chun-Woo to make him his disciple. However, Chun-Woo will only accept if Shi-Oon proves his determination – however, with the prospect of being taught marital arts by the best, Shi-Oon will do anything.
Loads of martial arts fuelled action, sprinkles of comedy and school drama brings you one of the most highly rated school manhwa out there: The Breaker. Why is it so popular? We think that its popularity has everything to do with its protagonist, Shi-Oon. In classic shounen manner, The Breaker is the document of Shi-Oon's growth and development as a fighter, and as a person. The art is also a key player. Most people who read manhwa drift over to Korean comics out of curiosity, having been seasoned readers of manga. Unlike other manhwa which are often in full colour, The Breaker features monochrome panels and character designs that bring it closer to a manga in style. For some people, this makes it an obvious starting point when delving into manhwa. If you love a good fight drawn beautifully, The Breaker was made for you.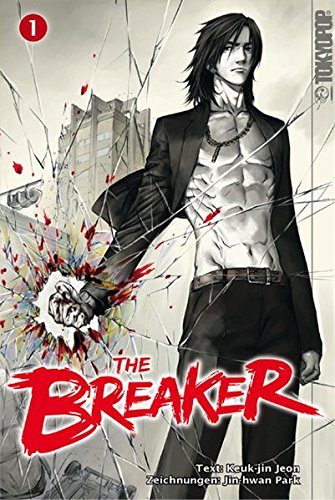 ---
Final Thoughts
A somewhat untapped medium, manhwa is slowly growing from the peripheral vision of anime and manga fans into something that could become part of the mainstream culture. Reading titles like the ones featured above, and perhaps titles like "Bal Jak", our honourable mention this time around, will definitely plant a firm interest in manhwa in you. Sometimes the awesome stories will find their way to you from places you were not expecting. With entities such as LINE Webtoon giving a platform to budding artists, we can only expect more of the same awesomeness in the future.
---