Throughout most of the 1990s, basketball achieved worldwide popularity through the superstars of the 1992 legendary Dream Team consisting of Michael Jordan, Charles Barkley, Patrick Ewing, Magic Johnson, David Robinson and Larry Bird. But in the Land of the Rising Sun, the sport took off through Inoue Takehito's hit series, Slam Dunk.
Slam Dunk is not about professional basketball or Olympic basketball, but about high school basketball and how Shohoku High School's basketball team wants to become the best in the nation. For today's list, we will cover the top 10 'Slammin Jammin' characters from this classic hit.
10. Akagi Haruko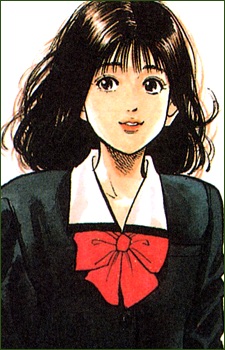 Starting this list is the team captain's sister, Akagi Haruko. If it weren't for her, Sakuragi probably wouldn't have been interested in basketball. Though she has had an open crush on Rukawa since junior high school, she still encourages Sakuragi and is always there to acknowledge his achievements.
In addition to getting Sakuragi interested in basketball, she does give him other advice. Prior to high school, she played on the girls' team in junior high school so she has an understanding of the fundamentals that Sakuragi needs. One move that she teaches him is a layup (which Sakuragi calls a commoner's shot), and it actually benefited him in later games. As the school year went on, Haruko participates as an assistant manager to the team giving more direct support as both a cheerleader and bringing her court experiences in offering some tips.
---
9. Uozumi Jun

Next on this list is Ryonan High School's team captain and center, Uozumi Jun. He shares a friendly rivalry with Shohoku's center and captain, Akagi. They share numerous similar physical qualities not with just their height, but with their expressions to the point that Sakuragi gives him the nickname, Bosuzaru, or Boss Monkey. Just like Akagi, when he first started playing, he wasn't that good to the point that he almost quit. Thanks to the encouragement of this coach, he re-dedicated himself to the game.
Due to being the tallest center in Kanagawa prefecture, he is very excellent on defense and a master rebounder. Unfortunately, Uozumi has numerous mental weaknesses. He is easily provoked which causes him to foul and has been benched to keep him from being fouled out or has been fouled out altogether. And like other real life famous centers such as Shaq and Wilt Chamberlain, he has an awful free throw percentage. But just like in the game and in life, you have to take the good with the bad.
---
8. Mitsui Hisashi

Mitsui was an ace player in his junior high days and was the MVP in the junior high league as a shooting guard who specializes in 3-point shots. He was so good he could beat Akagi, a much taller player at one-on-one. Even though he could have accepted basketball scholarships at other prestigious schools, such as Ryonan (even Ryonan's coach tends to be repeatedly bitter about not getting the likes of Mitsui and Rukawa). It was a chance encounter with Coach Anzai that inspired him to play for Shohoku after inspiring him to get back into the final seconds of the championship game and win after nearly injuring himself.
Because of this incident, Mitsui has the utmost respect for Coach Anzai and tends to get upset whenever Sakuragi plays with Anzai's face or belly whenever he gets excited. After entering high school, an unfortunate injury in practice sidelined him and even after his recovery, he quits the team to become a gang member. But after reuniting with Anzai and remembering why he came to Shohoku, he shows shame for his actions and begs to come back onto the team. He goes as far as cutting his hair to show that he's a new man.
Despite being away from the court for over a year, he shows no signs of losing his edge at scoring from the 3-point line. The only negative affect his absence from the court and practice he shows is his lack of stamina, especially in the second half of the game. This goes as far as passing out on the court! Thankfully, his talents have given his team the need to catch up whenever they're down more than 10 points.
---
7. Sendou Akira

From Ryonan High School, we have Sendou Akira, the team's ace. Like Rukawa, he is a well-rounded offensive player. He can go mono-e-mono, and he knows how to coordinate his team members as if he were a point guard. With his excellent coordination, he is good at faking with his layups which led to his team's victory in a practice game with Shohoku. Even though he has a very aggressive playing style that shows results, Sendou is a very nice guy but his work ethic is rather questionable since he tends to show up late just because he wants to chill.
If you can't beat him one-on-one, then you got to make it two-on-one which was the key to beating him and winning the official game in the prefecture finals.
---
6. Fujima Kenji

From Shoyo High School, we have Fujima Kenji. In addition to his position as the team captain, due to his school not having any adult capable of properly coaching the team, Fujima also serves as their official coach on the bench. Due to his dual responsibilities, he rarely plays on the court so he can properly coach his players while they play. He only plays ball when he feels it is necessary.
Thanks to his responsibilities as a coach, he is very mature and comes across as a paternal figure to his team. But beyond his mind and charisma, you put a ball in his hands, the man has skills you can only dream of despite being relatively smaller compared to the other players in the series. The only player capable of rivaling him man-to-man is Kainan High School's, Maki.
---
5. Maki Shinichi

Representing Kainan High School, one of the best teams in the nation, is the team captain and point guard, Maki Shinichi. Maki has excellent coordination not for his offense but is also capable of reading his opponent's intentions and knows how to get them to foul in his favor. He has all-around skills on both offense and defense. His skills are crazy to the point that it took four Shohoku players to defend him. Not only is he amazing as just an individual player, he knows how to utilize his team to get the victory.
Just like any other character, Sakuragi will always have a reason to comment on a character's appearance and tends to tease Maki that he looks like an old man, which has gotten under his skin. However, Maki returns the favor by teasing that Akagi looks older than him, showing his sense of humor. He comes to acknowledge Shohoku and Ryonan as worthy opponents, but he sees Shoyo High School and their team captain and point guard, Fujima, as his true rival.
---
4. Sakuragi Hanamichi

Yes, Sakuragi is the main character, but makes number 4 because even by the end of the anime, he still has yet to reach his full potential while he is still barely blossoming throughout the series, but we can't deny his universal appeal. Upon entering high school, a sweet girl named Haruko notices that he has great potential and encourages him to try basketball. Wanting to impress her, he decides to do so. However, he doesn't know the basic common sense of basketball, such as dribbling.
In addition to Haruko acknowledging his capabilities, the team captain (who happens to be Haruko's brother), Coach Anzai and Ayako (the team manager), take him under their wing and bring him up to speed. Some individuals like Sakuragi may naturally have the genetics to be an excellent athlete at any sport, but you can't play until you know the fundamentals and put into training. Though his initial failures frustrate him, as it would anyone, his motivation to be better than Rukawa and impress Haruko encourages him to put in the dedication, and he gradually shows improvement. As he progresses and contributes to the achievements for his team on the court, he begins to genuinely love the game for what it is and not for the sake of impressing girls.
Thanks to his tutelage under Akagi, he begins to specialize in rebounds like other real life power forwards, such as Dennis Rodman and Charles Barkley. Another assisting asset is his amazing cardio, which has been of benefit in the later half of the games. While superior players that could beat Sakuragi would tire out, Sakuragi's arguably God-given stamina would play a role in either getting his shot in or shutting down the other team. In addition to showing and having the same rebounding abilities of the previously mentioned power forwards, he also exhibits their infamous bad boy traits by playing aggressive and being called on technicals.
---
3. Coach Anzai

So who is the mastermind behind Shohoku? It would be Coach Anzai himself. Though his very rotund build would make you think otherwise, he is an excellent and inspiring coach. Prior to coaching high school (long before the events of the series), he was a university coach and was known to be a very strict disciplinarian. However, a fallout with a former student who quit his team to play in America, to fail there (then resulting in his suicide), made him change his ways.
When it came time to teach Sakuragi how to shoot, he demonstrates that even in his advanced weight and age, he still has the skills to literally take Sakuragi to school and makes it look fun. Not only is he a great coach, he is an excellent motivator. He demonstrates this quality in a flashback of Mitsui's when he first met him in a game back when he was in junior high. When Mitsui made an unfortunate fumble, Anzai approaches him and tells him that if he gives up, then that's the end of the game.
This inspires Mitsui to get back and win the game. The meeting with Anzai then inspired Mitsui to join Shohoku. In addition to this pep talk, this phrase became the subject of a book showing how impacting this series is in Japan. Thanks to Anzai, people can learn that whenever you give up on anything in life, that it truly signals the end. So, don't give up!
---
2. Akagi Takenori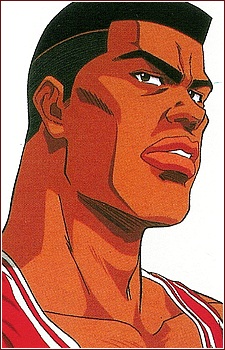 Second, on this list, we have Shohoku center and team captain, Akagi Takenori, or nicknamed Gori by Sakuragi. In conjunction with his position, he is the tallest member of the team. He has been playing basketball since childhood and is passionate about the game. Like Sakuragi, even though he possesses the appropriate build of a basketball player, his skills were not up to par and was easily getting outplayed by Mitsui during his freshman year. In his three years in high school, Akagi works hard to improve his skills. Not only does he become the team captain, but one of the top three centers in Kanagawa prefecture.
Unfortunately, his work ethics don't rub onto other interested members and many fail his training regimen. Unlike his teammates, who are academic underachievers, Akagi is one of the top students in school. Putting his serious manner aside, he recognizes Sakuragi's potential and puts up with his antics to teach him some of the defense fundamentals he needs to know as a power forward, such as blocking and rebounding. Akagi has an imposing presence, which makes him a great defense player on the inside and has a monster dunk when on the offense.
---
1. Rukawa Kaede

At number 1, we have Sakuragi's teammate and rival, Rukawa Kaede, one of the prototypical genius rivals you see in countless Shounen titles. Like Sakuragi, he also has the DNA to be the amazing player that he is but already has the skills. Prior to entering high school, he was already a seasoned player being the top ace at his junior high school. Thanks to his experience, he makes easy work of Sakuragi in one-on-one.
Even though he is an amazing player on the court and can be a ball hog, in all other aspects of his life he is relatively lazy. He is always sleeping, even while riding his bike to school! He actually turned down a scholarship to play at Ryonan simply because it was too far and chose Shohoku because it was the closest school to his home. He personally can't stand Sakuragi but deep down inside, he knows that he has the potential to be a great player. Even though their relationship tends to be tense for the majority of the series, when the time calls for it, they are an unstoppable combination, such as when they double-teamed Sendou of Ryonan.
Like Chicago Bulls legend Scottie Pippen, Rukawa plays the position of small forward and along with his real life counterpart, they both run like a point guard, attack the board like a power forward, and swish the net like a shooting guard. With Rukawa's offensive abilities and Sakuragi's defense and rebounding skills, if they can put their differences aside permanently, they could win the national championship.
---
Final Thoughts
These are our top 10 Slammin' Jammin' characters from the appropriately titled hit basketball series, Slam Dunk. The series features numerous characters, all with talent that stand out, who contribute to the story in their own way. Maybe someday, the last story arc where Shohoku goes onto the Nationals will be animated and that can be an opportunity to update this list.
Yes, we at Honey's acknowledge the manga but due to being an anime-centric site, this list is limited exclusively to the anime versions. So who is your dream team from this series? Leave a comment with your idea.
---