Studio Pierrot, founded in 1979, has been producing some of the most popular anime series in the world for the last 40 years. If there's a brand new shounen climbing up the manga ranks, it would be a good idea to bet on Studio Pierrot producing the anime adaption. As of 2000, Studio Pierrot has been responsible for some of the most popular series out there like Tokyo Ghoul, Naruto, Bleach, Hikaru no Go, and countless others. It's almost a given that you've come across a series animated by Pierrot.
With well over 200 anime series under its name, Studio Pierrot has a wealth of options to suit everybody's taste. Honey's Anime has made it a bit easier for you by searching through their immense library for the Top 10 Anime Made by Studio Pierrot. You've undoubtedly heard of some of these, and for others, you'll be happy to know you're no longer missing out. Without further ado, let's get on to the list.
10. Shirokuma Cafe (Polar Bear Cafe)

Episodes: 50
Aired: April 2012 – March 2013
Polar Bear Cafe is a popular café for animals and humans alike to gather after work. It's run by the polar bear Shirokuma, its sole employee is the human girl Sasako, and its frequented by Panda and Penguin among countless other customers. Polar Bear Cafe follows the everyday life of the people that frequent it, and the adventures they get on to.
This slice of life comedy by Studio Pierrot isn't the most popular of its offerings, but it's undoubtedly one of its most charming series. Polar Bear Cafe manages to make every single one of its characters, including the big secondary cast and the more irregular customers, a delight to watch. Studio Pierrot may have become famous for its excellent shounen series, but Polar Bear Cafe shows its versatility and is basically the equivalent of comfort food for anime. If you're ever having a bad day or just need a pleasant watch, then Polar Bear Cafe will fill your needs.
---
9. Juuni Kokuki (The Twelve Kingdoms)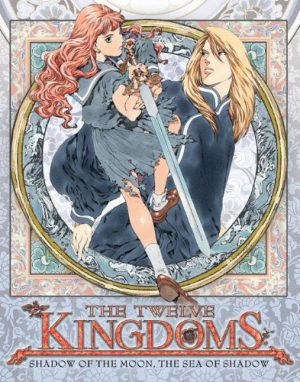 Episodes: 45
Aired: April 2002 – August 2003
Class president Youko Nakajima is shy, insecure, and a pushover; however, she'll have to overcome her flaws now that she's been chosen to rule a kingdom in a fantasy world by a mysterious man named Keiki. Unfortunately, before Youko can get even a small grasp of her new role, she's dragged into the fantasy world along with two of her classmates and left helpless and clueless as to what she's supposed to do. Youko only has a magical spirit and a magical sword by her side as she tries to find her place in this new world.
Twelve Kingdoms has some of the most classic fantasy tropes: the chosen one, the alternate world, and the magical sword. This series stands out because it really digs deep into the creation of a complex and multi-layered fantasy world. This isn't just an action series with a fantasy backdrop, it also explores the politics, philosophies, and dynamics of the multiple kingdoms to create a world that leaves you wanting to explore its every corner. The Twelve Kingdoms is also spectacular for how well its expansive cast develops over the anime's 45 episodes, most notably Youko's self-improvement will have you cheering her more and more with each passing episode.
---
8. Osomatsu-san (Mr. Osomatsu)

Episodes: 25
Aired: October 2015 – March 2016
Osomatsu, Karamatsu, Choromatsu, Ichimatsu, Juushimatsu, and Todomatsu are sextuplets. They all have their own unique personalities, but they are also visually identical and too lazy and inept to get jobs. These brothers don't have much going for them but get into endless misadventures trying to get jobs, find girlfriends, and simply figuring out their lives.
Following a series in the 1960s and in the 1980s, Studio Pierrot brings an indirect sequel to Osomatsu-kun with the sextuplets aged up. Osomatsu-san turns the meta-humor up a notch but carries the same core of having its six leads getting up to insane antics. With a new adult humor bend to it, Mr. Osomatsu really stands out from the rest of Studio Pierrot's series but also from most slice-of-life comedies in anime in the way it gets its laughs.
---
7. Tegamibachi (Tegami Bachi: Letter Bee)

Episodes: 25
Aired: October 2009 – March 2010
Lag Seeing followed in the footsteps of Gauche Suede to become a Letter Bee. A Letter Bee delivers letters, packages, and sometimes people to the varying towns that make up the world of Amberground. It's the hardest job in the world, Lag Seeing and his bodyguard Niche must fend off the Gaichuu, insects that hunt down the Letter Bee's mail because it contains a fragment of the Heart of the senders. Lag Seeing was once a letter himself after he lost his mother, but as a Letter Bee, he seeks to keep people connected all while tracking down the mysteriously missing Gauche Suede.
Letter Bee has the sort of unique world that makes you perk up the moment it's described. It does what shounen does best, it takes an ordinary job and makes it fantastical. You won't find a world where mail delivery is more hectic and thrilling than Letter Bee, though many have tried. Aside from the usual goodness you get out of a Studio Pierrot series, Letter Bee's main characters are more adorable and innocent than their typically brash and in-your-face counterparts, so it's also a fresh take on a genre in which the protagonist can often make or break the show.
---
6. Beelzebub

Episodes: 60
Aired: January 2011 – March 2012
Ishiyama High is the worst school in the entire country, and Tatsumi Oga is its most dangerous student. One day, when some of the delinquents of Ishiyama High mistakenly think they can get one over Oga, he beats them all up. The beatdown is interrupted by a big man floating down a nearby river. Oga splits the old man open and from it comes Baby Beel, also known as Kaiser de Emperana Beelzebub IV, a boy destined to destroy the world. Oga is now Baby Beel's foster parent and he must take care of him while risking death by all the threats that will inevitably emerge unless he can find someone stronger to foster the boy.
Beelzebub is a lighthearted shounen series that never takes itself too seriously. From the very first episode where Oga narrates the premise of the show, it's clear we're going to be in for some funny and over-the-top antics. Beelzebub parodies quite a bit of the shounen genre, most notably a particularly hilarious take on the tournament arc. If you're looking for a shounen with a heavy dose of comedy, then you'd be doing yourself a favor going with Beelzebub.
---
5. Kingdom

Episodes: 38
Aired: June 2012 – February 2013
Xin and Piao are war orphans and slaves, but they train every day with the dream of one day becoming one of the Great Generals of the Heavens. That unlikely dream becomes possible when Piao is seen by one of the retainers of the king of the Kingdom of Qin and is recruited to work for them. The next time Xin sees Piao, he is bloodied and on the verge of death, but he crawled all the way back to Xin with a message for him. He leaves Xin with a mission that leads him into the service of Zheng, the king of Qin. Xin will have to help Zheng fend off assassins, stop a coup d'état, and take back his kingdom.
Kingdom is heavily inspired by China's Warring States period while borrowing heavily from shounen tropes. Xin wants to become a great general while Zheng wants to become the emperor of all of China, and they will encourage and push each other to achieve their lofty goals. Kingdom will delight with some of the greatest war scenes in anime, and the thrill that comes of seeing Xin climb up the military rankings of Qin. If you're into military anime and want a more mature shounen, Studio Pierrot's delivered with Kingdom.
---
4. Baby Steps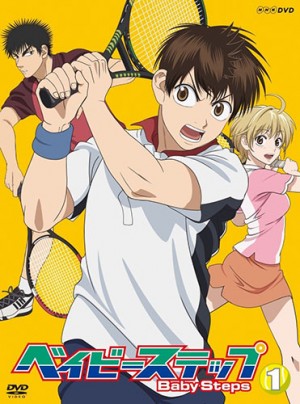 Episodes: 25
Aired: April 2014 – September 2014
Maruo Eiichirou is the perfect student: he studies all the time, attends cram school, and is an honor student. He decides to add a little exercise in his life to take care of his health when he attends the free trial of the Southern Tennis Club. There, he sees school idol Takasaki Natsu playing tennis with an incredible passion. Eiichirou discovers that while Natsu is as dedicated with tennis as he is with studying, Natsu does it because she is passionate about the sport while Eiichirou does it out of obligation. Eiichirou decides to take tennis seriously to try to discover the passion that drives Natsu.
Eiichirou isn't the first lead of a sports anime series to suddenly find some purpose in life via an extracurricular activity he'd never thought to try before. Studio Pierrot's Baby Steps is very much a shounen, but Eiichirou's incredibly methodical style and perfectionist tendencies help him stand out from other shounen leads. Baby Steps delivers both in the growth of Eiichirou and in the development of his relationship with Natsu to deliver a well-rounded sports anime.
---
3. Hikaru no Go

Episodes: 75
Aired: October 2001 – March 2003
After Fujiwara no Sai committed suicide when he was relieved of his duties as the Go instructor of a Japanese emperor, his soul was sealed within a Go board. Shindou Hikaru, an average 12-year-old boy, discovers the Go board in his grandfather's attic and is suddenly possessed by Sai. Hikaru must now help Sai achieve peace by having the perfect game of Go called "The Hand of God," and perhaps discover his own passion for the game while he's at it.
Hikaru no Go is infamous for having helped Go, an already legendary and popular game, return to prominence in Japan. Even if you've never played or seen a game of Go before, Hikaru no Go does a great job of explaining the rules and strategies throughout the series. It goes without saying that this is a classic shounen series and delivers on the thrill of seeing Hikaru go against increasingly stronger opponents. Once you've watched this, we won't blame you if you get yourself your own Go board.
---
2. Soredemo Sekai wa Utsukushii (The World is Still Beautiful)

Episodes: 12
Aired: April 2014 – June 2014
Livius Orvinus Ifrikia is the king of the Sun Kingdom, and he's managed to conquer most of his continent in just three years. Next on his list appears to be the Rain Dukedom, but instead of conquering the small kingdom, he wants them to send one of their princesses to marry him. The royalty of the Rain Dukedom has the unusual power to create rain, something the Sun Kingdom has never seen before. After losing a game of rock-paper-scissors to her sisters, princess Nike Remercier will have to move to the Sun Kingdom and adjust to life as the wife of Livius.
The World is Still Beautiful is a romance more than anything else and focuses on the budding relationship between Livius and Nike. There's plenty of comedy to be had from the very start when Nike discovers that the all-conquering Livius is an adorable 12-year-old boy who is at once snarky towards her and overprotective. This is a straightforward romance, but it does everything it sets out to do as a shoujo perfectly. If you're looking for a warm anime to watch, then The World is Still Beautiful is the warmest in Studio Pierrot's repertoire.
---
1. Naruto: Shippuuden (Naruto: Shippuden)

Episodes: 500
Aired: February 2007 – March 2017
Naruto Uzumaki left Konohagakure to become stronger not only to achieve his dreams of becoming Hokage but also to be able to protect the people he cares about and to bring back his runaway friend Sasuke Uchiha. Now, two and a half years later, he returns to Konoha a much more capable ninja than he once was, but also ready to face the looming threat of the terrorist group Akatsuki. While there are deadly threats to his village and his world at every corner, Naruto won't stop working to achieve his dreams.
Naruto: Shippuden is the sequel to the world renown shounen series Naruto and picks up two and a half years later. The show ramps up the intensity from the very first episode: the fights are bigger, the stakes are higher, and Naruto: Shippuden will hit you with even more emotional punches. Studio Pierrot's biggest series in its 40-year history often employs some of the finest animators in the industry for some of the best-animated fights you'll ever find. It's not hard to see why Naruto: Shippuden tops this list, it's easily one of the most popular anime in the world and some fans might even argue it's the best shounen out there too.
---
Final Thoughts
Studio Pierrot is known for adapting some of the most popular shounen series, but that hasn't stopped them from getting an incredibly diverse library of anime. This list dishes out adult and all-ages humor, romance, political intrigue and, of course, some of the best shounen out there. Studio Pierrot is probably going to be around for a long time, and with adaptions of the newest shounen like Black Clover and Boruto, it's hard to see Studio Pierrot ever stepping away from the spotlight.
---
---
Responsible for some of the most popular anime of all time, Pierrot is a name to remember in the industry. It was formed in 1979 from members of Tatsunoko Pro and Mushi Pro, originally only to create an adaptation "The Wonderful Adventures of Nils". However the studio came together during production, and embarked on a journey that lead to the release of favourites like Yu Yu Hakusho and Naruto.
Like other Top 10 lists on Honey's Anime, this article focuses on importance of the anime to the company. You'll see some familiar faces, and also some classics which you might only have heard of! As usual, included are only anime produced by Pierrot (or as prime contractors). At number 10 is Yume-iro Pâtissière!
10. Yume-iro Pâtissière

Episodes: 50
Aired: Oct 2009 - Sep 2010
14-year old Ichigo Amano dreams of becoming a pâtissière. There's only one problem; she can't bake to save her life! When she's scouted by master pâtissièr Henri Lucas and given the chance to train at the St. Marie Academy it seems like Ichigo's dreams will finally come true. However this is only the beginning, it's only when she meets the spirit Vanilla when things really start to get sweet!
Following in the footsteps of Pierrot's previous magical girl genre offerings, Yume-iro Pâtissière was a surprise success (come on, it's about cakes!), and even spawned a second series which came out soon after. The series was a commercial success for the company, as the anime was adapted into a video game and a popular soundtrack too.
---
9. The Wonderful Adventures of Nils (Nirusu no Fushigi na Tabi)

Episodes: 52
Aired: Jan 1980 - Oct 1981
Nils Holgersson is a poor farmer's boy who enjoys being cruel to the animals on his parents' farm. When he captures a goblin and tries his usual tricks he is shrunk and set upon by the farm animals, who are eager for revenge. Managing to escape with a flock of geese, Nils is taken on an adventure all over Sweden, hoping one day to return to his parents (and his normal size!)
As mentioned before, this classic anime is the first work of Studio Pierrot, the success of which enabled the its creators to come together as a studio. It spawned a movie, which was released in the same year that the original anime ended, and the series was translated into 10 languages! For the studio it embodied the maxim "Start as you mean to go on"; The Wonderful Adventures echoes the success of many of Pierrot's other offerings.
---
8. Akatsuki no Yona (Yona of the Dawn)

Episodes: 24
Aired: Oct 2014 - Mar 2015
When the love of her life murders her father and steals his throne, Princess Yona's life changes forever. Forced to flee her home with only her faithful bodyguard Hak, Yona embarks on a quest to reclaim her throne. Set to a backdrop reminiscent of Feudal China, Akatsuki no Yona is an exciting story of romance, battle and revenge!
Akatsuki no Yona is important for Studio Pierrot as it marks the latest in a string of very successful releases which include Kingdom (season 2) and Tokyo Ghoul √A, ensuring we get more great anime! On its own, the series is loved for its soundtrack and strong cast of characters; despite officially being a shoujo anime, it has something for everyone!
---
7. Gensoumaden Saiyuki (Saiyuki)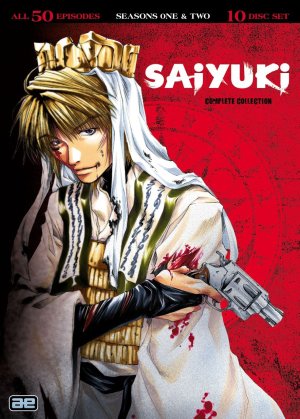 Episodes: 50
Aired: Apr 2000 - Mar 2001
When normally peaceful demons start to attack humans, the gods dispatch Genjou Sanzo to intervene. Together with three other anti-heroes, including the infamous monkey King, Son Goku, Genjou must travel to India and prevent these rampant demons from summoning the evil Gyumao!
Based on the classic work of literature "Journey to the West", Gensoumaden Saiyuki is one of Pierrot's biggest successes critically and commercially (gaining a "best anime" award), despite being relatively unheard of by recent anime fans. Following its initial run, Saiyuki was followed by video games, a second season, an OVA and even a live-action musical featuring the cast of the show!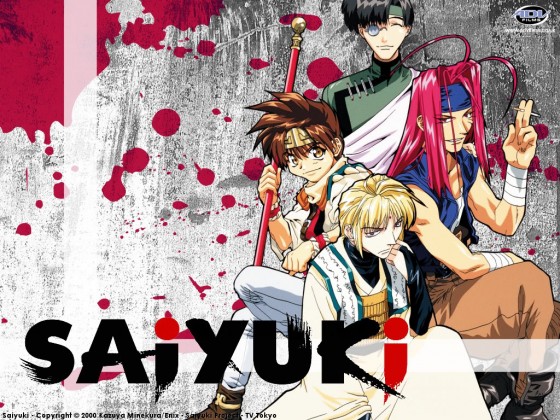 ---
6. Creamy Mami, the Magic Angel (Mahou no Tenshi Creamy Mami)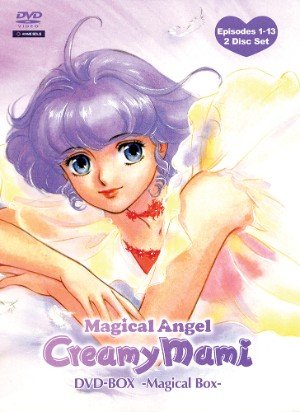 Episodes: 52
Aired: Jul 1983 - Jun 1984
A chance encounter with aliens leads to Yuu Morisawa gaining magical powers. With two magical cats to watch over her, this 10-year-old girl now has the power to do anything she wants for exactly one year. And she does exactly that; under the alias of Creamy Mami, Yuu becomes an overnight singing sensation! The story follows Yuu as she juggles a singing career, working in her parents crêperie, and trying to romance her childhood sweetheart Toshio.
Creamy Mami is one of the most famous anime in the "magical girl" genre, and was the template of Pierrot's future magical girl series. It's important to the company, as well as anime on the whole, as it pioneered "media mix", which used the anime to promote a little known pop-star. The anime was so successful, and the songs so popular, that Mami's voice actress Takako Ohta still enjoys fame today!
---
5. Tokyo Ghoul

Episodes: 12
Aired: Jul. 2014 - Sept. 2014
Tokyo is gripped by a menace; mysterious creatures called ghouls are devouring humans. What makes this more terrifying is that they are largely indistinguishable from ordinary people! Ken Kaneki is one of these ordinary people. A college student who enjoys reading books, a close encounter with a ghoul changes his life in ways he could never imagine.
Tokyo Ghoul is adapted from the wildly successful manga of the same name, and enjoys similar popularity in the anime world. Pierrot has done pretty well from the release of Tokyo Ghoul; it's been followed by a second season, and has inspired mobile games and an upcoming PS Vita release too!
---
4. Great Teacher Onizuka

Episodes: 43
Aired: Jun 1999 - Sep 2000
After training as a teacher at a second-rate college, ex-gang leader Eikichi Onizuka somehow lands a job at a prestigious academy. The catch: he has to manage a class full of Japan's smartest delinquent kids. Using questionable teaching tactics, Onizuka tries to win over the class, all the time with hilarious results!
This series was a hit for Pierrot as the studio capitalised on the popularity of the manga, and corresponded GTO's release with that of the live-action adaptations too. That being said, GTO is one of the most popular anime of all time; it's a modern classic which still stands up to recent anime, only recently being offered by Crunchyroll's streaming services, showing it's still relevant today!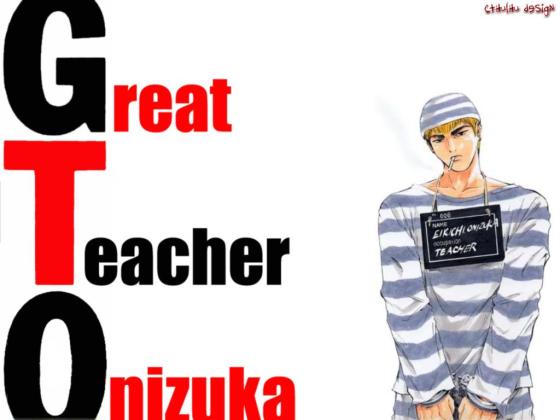 ---
3. Bleach

Episodes: 366
Aired: Oct 2004, Mar 2012
Shinigami are the police of the spirit world, guiding ghosts to the haven called Soul Society. Among their duties are fighting Hollows, spirits with an insatiable appetite for other spirits. Ichigo Kurosaki has been able to see ghosts all his life, but when he helps the Shinigami, Rukia, defeat a hollow it takes his powers to a whole new level!
This is where we get into the really big guns; Bleach surely needs no introduction (and no justification either). Another series based on a successful manga, Bleach's adaptation to anime added so much, with brilliant voice acting and a killer soundtrack. In terms of importance to the studio, Bleach was nominated for a string of awards, and during its original run it came in the top 10 animated shows watched on Japanese TV and Hulu too!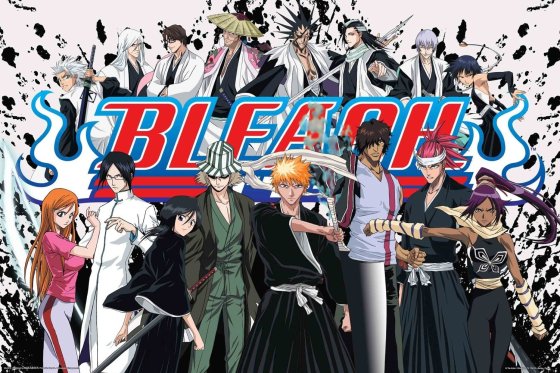 ---
2. Yu Yu Hakusho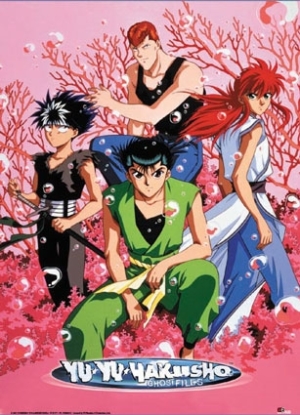 Episodes: 112
Aired: Oct 1992 - Jan 1995
Problem child Urameshi Yusuke is the last person you'd expect to save a baby from a speeding car - especially if it involves sacrificing himself! Catching the masters of the underworld off-guard, Yusuke is given the chance to return to life. However, this comes at a cost; Yusuke must become a Spirit Detective. Joined by his nemesis Kuwabara, and demons Hiei and Kurama, Yu Yu Hakusho follows Yusuke's adventure in this world and the next!
At number two, Yu Yu Hakusho is a veritable classic; the series was so successful that Studio Pierrot followed it with a number of movies and OVAs. As well as being a commercial success, it won Animage's Best Anime award for two years running ('93 and '94), as well as making impressions abroad. Fans of the series favour its equal attention to fight scenes, character development and humour.
---
1. Naruto

Episodes: 220
Aired: Oct 2002 - Feb 2007
Twelve years ago, the leader of Konoha village seals the demon Kyuubi into a newborn child, saving the village, but sacrificing himself in the process. Fast-forwarding to the present we follow Naruto Uzumaki, trainee ninja, joker and outcast. We quickly find out that Naruto was that baby, and that inside him resides the demon Nine-tailed Fox. Naruto is the eponymous story of one boy's quest to find his place in the world - that is, by becoming the greatest ninja that ever lived!
Naruto is one of the most popular anime of all time, and has inspired a generation of anime lovers! Commercially, it's part of one of the biggest Anime franchises, with a sequel (also based on the manga), and a massive host of OVAs and movies, including Boruto: Naruto the Movie which hits cinemas in August! Naruto consistently rates among the most popular anime of all time, and genuinely offers something for everyone.
---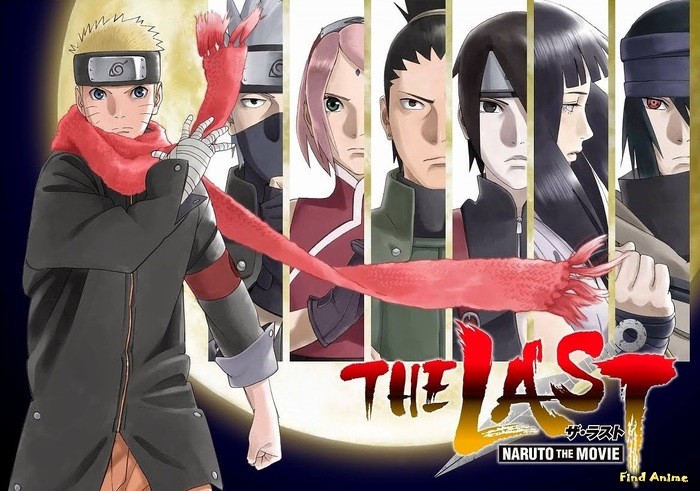 I'm sure someone has something to say about the top three! Naruto was the first anime I got truly hooked on, and so maybe influenced it a little bit at number one (the Sasuke retrieval arc has got to be one of the best anime arcs ever!). Got something to say? Hit the comments!
---