Beginning as an otome music game, and making its way to one of the biggest franchise in the anime industry in Japan, Uta no Prince-sama is filled with stunningly handsome, talented boys with gorgeous voices that had proven effective in killing every fangirl's heart with a single whisper. Having finished its fourth Maji Love Live concert earlier this January, fans were graced with a much-awaited news: another new season in Fall 2016!
Impatient to see the ST☆RISH boys back up on screen? Or for the Quartet Night senpai who's been getting even more screen time ever since Maji Love Revolution began? Or are you extremely curious about the new HEAVENS members? Well, fall is still a while away, but in the meantime, let's take a look at our selection on the best Uta no Prince-sama characters, and see if you could spot your favorite!
10. Aijima Cecil

What better way to start but with the actual Prince amongst the other Princes? Aijima Cecil, the Prince of Agnapolis, the seventh member of ST☆RISH. Coming straight out of a fairytale as a cursed Prince, seeing him for a first time might make you think he's mysterious and dreamy, enchanting with his gorgeous green eyes—which he is, but what would touch your heart would be his child-like curiosity and his sensitivity to others' emotions. He plays the flute, and is able to connect to the gods directly through the Muses, and he's the one who brings the Agna Dance.
Despite his initial mysterious appearance in the first season in the anime, Cecil steals people's hearts by steadily being cuter and cuter in starting his actual appearance in the Maji Love 2000%.. Not to mention his adorably accented, sometimes-still-fumbling Japanese that Toriumi Kousuke brought to life. His songs are like warm invitation to enter a world of fairytale from faraway lands, vowing to take you through fantasy-like love. It doesn't mean he would not stand up to defend you when the time calls for it—like how he confronted Camus about playing with Nanami in Maji Love Revolution, he'll certainly show you his fierce, determined side, too!
---
9. Kotobuki Reiji

A funny, clown-like personality at the first glance might fool you, if it doesn't endear him to you. Kotobuki Reiji, the oldest member of Quartet Night idol group, is one of the mature senpai of STARISH, assigned to guide both Tokiya and Otoya in the Master Course. His smile might be blinding, and Reiji might cajole like a big brother or act cutely in front of his peers and fans, but there's a side to him that shows his mature side—seductive smiles, car rides, magic tricks, casual winks, the promising thrill of an adult relationship! It's definitely the gap that would send your heart race!
Reiji is also known for giving adorable nicknames for everyone, as well as his cute catch phrases—"Yoroshiku Maccho ccho☆!"—and of course, his fun maracas. He's the type to hold his lover gently and keep them safe, but also the type who could make you laugh in a heartbeat. Most of his songs are upbeat and slightly flirtatious, a perfect fit for Morikubo Showtaro's type of voice. In Quartet Night, Reiji is the one who wishes to have more work as Quartet Night the most, after getting inspired by STARISH's harmony. A definite all-rounder who is nice to everyone, like a big brother, but also mature when the time calls, what more would you want?
---
8. Shinomiya Natsuki

Arguably the member of STARISH with the brightest personality, Natsuki loves everything small and cute. Amongst STARISH, Natsuki is the tallest, but he is also the most tender and gentle to everyone. Be careful not to accidentally take off his glasses, because then Satsuki, Natsuki's other personality, would appear, and you would see a whole other side of Natsuki: the brash, extremely strong, temperamental, but also passionate and the sincerest. It wouldn't be a stretch to say the two of them are like the yin and yang personality in one body; Natsuki doesn't remember anything when Satsuki takes over, but regardless, he senses that someone is always protecting him, and he's thankful for that.
Known as a musical genius, Natsuki plays the viola now, but he used to play the violin as well and entered violin competitions with Syo back in his childhood. He also likes to bake, but anyone sane would advise you never to try whatever he comes up with in the kitchen. It's the thought that counts, though; Natsuki shows his support through his cookings, like when he tried to cheer Nanami up by baking cookies. His songs are always amazingly good—a mix of pop rock with Taniyama Kishow's powerful vocal—flying you up to the burning star with his passion for dreams and love, that you'd wish time itself would stop!
---
7. Mikaze Ai

The prettiest and youngest member of Quartet Night for sure, Mikaze Ai appears untouchable and very strict at first, but later it's shown that he's very hardworking and expects everyone around him to be the same. Here's the twist: he is actually an artificial intelligence, an idol robot created on the order of Shining Saotome, so he's constantly learning on understanding human emotions, feelings and bonds. Ai always observes everything calmly and quietly, and has a knack in predicting everything correctly, but when it comes to new emotions he's yet to understand, the way he pauses and puzzles it out would make your heart skip a beat!
Ai is assigned to train both Natsuki and Syo in the Master Course. He also plays the synthesizer. The best way to look at Ai's feelings are through his songs—a lot of them are slow ballads with high notes delivered smoothly by Aoi Shouta, beautifully quiet the way Ai is, reflecting his efforts to understand people and how he is affected by the emotions he learns. His charming points would be his honesty and straight-forward way of thinking that just makes his beauty shine even more. When he gets motivated and throws his everything into what he does, such as when Quartet Night decides to go against STARISH with all their might, Ai's quiet determination and hardwork definitely endears him to heart!
---
6. Jinguuji Ren

The most charismatic member of STARISH, Jinguuji Ren is also known as arguably the hottest member, practically oozing pheromones wherever he goes. Once voted as the member fans wish to be their boyfriend the most, Ren is a very smooth-talker and a ladies' man. As the third son of the wealthy Jinguuji family, Ren used to dislike attending Saotome Academy because he thought his brother just sent him to be an idol in order to promote their family's company. In truth, though, his brother sent him because he knew of Ren's passion and brilliance in music. Through Nanami and other STARISH members, though, Ren discovers back his passion for music, and wholeheartedly puts his feelings in working as an idol.
He's very easy-going and might seem loose at times, but he's really just a boy who loves freedom and values having choices in life. The flashback scene to his childhood that showed him playing with Masato might just be the cutest image you'd ever see! Ren is very flirtatious, though, so prepare your heart to race wildly if he appears with a rose and seductively calls you his 'lady'. Most of his songs are intense if a bit flirtatious, conveying his fiery passion and love, completely made for Suwabe Junichi's performance. To add to his charm, Ren also plays saxophone, is interested in foreign languages, and speaks Italian. Definitely a catch, don't you think?
---
5. Ittoki Otoya

If you like a bubbly, exceedingly kind, and energetic boys, Otoya is definitely your guy. He's pure, trusts people, and always tries his best to be helpful, to the point that you might even think he's an angel! His positive and friendly personality makes him very easy to approach, and since he's the kind of person who always tries his hardest to improve and be optimistic, you'd feel like you want to support him always and watch him grow. Otoya grew up in an orphanage, and is known as "Oto-nii" to the orphanage kids who are younger than him. He loves sports, but he loves singing even more—a lot of his songs are the upbeat, optimistic songs delivered with the same spirit by Terashima Takuya, and they're great songs to cheer you up on your bad days!
Otoya plays the guitar, befitting of his upbeat personality. Compared to his roommate Tokiya, Otoya might seem childish, but he's actually a good big brother to the orphanage kids! The childish parts of him, like not liking green peppers and black coffee, are very endearing to see. Otoya's charm point is his kindness and how he thinks of everyone else and how to help them. Before his adorable attitude and his straightforward determination, you might just find your heart skip a beat, especially when he would not hesitate to stand up for you, and shows his support in everything that you do!
---
4. Kurosaki Ranmaru

Assigned to be the mentor of both Ren and Masato, Ranmaru is another member of Quartet Night who might just steal your heart with his passion for his dreams. A rocker through and through, Ranmaru is a very moody person, but also often gets flustered by sincere praising words. His family used to be very wealthy, on par with Masato and Ren's, but after his father was betrayed by a colleague, the Kurosaki family fell into an immense debt. After his father's death, Ranmaru takes it to himself to pay his family's debt. This, coupled with how several of his bands before he became an idol always disbanded, makes it hard for him to trust anyone.
Ranmaru might seem rude, but he has a strong sense of duty and a fiery passion for his dream and music that would no doubt lends the same sense when it comes to love. If you can gain his trust, he'd definitely show his softer side to you—the Ranmaru who likes to pet and feed cats, who is good at cooking, and would ruffle your hair in shows of affection. The contrast between his softer side and his fiery, determined and hard personality is his charm point, making each of his smile a treasure! Most of his songs are rock songs, true to his nature and the natural song genre of his seiyuu, Suzuki Tatsuhisa. Not only is he stunningly hot, Ranmaru also plays bass and is very fashionable, and you'd undoubtedly feel very safe being with him!
---
3. Hijirikawa Masato

The old-fashioned Japanese type. Exceedingly beautiful and elegant, but make no mistake, when it comes to determination and sincerity, Masato doesn't lose to anyone. As a scion of the wealthy Hijirikawa family, Masato was supposed to take over his family's company, but he stubbornly chose to enroll at Saotome Academy to be an idol. At first glance, Masato looks to be an untouchable, stoic, elegant young master, but in actuality he's adorably awkward when it comes to talking with people and a very down-to-earth, gentle person. He loves things like melon pan, and a lot of times he cooks for others as well. Gorgeous the way Japanese paintings are, elegant, kind, and great at both calligraphy and cooking, what's not to like?
Once he's behind a piano, Masato would captivate you, especially coupled with his music. Most of his songs have very poetic lyrics, reflecting his thoughts about future and feelings, flawlessly sung by Suzumura Kenichi. Despite his stoic appearances, Masato feels things very strongly and is very passionate and protective about things he deems important. As he was born and raised in a very proper and strict family, Masato grows up to be a very pure young man. Once you see his adorable side—liking melon pan, putting on aprons, enjoying hot springs, watching snow falls, or just ducking away from bugs, you might just find your heart skips a beat there!
---
2. Ichinose Tokiya

Mr. Perfectionist who never loses his cool and has the smile that melts your heart instantly. At first, Tokiya seems aloof and cold to everyone, but later on he began to open up and shows a gentler, caring side. He's very ambitious and proud about his dreams, but in STARISH he also learns how to treasure the friends who fight with him, and always looks forward to help them in any way he could. As an idol, Tokiya previously had a persona called HAYATO, who he pretended to be his twin brother and had to live a double-life because of it. On top of having a beautiful face, he was also voted as the sexiest men in a fashion magazine along with Ren—but let's be real, his singing is super sexy, too. His songs range from sweet ballads to flirty, scandalous songs, but Miyano Mamoru as Tokiya sings them amazingly well.
Tokiya is an all-rounder who is good at most of the things he does, including singing and playing various music instruments. He's also very patient, even if he's a bit shy in expressing his true feelings, and tends to express them through the lyrics of his songs. Being the perfectionist that he is, he would not stop his efforts until he gets something perfect, and no doubt he would put the same amount when it comes to his love life, too. Even his fellow STARISH members had expressed their admiration—Otoya openly said that Tokiya's singing is perfect, and that he's always very nice to him. Prepare for your heart to melt before his smile, even more so when his cool demeanor opens up to a softer personality inside, a peek into the secret Mr. Perfectionist holds!
---
1. Kurusu Syo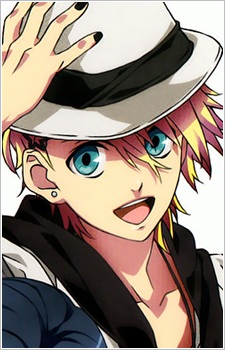 Syo might be the shortest one out of all STARISH members, but he's also the manliest out of them! He's even more upbeat and energetic than Otoya, and even though he looks cute thanks to his size, everyone remarks that his soul is the most manly of all. He's hot-headed and sometimes easily baited to anger, especially when Natsuki is involved, but at the same time Syo cares about everyone around him very much, and even stays close to Natsuki in order to keep guard if he accidentally drops his glasses and Satsuki appears. Syo is also very zealous, braver than anyone else, and always tries his hardest in everything that he does. You can easily see this reflected in his songs—always upbeat and fun, encouraging you to fight and run forward, befitting Shimono Hiro's singing style a lot.
Despite being the smallest in STARISH, Syo has won the first place of several popular character ranking in Japan. Being stylish on top of having an adorable face, bringing fun into everything and very encouraging, not to mention his 'manly' soul that shines when he shows everyone how brave he is in facing his fears and phobia—Syo is not your usual Knight in Shining Armour, but he could be your Knight, always there to support and protect you!
---
Uta no Prince-sama is a very fun series; good animation and splashing colors and sparkles on top of having gorgeous male characters who would make amazing boyfriends. Its huge franchise proves that having a light-hearted, fun storytelling doesn't mean people don't get attached to the characters—they are, after all Princes, and they give dreams to the audience. Each of them are unique to themselves, an embodiment of a trope and an image, and is that not the essence of idols?
Let us know which Prince is your favorite!
---