What You Need to Know:
A poll was held on Akiba-Souken for the best tearjerker anime.
The poll ran for approximately a month from November 11 to December 10, and received a total of 650 votes.
See the results below!
---
Top 10 - Top 6
---
10. Wolf Children / 27 votes
9. Steins;Gate / 35 votes
8. ef - a tale of memories. / 36 votes
7. Sword Art Online II / 44 votes
6. Saikano / 50 votes
---
Top 5 - Top 1
---
5. Angel Beats!
Episodes: 13
Aired: April 2010 - June 2010
Synopsis

Otonashi awakens only to learn he is dead. A rifle-toting girl named Yuri explains that they are in the afterlife, and Otonashi realizes the only thing he can remember about himself is his name. Yuri tells him that she leads the Shinda Sekai Sensen (Afterlife Battlefront) and wages war against a girl named Tenshi. Unable to believe Yuri's claims that Tenshi is evil, Otonashi attempts to speak with her, but the encounter doesn't go as he intended. Otonashi decides to join the SSS and battle Tenshi, but he finds himself oddly drawn to her. While trying to regain his memories and understand Tenshi, he gradually unravels the mysteries of the afterlife.
(Source: MAL)

4. Your Lie in April
Episodes: 22
Aired: October 2015 - March 2015
Synopsis

Piano prodigy Arima Kousei dominated the competition and all child musicians knew his name. But after his mother, who was also his instructor, passed away, he had a mental breakdown while performing at a recital that resulted in him no longer being able to hear the sound of his piano even though his hearing was perfectly fine. Even two years later, Kousei hasn't touched the piano and views the world in monotone, and without any flair or color. He was content at living out his life with his good friends Tsubaki and Watari until, one day, a girl changed everything. Miyazono Kaori is a pretty, free spirited violinist whose playing style reflects her personality. Kaori helps Kousei return to the music world and show that it should be free and mold breaking unlike the structured and rigid style Kousei was used to.
(Source: MangaHelpers)

3. Plastic Memories
Episodes: 13
Aired: April 2015 - June 2015
Synopsis

After failing his college entrance exams, 18-year-old Tsukasa Mizugaki is offered a position at the renowned SAI Corporation due to his father's connections. SAI Corporation is known for its production and management of androids that possess human emotions called "Giftia." Tsukasa's position is in the Terminal Service Department where their main job is to recover Giftias that are close to their expiration—it is a graveyard department in every sense. To make matters worse, Tsukasa is ordered to work with Isla, a female Giftia who was never given any responsibility other than serving tea to her co-workers.
(Source: Aniplex USA)

2. Clannad ~After Story~
Episodes: 24
Aired: October 2008 - March 2009
Synopsis

Clannad: After Story, the sequel to the critically acclaimed slice-of-life series Clannad, begins after Tomoya Okazaki and Nagisa Furukawa graduate from high school. Together, they experience the emotional rollercoaster of growing up. Unable to decide on a course for his future, Tomoya learns the value of a strong work ethic and discovers the strength of Nagisa's support. Through the couple's dedication and unity of purpose, they push forward to confront their personal problems, deepen their old relationships, and create new bonds. Time also moves on in the Illusionary World. As the plains grow cold with the approach of winter, the Illusionary Girl and the Garbage Doll are presented with a difficult situation that reveals the World's true purpose. Based on the visual novel by Key and produced by Kyoto Animation, Clannad: After Story is an impactful drama highlighting the importance of family and the struggles of adulthood.
(Source: MAL)

1. Ano Hana
Episodes: 11
Aired: April 2011 - June 2011
Synopsis

Jinta Yadomi and his group of childhood friends have become estranged after a tragic accident split them apart. Now in their high school years, a sudden surprise forces each of them to confront their guilt over what happened that day and come to terms with the ghosts of their past.
(Source: NIS America)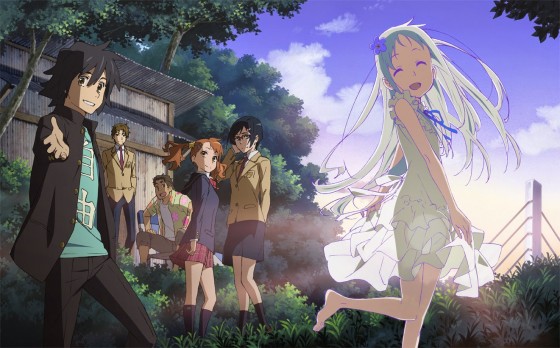 Source: Akiba-Souken
---
These all made me cry so much...
Looks like white-haired heroines are common in crying anime!
---
[ad_dfp position="bottom1" unit_pc1="true" unit_pc2="true" unit_sp1="true" class="mt40"]