También puedes leer este artículo en:Español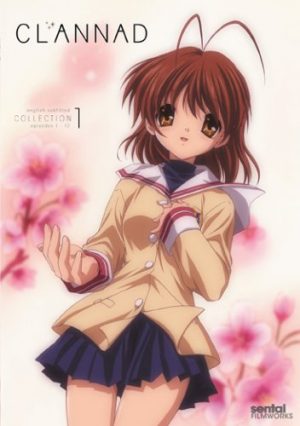 Clannad is one of those anime that is able to leave a long lasting impression on us because of its heartfelt story and characters that you've come to love. Known for being a slice of life kind of anime, it's drama filled moments and light humor makes it an anime you'll never forget. One of the most powerful aspects of Clannad's is the character development, which it is able to tug on your heartstrings emotionally.
After watching the tear-jerking ending, did it make you feel lost because there wasn't anymore about the world to see? Did you get that feeling that you didn't want the anime to end? Worry not, as fortunately there are other just as good anime out there and we compiled a list of them just for you. In this list, are our picks for similar anime to Clannad that will bring back all the good feels and set you out to journey on another emotional rollercoaster.
Here are our recommendations for 6 Anime Like CLANNAD, CLANNAD After Story.
Similar Anime to CLANNAD, CLANNAD After Story
1. Little Busters!

Episodes: 26
Aired: Oct. 2012 – Apr. 2013
The first anime on our list is Little Busters! An anime about a boy named Riki Naoe who has a condition known as narcolepsy, which he developed after the tragic deaths of his parents when he was young. Because of his problem, he couldn't have a normal life as he could have collapsed at any moment. Fearing this, Riki becomes a shut-in and had detached himself from the world. Until one day a boy named Kyousuke saved him, who created a team known as the 'Little Busters'. Along with Masato, Kengo and Rin, these kids spent their childhood days fighting evil and enjoying youth.
Their friendship lasts many years, despite eventually growing up and out of the Little Busters childhood playgroup. Until high school where Kyousuke is on his last year of school before he has to leave everyone behind, he decides to make the best out of his final year and re-ignite the Little Busters by forming a baseball team with them. With only the five of them, Riki is tasked to find new friends to join the Little Busters.
Little busters! is a light novel adaptation that comes from the same creators as Clannad. Its similarity can be seen in how the story brings a lot of the same characteristics, a similar style in expressing the values of family and friendship, and also with plentiful romance, and drama embedded in the heartwarming story. They both also follow a similar format in where characters are introduced one by one, each with their own unique story in the form of an arc but still stay true to the main story. If you loved the light humor and the dramatic turns in Clannad, then you'll definitely want to check out Little Busters!
Little Busters! Anime Announcement!!
---
2. Byousoku 5 Centimeter (5 Centimeters Per Second)

Episodes: 3
Aired: Feb. 2007 – Mar. 2007
Next up, we have not an anime series strictly speaking, but rather an anime movie called Byousoku 5 Centimeter. A movie with a unique style in which it is split into three parts, following the story of Takaki Toono and Akari Shinohara. Byousoku 5 Centimeter is about two very close friends who eventually come to love each other, but then get separated when Akari's parents decide to move to another part of Japan.
They keep in touch by writing letters but inevitably begin to grow apart, until one fateful day Takaki discovers that his family is planning to move to the other side of the country. Takaki decides to personally see Akari before he moves, as it will be very difficult for him to ever see her again. After their meeting, they grow even further apart as the years pass, until eventually they completely lose contact. Even though from time to time they still remember each other, they wonder if they will ever have the chance to see each other again.
Byousoku 5 Centimeter is a very emotional story, with a lot of stunning visuals. It is very similar to Clannad After Story in the way it tells a story of the protagonist and his relationship with someone, and then how that changes over time. Byousoku 5 Centimeter illustrates the painstaking reality of the world, in showing that life is more complicated than it appears and it also contains a lot of tear jerking moments. Byousoku 5 Centimeter is a short movie that will make your heart melt.
"5 Centimeters Per Second" trailer HD version (5 Centimeters per Second)
---
3. Plastic Memories

Episodes: 13
Aired: Apr. 2015 – Jun. 2015
The third recommendation that we have for you is the anime, Plastic Memories. A story about an 18-year-old college student named Tsukasa Mizugaki that failed his college entrance exams. However, he was able to find himself a small job at the Sion Artificial Intelligence Corporation, otherwise known as SAI Corp that is responsible for the creation of human-like androids known as 'Giftias'. However, the technology has not yet been perfected and Giftias have only a lifespan of 81,920 hours, which is approximately nine years and four months.
After Giftias expire they lose their memories and become hostile, which is why Terminal Service One, a SAI Corp station, is assigned to collect Giftias and reset them. Tsukasa joins this station and becomes partnered with a Giftia by the name of Isla, who is a veteran in Giftia retrievals. Tsukasa and Isla soon begin to fall for each other, despite Tsukasa being a human and Isla being an android. However things become much more complicated when Tsukasa finds out that Isla is losing time, as she is already near the end of her own lifespan.
The similarity of Plastic Memories to Clannad After Story lie in the fact that they both tell a love story between the protagonists that eventually comes to a tragic end, and how they end up facing the reality. Both Plastic Memories and Clannad start off with a relationship that has a high potential for a great future, and just when things are looking good and promising, disaster strikes and it hits hard on the protagonists. If you loved Clannad then Plastic Memories is a good, more recent anime to watch. Just prepare some tissues for those tears beforehand!
Plastic Memories Trailer
---
Any Anime Like CLANNAD, CLANNAD After Story?
4. Chuunibyou demo Koi ga Shitai! (Love, Chunibyo & Other Delusions!)

Episodes: 12
Aired: Oct. 2012 – Dec. 2012
Coming next on the list is Chuunibyou demo Koi ga Shitai! An anime about people who have what is called the '88h grade syndrome', an apparent 'disease' that regresses the mature mind back to a point in time where your imagination could go as wild as believing you had innate magical powers. Where you would feel like you are a chosen special hero, with no shame in doing what would be seen as embarrassing things in public.
Chuunibyou demo Koi ga Shitai! follows the story of Yuuta Togashi, a boy who once had the '8th-grade syndrome' and had called himself the 'Dark Flame Master' during his middle school days. Which he now regrets ever doing it and even had to go to such lengths as, moving far away from his middle school to not get recognized in public anymore.
Yuuta aims to have a normal high school life with his past locked away and forgotten until one fateful day, he meets Rikka Takanashi. A female classmate at his high school who currently still has the disease and goes by the name of 'Wicked Eye', whom inevitable gets intertwined with Yuuta's life.
Chuunibyou demo Koi ga Shitai! is a very lighthearted anime and has very similar vibes to Clannad. Yuuta is very comedic in nature and has a similar sort of a humorous personality as Tomoya in Clannad. Chuunibyou demo Koi ga Shitai! also has a relationship between the protagonist that grows and develops over time, until one point they realize they've become deeply in love with one and another.
Chunibyo Demo Koi Ga Shitai! - Trailer Madman
---
5. Hyouka

Episodes: 22
Aired: Apr. 2012 – Sep. 2012
Our next recommendation is Hyouka, a lighthearted anime that follows an intelligent but 'energy-conservative' high school student by the name of Houtarou Oreki. Who joins the school's classics club to avoid doing any strenuous activity. Though Oreki thinks he found the perfect way to have a peaceful and calm life when one day he meets a girl name Eru Chitanda, whom together with his friend Satoshi Fukube and another girl by the name of Mayaka Ibara, become involved and entangled with local mysteries to solve.
Although Oreki wants the conserve energy where possible and just get through school, he is constantly dragged into solving mysteries thanks to Chitanda's curiosity and charm.
Oreki from Hyouka is actually voiced by the same voice actor as Tomoya from Clannad, both characters have a similar personality. Oreki is lazy whereas Tomoya is a 'delinquent' who likes to skip class. They have a similar tone to how they interact with the female protagonists, gentle and can't help but to give them a hand when they are in trouble or in need. Both anime have a very similar tone in the way they present friendships and the school life. If you enjoyed the calm pace and character development of Clannad, then you will be guaranteed to like Hyouka.
Hyouka Promo
---
6. Angel Beats!

Episodes: 13
Aired: Apr. 2010 – Jun. 2010
The final recommendation that we have on this list is Angel Beats! Made by the same creators of Clannad. It follows the story of a boy named Otonashi who wakes up in a world with no memories other than his name, where he finds out that he had actually died. Otonashi meets a girl named Yuri who tells him that he is in the afterlife and that there are others like him, and that he is trapped in this world where he can't die permanently. Yuri is the leader of a group called the Shinda Sekai Sensen (Afterlife Battlefront) who are at war with a girl named Tenshi, who they believe controls the world. Otonashi ends up joining with the SSS to go against Tenshi, but somehow Otonashi seems to find himself strangely drawn towards her. He follows Yuri in her ridiculous antics to try and defeat Tenshi, whilst trying to find out the truth of the afterlife and to regain his lost memories.
Angel Beats! has an emotional story that is as heart-tugging as Clannad, though it has a lot of humorous moments too. Otonashi has a similar personality to Tomoya in the sense that he is someone who will help people from the kindness of his heart. Like Clannad, Otonashi ends up trying to help each individual character with their own problems. They both have very dramatic moments and draw upon the same themes such as life and death, and the struggles of coping and tackling obstacles in the world they exist in. Both anime share a very similar thing, which is that both will make you crave for more after watching them.
Angel Beats Complete Series Collection Trailer
---
Final Thoughts
That concludes our list of similar anime like CLANNAD, CLANNAD After Story. What did you think of our list this time? Perhaps we didn't mention one of your favorites? Please tell us in the comments below on your thoughts and tell us the reason behind them. Is Clannad one of your favorite anime? And if so, why?
Though a lot of us have felt the same kind of feeling that emanates from this light-hearted and emotional rollercoaster of an anime, we all have different aspects that we liked and disliked about every anime. Please tell us what makes Clannad on your top list!
---
---
Clannad is well known for making its viewers cry rivers as the story takes you on an emotional roller coaster ride. The drama and comedy, and a slightly mysterious vibe, provide an extremely compelling anime that you are sure to crave after finishing.
To help you on your search for other animes with the same compelling story I have compiled a list of other animes similar to Clannad.
Similar Anime to Clannad
1. Kanon (2006)

Episodes: 24
Aired: Oct. 2006 - Mar. 2007
Aizawa Yuuichi has finally returned to his hometown after seven years to live with his cousin. He quickly runs into a young girl named Tsukumiya Ayu whom he befriends. His memory of his hometown is still fairly fuzzy, but Ayu claims she recognizes him. As Yuuichi meets and interacts with various people within the town he finally comes to a surprising realization.
Kanon and Clannad have an impeccably similar scenario and atmosphere. Its drama builds and creates a whirlpool of emotions to keep your eyes glued to the screen as tears flow out. The sub-plots and longer length of this anime provides a nice pace that keeps you entertained all throughout.
---
2. Fruits Basket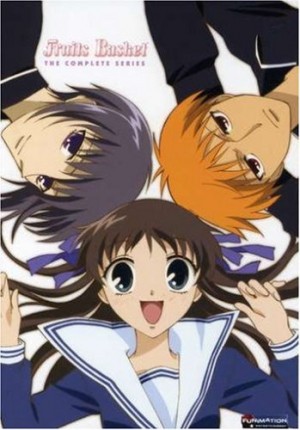 Episodes: 26
Aired: Jul. 2001 - Dec. 2001
Honda Touru has been forced to live in a tent in the woods while striving to support herself through school. She eventually stumbles upon a house in the woods currently shared by the Souma family: Kyo, Yuki, and Shigure. She soon discovers that, when hugged by a member of the opposite sex, the Souma family members transform into an animal of the Chinese Zodiac.
Fruits Basket offers up a lighter story with the same quality and feel you might find in other dramas such as Clannad. Similar to Clannad, the character development and emotional attachment of the growing romances ensnares you. As Touru helps piece together this dysfunctional family you get a sense of light heartedness; the kind you might desire when you are in a low place and want a little emotional pick-me-up. Though a lighter story it is indeed, it has its fair share of heartfelt moments.
---
3. Anohana: The Flower We Saw That Day
[Japanese Name: Ano Hi Mita Hana no Namae wo Bokutachi wa Mada Shiranai.]

Episodes: 11
Aired: Apr. 2011 - Jun. 2011
Within a close group of friends, Menma tragically loses her life. Five years later she returns as a ghost haunting Jinta. The problem is only Jinta can see or hear her, and neither of them know why she is there. Now Jinta and Menma try to find out why it is she has returned, starting with her regrets and wishes.
This 11 episode series was able to develop its 6 characters incredibly while still providing a heartfelt experience with no lacking in execution. Anohana connects its characters with the viewers, pulling them in as they learn more about them and the situation at hand. This romantic comedy's story builds with Clannad similarities, containing a sense of mystery and romance with the intense emotional feelings. I highly recommend this to anyone looking for a quick series with the best impact overall.
Anohana The Movie Official Trailer

---
Any Animes Like Clannad ?
4. Angel Beats!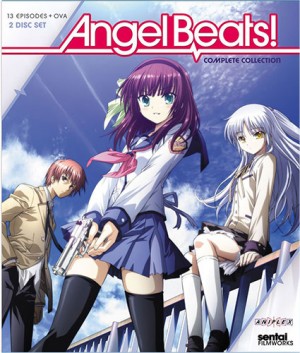 Episodes: 13
Aired: Apr. 2010 - Jun. 2010
Yuzuru Otonashi comes to consciousness in an unknown school with no recollection of anything other than his name. He meets a small group of people, of whom the leader being Yuri Nakamura. She proceeds to tell him that he is dead and that they are in the afterlife fighting against Angel and the system.
Angel Beats! provides to the list of dramas a heavier comedic relief while still yanking at the heart-strings. The story tells of a group of individuals that in the overall scheme appear to be fighting themselves in their hardships towards acceptance. This 13 episode anime becomes a short and sweet show that you will not, and cannot, forget.
Angel Beats! Official Trailer

---
5. Air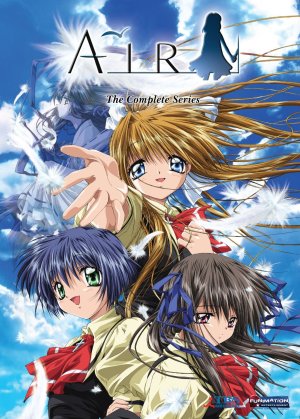 Episodes: 13
Aired: Jan. 2005 - APr. 2005
Air begins with a young man who goes by the name of Yukito. Yukito is penniless puppeteer in search for a certain winged woman whom his mother would once tell him stories about. He ventures aimlessly into a quiet town near the beach where he meets a young girl named Misuzu. Their friendship builds into something more intimate as Misuzu grows ill.
The light beginning leaves viewers open to interpretation as to where this anime will go but quickly spurs into an emotional roller coaster ride. The comedic relief is quite refreshing, and the attachment you have towards the characters by the end is incredible. I highly recommend Air TV (as well as Air: The Movie). Be forewarned, stock up on tissue boxes and ice cream.
---
6. Toradora!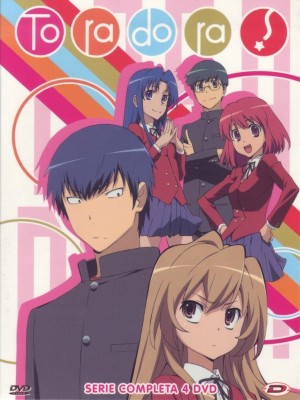 Episodes: 25
Aired: Oct. 2008 - Mar. 2009
Ryuuji Takasu introduces himself with the dissatisfaction he has toward his eyes but shows that his personality differs from the way people seem to think of him. So, on his first day of his second year in high school he tries to prove to his classmates just that. On that day he meets a girl named Taiga Aisaka. (Otherwise known as the "Palm-Top Tiger.") Taiga confesses that she like one of Ryuuji's only friends and is replied with Ryuuji's confession to his liking in one of Taiga's. Together they form an agreement that they both will help each other in their romantic goals, as long as Ryuuji subjects to Taiga as her "dog."
Toradora's slice of life feel makes it an easy watch but the story towards the end, as well as with the intertwining relationship growths.
Toradora! Official Trailer

---
---