New Year's in Japan focuses on family and reflection, a well-deserved break for those who have been working tirelessly throughout the year. Families regroup, as people return to their hometowns to enjoy a few quiet days of respite and relaxation. Many places shut down temporarily, leaving even the busy metropolises, such as Tokyo, oddly deserted. During hatsumode (the New Year's season), one of the traditional activities that most Japanese families do together is pray on the first day of the new year.
Shrines, especially the most popular ones, bustle with an overwhelming amount of visitors all hoping to change their luck with the start of a fresh year. The temples listed below are the best of the best, offering unique sights and experiences that cannot be rivaled. Making a visit to any of the best ten temples on New Year's Day will surely be a priceless memory.
10. Izusan-jinja Shrine

An idyllic shrine with incredible ocean views, Izusan-jinja Shrine. Located in the city of Atami, in the Shizuoka Prefecture, the shrine can be easily accessed from Tokyo, yet is tucked away from the masses of people along the seashore. The temple is popular, though not as crowded as some of the top spots on this list, but that lack of people is definitely a good thing. At the most frequented destination, where millions of people can visit during the course of a single day, choosing a more relaxed temple is a smart decision.
After visiting the temple early in the morning, the views of Izu are unbeatable. Situated right alongside the ocean, the cliffs of the shore feel grand and tropical. The area is also well known for their tangerine trees, which begin ripening right around New Year's. Idyllic and laid-back, the Izusan-jinja Shrine starts off the list of best shrines to visit for New Year's day celebrations.
---
9. Tsuruoka Hachimangu

Kamukura, one of Japan's old capitals located in the Kanagawa Prefecture, is an area that is beautiful and restorative. Accessible from major cities such as Tokyo and Yokohama, the celebrations at Tsuruoka Hachimangu are quite popular for New Years, but not as crowded as those directly in Tokyo.
While in the Kamakura area, it is worthwhile to visit the other attractions located in the city. Kamakura is most well-known for the Dai-Butsu, a giant Buddha statue that has survived both earthquakes and tsunami, and is famous for sight-seeing even outside of New Year's day. Easily accessed from Tokyo, the Tsuruoka Hachimangu is an excellent choice for a New Year's Day temple, and number 9 on this list.
---
8. Itsukushima Shrine

A famous destination known for its partially submerged torii gate, a flash of red jarring out from the otherwise calm blue tones of the ocean that surrounds it, Itsukushima Shrine in Hiroshima is a remarkable place to visit on New Year's Day. This shrine is perfect for those in the Kyushyu area of Japan, rather than those located in Kanto or Kansei.
An important historical area, Hiroshima is a city that every visitor should attempt to see during their time in Japan. It's tragic past is inescapable, but that significance might make the New Year's reflection and prayers even more poignant, and carry a deeper emotional meaning than at other temples. For a truly special and thoughtful start to the New Year, Itsukushima Shrine is the place to go.
---
7. Fushimi Inari-taisha Shrine

Located in Kyoto, the cultural capital of Japan, Fushimi Inari-taisha Shrine is already a world-renowned tourists destination that only becomes more popular during New Year's. Possessing hundreds of red torii gates, the views of Fushimi are distinctive, and one of the most common images foreigners always have of Japan. While hiking up and down the entire mountain that this shrine sits at takes around 2 to 3 hours, visitors can simply enjoy as much of the trek as they choose to, turning back at any point.
Fushimi Inari-taisha Shrine should be visited regardless of any circumstance. Even on a normal day, without a festival or celebration, the splendor of the temple is remarkable. Undoubtedly one of the best shrines to visit in the Kansai area, and also in all of Japan, the festivities at Fushimi Inari-taisha are bound to be top-notch. Prepare your prayer in advance, brave the crowds, and be sure to attend the festivities at Fushimi Inari-taisha.
---
6. Sumiyoshi-taisha Shrine

Osaka, as one of Japan's major cities, is well known for being laid-back, especially compared to the non-step energy of Tokyo, and always filled with delicious food. Osaka is also famous for the Sumiyoshi-taisha Shrine, one of the oldest shrines in all of Japan. During hatsumode, this location is one of the most frequented, drawing hundreds of thousands of visitors.
Constructed with a rare architecture style, Sumiyoshi-taisha Shrine represents important Japanese cultural history. While over 2000 Shinto shrines exist in Japan, Sumiyoshi-taisha Shrine is easily one of the most recognizable and unique. Lacking influence from many other Asian nations, the buildings at this Osakan temple are truly Japanese to the purest extent. When celebrating New Year's day in Japan, where better to go than a place as Japanese as Sumiyoshi-taisha?
---
5. Ise Shrine

One of the most important Shinto shrines, the Ise Grand Shrine is considered exceedingly holy and a must visit site, whether on New Year's Day, or any other day of the year. The shrine's strict rules mandate that the chief priest of priestess must trace their lineage to the Imperial House of Japan. A large complex composed of two different areas, the Inner Shrine and the Outer Shrine, Ise's grounds are expensive and readily explorable.
As New Year's is a peaceful and reflective holiday with cultural significance to Japan, the Ise Shrine is one of the best places to visit. With such rich history and heritage, the quiet reverence expected for people on New Year's well suits the temple. At number 5 on the list of top ten New Year's temples, Ise Grand Shrine is one of the best places to be in Japan this holiday season.
---
4. Sensoji Temple

Located in Tokyo's historic district, Asakusa, Sensoji Temple is one of the most popular destination to visit on New Year's Day. Despite contending with Meiji Jingu Shrine for visitors, as both are located within the city limits of Tokyo, millions of people still flock here for their annual prayers. Here, it can become so crowded that people wait in line for hours, only to get close enough to toss in coins over people's heads.
The temple lies in a beautiful area of Tokyo, right alongside the river with views of the Sky Tree, and has a large, traditional style market in the front of the temple. While many of the stores will not be open during the New Year's time, vendors and other New Year's festival activities might be occurring in the area. Even on a normal day, Sensoji is a remarkable area to visit, that gives visitors a taste of old Japanese life.
---
3. Naritasan Shinshoji Temple

Conveniently close to Narita Airport (perfect for international travelers who don't wish to trek far for their pilgrimage to start off the new year), Naritasan Shinshoji Temple is one of the most famous religious destinations in the Kanto area. Possessing a history of over 1000 years, the Naritasan Shinshoji Temple's background is rich and meaningful. Easily accessible and annually drawing great crowds, Naritasan Shinshoji Temple is a must-see destination.
In terms of New Year's crowds, Naritasan Shinshoji Temple does not attract the sheer amount of people as Sensoji. Rather, the temple provides a slightly more relaxed pace that can be reached shortly from Tokyo or the Narita airport. Popular, convenient, and above all, a beautiful temple, Naritasan Shinshoji is an excellent choice for New Year's day prayers and celebrations.
---
2. Atsuta Shrine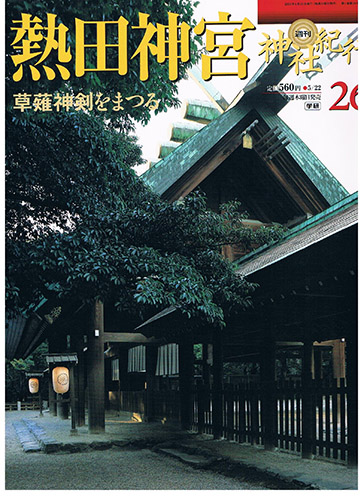 Located in Nagoya Prefecture and ranked as highly in reverence as the Grand Ise Shrine, Atsuta is one of the absolute best places to visit for New Year's traditions. Over 9 million people visit this location annually. This temple houses one of the Three Sacred Treasures of Japan, and is an undeniably important religious and cultural destination.
Following New Years, this shrine also holds a huge festival on January 5th, called Hatsu-Ebisu, which celebrates bringing luck for the new year. Nagoya is also the location of one of Japan's must-see famous castles, and makes a great tourist destination for visitors hoping to sight-see. However, keep in mind that because the New Year's season is a time for family, many of the shops will be shut down for the holidays.
---
1. Meiji Jingu

An enormous shrine situated in the center of the busiest part of Tokyo, Meiji Jingu tops the list of the best ten temples to visit on New Year's day. Every year, millions of people travel here to pay their respects, coming in from beyond the borders of the city, in order to pray specifically at this location. An enormous complex that is attached to Yoyogi Park, and mere minutes away from the bustle of Harajuku, the Meiji Jingu New Year's celebration is undeniably the one not to miss.
While enormous lines are inevitable, there is no better place to be on New Year's. The energy from the crowds and the entire experience is truly one of a kind, and will surely be a great location for bringing in New Year's luck. If you can handle the sheer amount of people, which will likely be at any shrine on New Year's day regardless, then there is no doubt about it; Meiji Jingu is certainly the best place place to be.
---
Final Thoughts
This New Year's season, forget the fanfare of fireworks and throngs of count-down crowds, and enjoy a more relaxed, Japanese style manner of celebration. If you can make it to Japan, then visiting any of these ten temples is an activity that cannot be missed, and will leave you with memories that you will be sure never to forget.
---