While VR—Virtual Reality—gaming didn't start in 2017, it sure did have a solid slew of titles release during this year. In many ways, you could almost call 2017 the year of the VR games just because of the awesome titles that released to consumers. Whether you're into action heavy titles or like the fear of a good horror game the VR world was ready to deliver. Here at Honey's Anime we have compiled ten of the best VR games released in 2017 and want to share it with all of you dear readers. It's time to enter the world of our Top 10 Best VR Games of 2015 list!
Now with our list, we knew that there are many versions of VR headsets out there on the market. If you're a PC gamer, you had the Oculus Rift to get lost in. Those who own the PS4 can use the PSVR headset. Then for mobile gamers, you could have been rocking the Samsung Gear VR headsets. Regardless of your gaming preference, our list of the Top 10 Best VR Games of 2017 covers multiple systems so you won't feel left out. With that being said, let us begin our journey into virtual reality by scrolling down and starting off our list at number 10.
10. Gran Turismo Sport

System: PS4
Publisher: Polyphony Digital
Developer: Sony Interactive Entertainment
Release Dates: Oct 17, 2017
Do you consider yourself a racing enthusiast in the gaming world? Love the exciting thrill of speed but feel you're missing just that little bit of immersion real life racing has? Then you need to play Gran Turismo Sport. While you can still enjoy the feel of one of the best simulation racing titles, you can now enjoy it with the power of the PSVR Headset. Get immersed in a way never before seen as you hit the tracks as if you were really there behind the steering wheel. Gran Turismo Sport changes the racing game genre up but are you ready for it?
In 2017, there were a ton of VR racing games released on multiple platforms. However, one of our absolute favorites was Gran Turismo Sport for the PS4/PSVR. While Gran Turismo has always been known for impressive levels of detail, Polyphony Digital increased the amount with the inclusion of VR. We also didn't too much motion sickness while playing which is a plus in our books. If you have a PSVR Headset, you need to pick up Gran Turismo Sport if you love racing games.
---
9. Star Trek: Bridge Crew

System: PC, PS4, MacOS
Publisher: Ubisoft
Developer: Ubisoft
Release Dates: May 30, 2017
The U.S.S. Aegis needs a new captain. Luckily, they found one and that's you. Welcome, commander, to Star Trek: Bridge Crew. Lead your team to explore vast amounts of space and see the beauty and dangers of being an interplanetary explorer. Captain, make the correct calls or find yourself in a dangerous situation where escape may be impossible…
While Star Trek: Bridge Crew can be played without a VR headset, the feeling just isn't the same. Whether you consider yourself a Trekkie or not, Star Trek: Bridge Crew is a truly great VR title. Order your team to perform numerous operations as you explore different sections of space as the commander of the U.S.S. Aegis. Star Trek: Bridge Crew is also no simple title and requires the ability to act cool under pressure as situations can get rather intense. Fan or not of the Star Trek world, Star Trek: Bridge Crew is a solid VR title available on the PC and PS4 for your enjoyment.
---
8. Arizona Sunshine

System: PC, PS4, MacOS
Publisher: Vertigo Games, Jaywalkers Interactive
Developer: Vertigo Games
Release Dates: Jul 5, 2017 (PC 2016)
Arizona is currently facing a rather grim situation. It's not that the weather is too hot or that too many tourists are invading, instead the state has become infested with zombies. You play as a man who needs to find a way to escape the zombie hordes. With a radio signal clamming freedom in a nearby military base the man gets ready to make his way there. However, with so many zombies around this won't be a walk in the park and it might take some serious firepower to survive…
Arizona Sunshine originally released on the PC in 2016 but for the PSVR it released in July 2017 and thus makes it perfect for our list. Players can either use the PS Move or newer PS Aim Controller to kill tons of zombies with various weapons. We also love the main character as he narrates his struggle to survive but with a comedic tone all throughout the story. Arizona Sunshine is one of the best VR zombie shooters we've played here at Honey's Anime. That's why we 100% recommend picking it up if you need more VR games to fill out your VR library.
---
7. Farpoint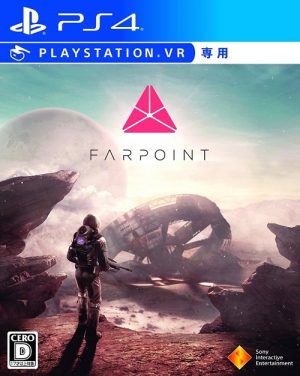 System: PS4
Publisher: Impulse Gear
Developer: Sony Interactive Entertainment
Release Dates: May 16, 2017
The mission should have been simple enough. Rescue some scientists who seemed to have disappeared near Jupiter as the were exploring a strange anomaly. However, as your ship gets close to the planet, something strange occurs pulling your crew and you into a strange rift in space. Now, separated on a strange planet, you must find your team as fast as possible as the planet is far from safe. Arm up and get ready for a battle in Farpoint.
Exclusive to the PS4 comes Farpoint from developer Impulse Gear. Players take control of an armed soldier as they battle to find their crew on a planet filled with giant bug-like enemies. Farpoint is tons of fun with just the PS4 controller but becomes a greater title if you use the PS Aim Controller as it gives you the feeling of shooting enemies with a higher level of immersion. Farpoint is pretty tough though, we won't lie. Be prepared to fight hordes of enemies and be precise with your shots to make them count!
---
6. Megaton Rainfall

System: PS4, PC
Publisher: Pentadimensional Games
Developer: Pentadimensional Games
Release Dates: Oct 17, 2017
Earth has been invaded by aliens from another planet! Though they won't find taking over the planet as easy they thought it might be. You have been created from a power ancient life form. Your mission is to save Earth from the aliens. Be the hero you were meant to be and destroy the aliens with your massive supernatural powers!
Have you ever wanted to be a hero? Save humans with mighty powers and or be a supremely power being? Well, so far there are no means of doing that yet—as far as we know—but Megaton Rainfall will get you close to the feeling of being a powerful hero. Play on either the PC or PS4 and destroy aliens with massive energy attack all while flying through space and Earth at high levels of speed. For a game that was made from one indie developer—Alfonso del Cerro—Megaton Rainfall shows some of the best gameplay from a VR title and was easily one of the best games released in 2017.
---
5. Paranormal Activity: The Lost Soul

System: PC, PS4
Publisher: VRWERX
Developer: VRWERX
Release Dates: Aug 15, 2017
In a wooded area lies a house. At first glance, it seems normal enough but upon entering you realizing there is something sinister lurking in the home. You must investigate the home and find out what is going on. Armed with only a flashlight and your wits explore the home to see what lies in this seemingly normal place. However, be prepared for a danger that might not be a physical one…
Hailing from the very popular Paranormal Activity film franchise, Paranormal Activity: The Lost Soul puts players into the world of ghosts and demons in first-person. Explore this home and find clues to learn what is going on and why the family here has been plagued by a supernatural phenomenon. What's even better about Paranormal Activity: The Lost Soul is that no two playthroughs are the same. In this 2-3-hour title, one time a jump scare might happen and then if you play it again it may never occur. Paranormal Activity: The Lost Soul will keep you on the edge of your seat while playing. Trust us, we here at Honey's Anime jumped many times while playing and that same thing will happen to you as well.
---
4. Robo Recall

System: PC
Publisher: Epic Games
Developer: Epic Games
Release Dates: Mar 1, 2017
Agent 34's job is simple on paper, remove defective robots from the world as a Recaller. That's Agent 34's job in a nutshell as an employee to RoboReady corporation. However, Agent 34's job is about to become a bit tougher unfortunately. A new virus has spread causing RoboReady's robots to become hostile towards their masters. Now, you must be ready to fight for your life as you take down the defective and regular robots who have deemed mankind worthless.
Robots, guns and tons of action make Robo Recall a truly exhilarating VR title for the PC. When Epic Games—known already for some impressive titles—released Robo Recall it was already bound to be a solid title and just one-minute playing will make you agree. We loved the impressive visuals as well that really show the strength of modern VR titles. Here at Honey's Anime HQ, we do hope Robo Recall gets released for the PS4 eventually. For now though, PC owners have easily one of the strongest first-person titles released in 2017 to enjoy.
---
3. Skyrim VR

System: PC, PS4
Publisher: Bethesda Softworks
Developer: Bethesda Softworks
Release Dates: Nov 17, 2017
Skyrim VR takes the huge world established in The Elder Scroll: Skyrim title but allows players a new way to play. Take your favorite VR Headset and become the Dragonborn as you control the sword swings and magic via your peripherals. Explore the large world of Skyrim as you enter the dark caves teeming with monsters and the open ranges with giant beasts roaming around. Skyrim VR takes you on a trip that no other VR experience has ever done before. Finally, players can feel the fantasy world of Skyrim closer than ever before.
One of our absolute favorite fantasy gaming titles is Skyrim. That's why when in 2017 Skyrim VR released, we were already wiping out our PSVR Headsets and ready to play. There's nothing cooler than fighting a dragon or another warrior with you leading every movement outside just hitting a button on a regular controller. Skyrim VR gives you the ultimate feeling of being a warrior in a fantasy world and thus deserves our third spot on our Top 10 Best VR Games of 2017. Now, if you'll excuse us, talking about Skyrim VR kind of makes us want to play some more.
---
2. SUPERHOT VR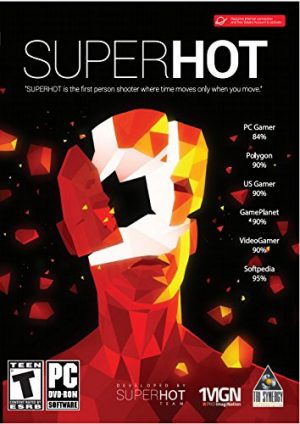 System: PC, PS4
Publisher: SUPERHOT Team
Developer: SUPERHOT Team
Release Dates: May 25, 2017
SUPERHOT VR brings the classic gameplay of the original title back to the player though now your actions in game are judged by how your motions in the real world. Dodge bullets, knives and fists all while attacking your enemies with calculated strikes. Remember, the world of SUPERHOT VR only moves when you move. Take your time and plan your actions. Otherwise one wrong move might lead to your untimely demise.
In 2016, SUPERHOT was released and was met with critical acclaim for its wicked style and amazing first-person gameplay. SUPERHOT VR once again has bought the greatness from its predecessor but with VR functionality. Now, you can actually see the bullet lines and react with your own body free from the confines of a normal controller or keyboard. SUPERHOT VR truly shows how solid the VR world can react to your movements and actions. That's why we can't recommend SUPERHOT VR any harder as we know you'll love this title once you enter its world.
---
1. Resident Evil 7

System: PC, PS4, Xbox One
Publisher: Capcom
Developer: Capcom
Release Dates: Jan 24, 2017
Ethan Winters has found himself heading to Dulvey, Louisiana in search of his missing wife Mia. Despite being gone from Ethan's life for three years a message came from Mia leading him to a home in Dulvey. However, immediately Ethan realizes this home isn't warm and comforting. Instead, the Baker Family and Mia have been consumed by some unknown parasite making them twisted versions of their previous selves. Now trapped in the home, Ethan must fight his way through the family. Ethan's survival begins here in Resident Evil 7…
Many Resident Evil fans loved Resident Evil 7 for its solid gameplay and horror elements. Though for many the true enjoyment came from putting on a VR Headset and playing through Ethan in a VR sense. The horror elements amplified and every encounter felt personal in comparison to using a controller to execute Ethan's movements. Resident Evil 7 might not be a VR only experience but thanks to its VR mode it was easily the best VR title released in 2017. Now here's hoping Resident Evil 8 is also VR when it releases sometime in the future.
---
Final Thoughts
VR gaming in 2017 was indeed mind-blowing. There were tons of high quality games to choose from to make gamers feel like their expensive headset finally had some amazing games to play on it. Now in 2018 already a slew of new VR exclusives have been announced like The Impatient and Bravo Team VR just to name a few games. What are some of your current favorite VR games and or what games did you love from 2017? Comment down below to let us hear from you and for more articles like this one you know to keep stuck to our hive here at Honey's Anime.
---