With the fall anime wrapping up this season, we know that it must mean it's time for winter! That's when the weather goes from chilly to freezing and by the time you're out of work or school, the sun's gone! Yup, the winter season brings a whole new environment, but you can't forget, it also means a wardrobe change!
Yes, as winter starts to roll in, your favorite anime characters are putting away the t-shirts, tank tops, and short shorts for some warmer winter wear for the upcoming holiday season. Just because clothing tends to get thicker, doesn't mean anime characters are any less fashionable. Your favorite anime characters are donning on some great winter fashions this season to keep cozy yet fabulous.
With the disappearance of skin and boobs, what exactly can you expect from your favorite anime characters during the winter season? Let's check out some very stylish anime characters wearing your favorite winter fashions!
10. Koide Natsuno (Shiki)

Episodes: 22
Aired: July 2010 - December 2010
What's there to say about our little Koise Natsuno? He's kind of like the lone wolf in Shiki. While Natsuno hates the countryside and is a city boy at heart, you know he's a pretty good guy since he's willing to sacrifice everything for this small village. Unfortunately, Natsuno has that cold, hard shell that's difficult to get past.
Now, what's everyone's favorite werewolf wearing for the winter season? As the weather gets cold, Natsuno dons on a reddish brown, checkered parka over a white button down shirt with black capri pants and pink sneakers. While in most cases, this would probably be on the list of weird anime fashions, but this is the type of fashion that only a bishounen can pull off. Don't worry, Natsuno is just that bishounen! Somehow this odd attire suits him quite nicely whether it's his body, attitude, or perhaps it was just made for him, but Natsuno looks like one sexy bishounen now in his warmer winter wear. Kids, don't try this at home!
---
9. Morishima Haruka (Amagami SS)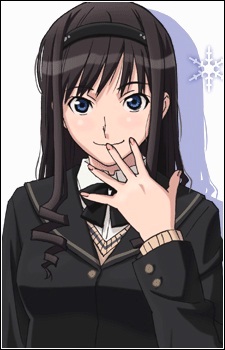 Episodes: 25
Aired: July 2010 - December 2010
Perfection is hard to find, but Morishima Haruka comes pretty close. She can be quite mischievous and sly, but most of the time, Haruka is pretty playful and loves to tease. Even though Haruka is extremely popular amongst her class, Haruka still has her own insecurities which makes her so cute! How can you not fall in love with Haruka for the holiday season?
Haruka does a great job looking fashionable yet warm for the winter season. Taking a look at her winter fashion, she has put on a fur-lined, white trench coat that complements her figure and gives off that innocent girl charm that Haruka seems to possess. You'd never guess that she has a devilish side underneath that trench coat!
---
8. Gareki (Karneval)

Episodes: 13
Aired: April 2013 - June 2013
If you're a tsundere fan, you'll love Gareki! Gareki is at times cold and quick to reject you, but in truth, he's just shy and embarrassed easily. Gareki does all in his power to protect what's important to him, even when it means sacrificing his own happiness, but he doesn't do it for the glory! He's just the hero we all need.
Gareki hits the streets in his sleek outfit consisting of a deep blue top coat, black zippered turtleneck, red pants, and gloves. Of course, you can't forget Gareki's goggles! Gareki's outfit not only makes it easier to handle those winter winds, but it suits Gareki quite nicely as the brooding type. If you're looking to Gareki as your winter fashion model, don't forget the gloves! Your fingers will thank you.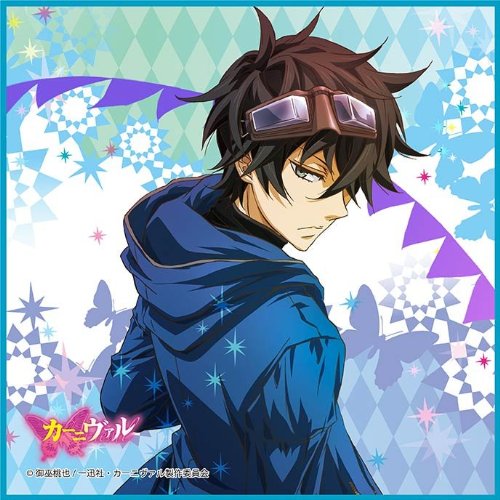 ---
7. Kuronuma Sawako (Kimi ni Todoke)

Episodes: 25
Aired: October 2009 - March 2010
If there was ever a pure hearted shoujo character through thick and thin, Sawako would be that character. She believes wholeheartedly in everyone around her and will do anything to ensure that everyone is happy even when it means she's left behind. She's a little unusual, but Sawako is an adorable young teen who is just finding her place in this world, and we all can relate, can't we?
Sawako is just a darling in her knee length dress and knitted poncho for the new year! She also made a smart decision finishing off her outfit with knee length boots to make it easier to trek through the snow yet stay in style. You have to love her poncho though, which is not only a great way to stay cozy for the winter, but it compliments her innocent personality beautifully! Sawako's choice in winter fashion is just perfect for hatsumode this season!
---
6. Lockser Juvia (Fairy Tail)

Episodes: Unknown
Aired: April 2014 - Ongoing
The perfect way to describe Juvia: Gray crazy. She's the adorable water mage of Fairy Tail who's strong, clever, and completely obsessed with Gray, which makes her a little more than just crazy. She's quick to go into her own fantasy world and make up her own delusions, but you can't deny that Juvia is a worthy member of Fairy Tail.
Not many can deny the charms of one Juvia Lockser. She looks dazzling in her blue dress, which is cinched at the waist, and matching blue, fur lined cape and cap. Now, this is how you dress to impress! Juvia adds some definite sex appeal with the high slit up her side and knee length boots. Juvia not only looks cozy, she's about to bring the fire!
---
5. Takahashi Nanami (Bokura ga Ita)

Episodes: 26
Aired: July 2006 - December 2006
When it comes to girl friends, Nanami is one of the most stubborn. She has had her share of issues, but she keeps going headstrong into her relationship against all odds! That doesn't mean she's an idiot either, because she doesn't let herself get taken advantage of. Nanami is strong in her own convictions and speaks her mind; Nanami is the role model most teenage girls need to survive their adolescents!
Of course, Nanami does it perfectly on a Christmas date! Nanami shows off her sweet style with her adorable magenta dress complimented with her whitish pink, fur lined bolero perfect for winter fashion. Of course, her dress may be short but the knee length boots add the perfect touch as well as keep her warm. If you're looking for that innocent look for your holiday date, just go to Nanami for any winter fashion consults!
---
4. Suoh Mikoto (K)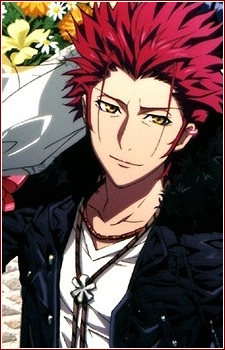 Episodes: 13
Aired: October 2012 - December 2012
How can you possibly not like Mikoto? He's got attitude, which is the essence of fashion winter or spring! Mikoto is a man willing to do anything for his comrades and he's a great leader too, though he may not seem like the most serious, he's not one to take lightly. Mikoto is a complicated man, but you will definitely understand why his clansmen love him so much.
Now, here's one anime character that really brings the fire this season! Mikoto shows off his winter fashion sense with his fur-lined, black leather jacket, white v-neck and denim jeans. It's a casual look that suits his rougher appearance just right! Leather's a great material if you're looking to keep warm and keep the winter breeze out yet maintain your winter style. Mikoto's also got just the right jewelry to finish off the rough-around-the-edges look.
---
3. Sanada Ryuu (Kimi ni Todoke)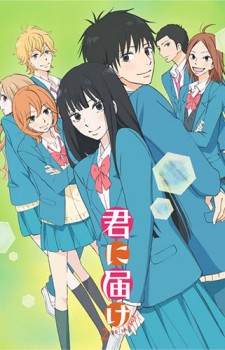 Episodes: 25
Aired: October 2009 - March 2010
Although Ryuu doesn't stand out like the other characters from Kimi ni Todoke, you have to admit that he's one of the best supporting characters. He's a man of few words, but when he does speak, he doesn't waste words. Ryuu doesn't care for gimmicks, tricks, or plots. He's the type who is blunt and to the point, but he's just the type of person that we need to be or the best friend we need.
Ryuu is another character from Kimi ni Todoke with some great winter fashion sense. He dons on a white down jacket perfect for keeping insulated, but compliments the jacket with a cap that rounds out the look very well. He may look like some casual high school boy, but Ryuu shows off the kind of a style that guys should wear for the winter. When coupled with his easy going and quiet personality, it's a great example of winter fashion done right.
---
2. Kousaka Kirino (Ore no Imouto ga Konnani Kawaii Wake ga Nai. [OreImo 2])

Episodes: 13
Aired: April 2013 - June 2013
When it comes down to tsunderes, Kirino is one of the most stubborn, but it adds to her cuteness. She loves little sister eroges, has an obsession over a magical girl anime, and is quick to run to her brother for help when needed. Kirino is probably one of the cutest little sister types, not because of her looks, but because she has her own personality. She's a little girl with plenty of attitude!
Kirino may be known for being an otaku amongst anime fans, but don't forget, she's a model, too! For her winter fashion, Kirino puts on a lovely light blue long sleeve under a blue spaghetti strap dress that's cinched at the waist with a wide brown belt. To top it off, she's added a fur lined, down vest to add a touch of warmth to her stylish outfit. Everything complements each other nicely and works well to keep Kirino warm during her Christmas date. Isn't Kirino as cute as always?
---
1. Minami Haruka (Minami-Ke Tadaima)

Episodes: 13
Aired: January 2013 - March 2013
Minami Haruka is that girl next door that everyone loves and respects. She's talented in everything, but spends most of the time just taking care of her sisters rather than going out on dates or joining any clubs. Although Haruka can be rather sweet and caring, she's got everyone wrapped around her finger and rightfully is nicknamed "Banchou"!
What winter fashion article would be complete without a kimono? Haruka is that girl next door that everybody loves so of course you'll fall in love with her in her beautiful light blue furisode featuring white blossoms and a pretty violet design on the sleeves. Not only does Haruka's furisode show off her beauty, grace, and elegance, it's a wonderful outfit for staying warm during the cold winter. Why not try a kimono for hatsumode this season? It's a timeless winter fashion that will not go out of style!
---
Closing
There are so many outfits and types of clothes to consider for the winter fashion season that you might get discouraged, but let your favorite anime characters nudge you in the right direction when you are considering your next winter outfit. From keeping warm to hitting the streets in style, your favorite anime characters know just what to do!
---