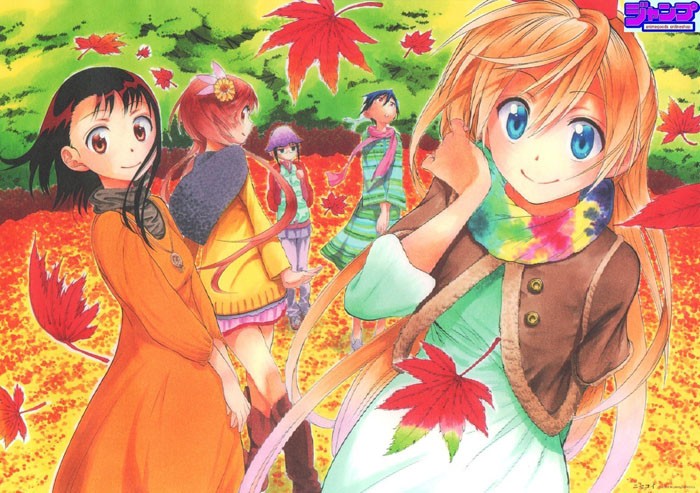 As the season changes into the colder climate, we can observe our favorite anime characters shift in fashion choices. Keeping warm with extra bundling, accessories, and winter themed clothing, we love ringing in the holiday season with tons of inspiring looks to emulate. So get ready to deck yourself out with some of these wardrobe choices. Here's our list of Top 10 Anime Girl Winter Fashion!
10. Minami Haruka from Minami-ke Tadaima (Ep 1)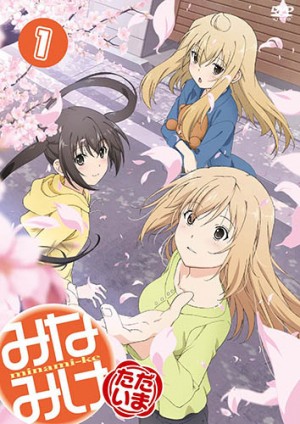 Episodes: 13
Aired: January 2013 – March 2013
Minami-ke Tadaima follows the lives of three sisters, Haruka, Kana and Chiaki Minami. These sisters spend a lot of time together, tackling various and outrageous adventures. As this is the fourth installment of the series, we observe the girls go through their growth, learning to deal with life's obstacles, as a unit and individually. This slice of life comedy shares a simplistic story line, conveying across the board relatability for each sister's contrasting personality. Minami-ke Tadaima is definitely a light-hearted, feel-good anime to watch, especially for bringing good cheer this holiday.
Haruka is the eldest of the bunch, providing the most guidance and dependability for her younger siblings. With this responsibility resting on her shoulders, you can't blame the girl for letting her guard down and being lazy when she's on her "me time." Rest assured, Haruka does not take a break when it comes to her style. In one of the later episodes, the girls are dressed in fabulous kimonos, observing traditional customs for the New Year in Japan. What differentiates Haruka's ensemble from the rest of her sisters' is that she adds elegant, subtle touches to her look, such as accessorizing her low bun updo, adding a sherpa wool stole, and matching her purple bag to the minuscule flower detail on her kimono. As winter marks the end of the year and the beginning of the next, what better way to add to a timeless classical tradition than to incorporate some flair to the new and mature you!
---
9. Juvia Lockser from Fairy Tail

Episodes: 175
Aired: October 2009 – March 2013
In a world filled with magic, Fairy Tail begins by following a young girl name Lucy Heartfilia. In this magical world, by participating in various missions and jobs, guilds are recognized, gaining notoriety and status. Lucy has her heart set on the notorious Fairy Tail guild and luckily receives her chance when she encounters one of its members, Natsu. Fairy Tail tells the journey of Lucy and her guild-mates on a myriad of adventures. In Lucy's pilgrimage towards becoming a strong mage, Juvia Lockser, one of Lucy's guild-mates, as well as another mage, is very present. The dynamic of each member of the Fairy Tail guild provides positive attitudes and energies to stimulate personal growth in this world of magical competition.
Drip, drip, drop. As a mage possessing great skill using water elements, Juvia's overall fashion features lots of blue. Commonly, we also tend to think of the color blue when gauging cold temperature. As such, it is no surprise that we include Juvia on this list, particularly with her long blue hair, blue mid-length and flared coat, blue and white trimmed shawl and completing the look with a matching Cossack hat. Juvia's fashion screams warmth and cozy and surely is something that can be duplicated for winter.
---
8. Onodera Kosaki from Nisekoi (Nisekoi: False Love) (Ep 11)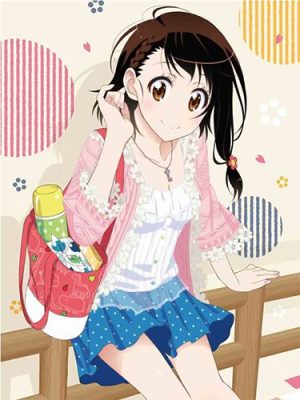 Episodes: 12
Aired: April 2015 – June 2015
Nisekoi (Nisekoi: False Love) is the story of Raku Ichijou, the son to one of the Yakuza factions. A decade ago, Raku was given a precious locket from a little girl, promising her that they would reunite in ten years, open the locket and be together. Time has passed and Raku is now in high school. He meets Chitoge Kirisaki, the daughter of the boss from a rival gang. In order to keep peace between the two, the heads of the opposing gangs agree that Raku and Chitoge form a faux relationship.
In this harem rom-com, the person who shares the most authentic and genuine bond with Raku is Onodera. Her character is very charming and likable, with really relatable qualities. There are multiple instances when the duo wants to express their interest for each other, but for some reason are caught in an awkward stage, suddenly bringing things to a halt. In one iconic and romantic winter scene, Onodera and Raku are at a park. Under the snowfall and dim light, we wonder if this will be the time they tell each other how they feel. Onodera is smitten with Raku, cloaked together with a lovely red scarf, green blazer, loafers, knee-highs and blue skirt. The colors altogether are beautiful and vibrant; glistening under the snowy, star filled sky.
---
7. Irina Jelavić from Ansatsu Kyoushitsu (Assassination Classroom) (2nd season Ep 25)

Episodes: 22
Aired: January 2015 – June 2015
In the anime Ansatsu Kyoushitsu (Assassination Classroom), the students of class 3-E must learn how to assassinate their teacher, who happens to be the greatest threat to Earth. It's scary to think that the fate of the world rests upon the young of society! In addition to the already troubling conflict, the threat itself is an alien being, Koro-Sensei as he is called, foreign to what humanity knows. In this hilarious anime, these youths must learn to battle in order to save their homes and livelihood.
Irina Sensei, or commonly referred to as Professor Bitch, has a very sophisticated and feminine style. In one of her looks, Irina Sensei dons a cream cable knit turtleneck and red pencil skirt. Even though she is seen sporting very sexy and revealing outfits in various episodes, these matching separates have a way of accentuating her curves and at the same time, keeping it classy. Although these can be worn throughout any cold weather, we find this look fitting because of its ease and comfort. A staple and versatile piece, cable knits are ageless and suitable for all.
---
6. Yuki from Ookami Kodomo no Ame to Yuki (Wolf Children)

Episodes: 1
Aired: July 2012
Wolf Children is the story of Hana, who during her studies in college, falls in love with a tall, dark, and handsome Ookami, as he perchance sits in on one of her classes. Hana and Ookami start dating, developing a deep, romantic relationship. Later on, Hana finds out that Ookami is part human, part wolf. When the pair begins a family, having a lovely girl and boy, Ookami tragically dies. Unfortunately, Hana is left a widow to care for her young, who have also inherited his trait. We observe in Wolf Children, that taming the animal in these kids isn't an easy task. Further, we see the unbreakable bond in family, having the ability to overcome any obstacle.
In any quintessential nature magazine or text, we find the wolf or a wolf pack most comfortable and in its element when photographed in the snow. Even domesticated, the Siberian Husky or Alaskan Malamute looks just as majestic pulling a sled or performing any working task. Adding the Wolf Children, particularly Yuki to this list was necessary. We can't help but coo and aww when seeing wolf puppies play in the snow. Growing a little older, they are just as gorgeous. In one particular scene, we see Yuki wearing a blue dress embellished with white snowflakes on the trim and for warmth, a white long sleeve underneath. Having to hide this part of her, Yuki is expressing a little glimpse of her life with what she is wearing.
---
5. Di Gi Charat "Dejiko" from Winter Garden

Episodes: 2
Aired: December 22, 2006 – December 23, 2006
#Cuffingseason is in full effect in the anime Winter Garden. We are introduced to the lovebirds, Dejiko and Takurou, when he notices her sitting alone at the park one snowy evening. She just got off of work at the confectionary shop. A tickle in Deijiko's nose and she feels a sneeze come on. As this is her signal to head home, she begins to get up, but slips and falls, ruining the box of pastries she was holding. Takurou to her rescue, he switches the package she has for his and walks away. From that day forth, the two seemingly bump into each other a lot more often. Will they see each other again? And will it grow into something more? Watch what'll happen next.
In the initial scene where we first observe Dejiko and Takurou, their chemistry and the atmosphere resonates, "Romance is in the air!" With the light snowfall that evening, Dejiko is adorably dressed in a khaki toggle trench coat, plaid skirt, calf length boots, and hair accessories. A picturesque shot that one can imagine being displayed in a snow globe, we can't help but be in awe of this blossoming holiday romance.
---
4. Mirai Kuriyama from Kyoukai no Kanata (Ep 2)

Episodes: 12
Aired: October 2013 – December 2013
Kyoukai no Kanata is a slice of life, supernatural, fantasy story. Mirai is a descendant of a clan of "youmu" spirit warriors with the ability to use their blood as weapons. Mirai's counterpart is Akihito, a rare species of "youmu" with the power to take on human form. With events occurring in modern day, this anime captures various events surrounding their lives as they battle the "youmu" aspect in them, in conjunction with everyday teenage dilemmas. It is filled with tons of action scenes as well as some comedy.
Mirai's outfit appears as an easy, everyday look. Even when she's kicking ass, she wears an oversized, thick, pink cardigan over her two shades of blue school uniform, cute red glasses, grey tights, and brown loafers. This look is on our list for top 10 winter fashion because it is simple, effortless, and cute. For her active life, coordinating this outfit is definitely super quick, especially for someone constantly on the go. Additionally, we love that her sweater matches her hair.
---
3. Kuon from Utawarerumono: Itsuwari no Kamen (Utawarerumono: The False Faces)(Ep 1)

Episodes: 25
Aired: October 2015 – March 2016
Utawarerumono centers on the life of Haku, who was rescued by a young woman looking somewhat part animal, Kuon. Haku was found injured, amnesic, and stranded in a dark forest. As an insect-like monster attacks him, Haku is brought to a village nearby where he is nursed back to health. During his recovery, revealing that he was cursed, Haku has become familiar with the villagers and can comfortably say that this village is his home. We later observe the actions Haku takes in leading a rebellion to make things right for the village that saved him. As he succeeds, we watch Haku develop into a wise leader, building many friendships along the way.
As Kuon met Haku and rescued him from his curse, the two share a close bond. Kuon inherited some of the Witsuarunemitea power, giving her inhuman strength and abilities. We are introduced to Kuon in the first episode with this outfit, as she expresses that its particular style can be worn comfortably when each piece is worn properly. No one said fashion was an easy task! With her ensemble, she wears a navy blue floppy ear hood to keep her head warm, navy blue stole, white gloves, snow boots, and a white and navy blue striped robe. Her outfit is very simple, keeping her warm for her life in the mountains.
---
2. Megumin from Kono Subarashii Sekai ni Shukufuku wo! (KonoSuba: God's Blessing on This Wonderful World!)(Ep 7)

Episodes: 10
Aired: January 2016 – March 2016
Kozuma Satou is on his way home from picking up the latest edition of his favorite game, when tragically and pathetically, he dies of shock from being struck by a slow moving tractor in his middle-of-nowhere country town. As he is facing judgment, he meets a deity, Aqua, who offers him a chance at redemption. His choices are: to be reincarnated and live life over again or volunteer to take his current self and live in a dangerous, yet exciting fantasy world. As an extreme gamer, Satou picks door number two with the option of bringing anything along with him to aid him on his journey. As payback, he picks the deity, Aqua, after she laughs and pokes fun at how he died. From this, we kick off the start of Konosuba!
When Kozuma and Aqua enter this magical fantasy world, they begin to recruit members for their team. Megumin is one of them. As the team's mage, her specialty is an explosive dark magic with the potential to destroy everything in her path. Although her strength expires with one blow, her outfits, - both normal and winter - reflect the volatile nature of her power. Megumin's look encompasses the colors of flames. Her winter-hooded poncho is adorned with horns that appear to have flame trims coming out. Her poncho also includes buckle details and triangle red and orange trimming. She additionally wears a short bodysuit underneath for maneuverability, calf length boots, and snow gloves. Adorable, and at the same time, a dangerous force.
---
1. Umaru Doma from Himouto! Umaru-chan

Episodes: 12
Aired: July 2015 – September 2015
Himouto! Umaru-chan chronicles the perfect schoolgirl Umaru, idolized by everyone who meets her during the day; but when she comes home, she turns into a lazy bum who lounges around her brother's apartment. As Umaru constantly whines and complains to her brother, she most always gets her way, as she regularly plays video games, read manga, and stuffs her face with cola and chips all day long. Even though her brother yells at her for being the way she is at home, he wonders how different she becomes when she steps into the outside world. Himouto! Umaru-chan is an adorable and funny anime that definitely needs to be on everyone's watch list!
Umaru's winter look makes the top of this list of winter fashion because of not only what she wears, but also how she lives her life as soon as she gets out of school. With this holiday season, some of us may get some time off to vacation. What better way to relax than to put on a hamster cape, binge-watch your favorite anime, and have snack pairing to a science, just like Umaru does!
---
We hope you enjoyed our list of top 10 anime girls with the best winter fashion! Winter is one of the most wonderful times of the year and we are glad to share our picks for inspiring winter fashion. Whether you live in a place covering all four seasons or somewhere where the weatherman just can't get it right, the holiday break in general is an absolutely exciting time to spend with family and close friends. We truly wish you cherish this time with people you love and care for most. Let us know if we've missed out on any other great looks! Comment below!
---