Although the original PS3 version to Yakuza 3 (or Ryu Ga Gotoku in Japan) was released in February 2009 in Japan with a Western release the following March, it finally got a PS4 re-release just this past August in Japan with an anticipated Western release for 2019 (along with the upcoming PS4 re-releases of the 4th and 5th games). Since Honey is based out of Japan, we got a chance to play the Japanese version so we can provide you 3 reasons to play, or not play the PS4 re-release to Ryu Ga Gotoku 3.
3 Reasons to Play Ryu Ga Gotoku 3
1. The graphics are updated to PS4 standards
Despite the game being nearly 10 years old, when you play this on PS4, it shows it has aged as well as that 40-year-old Japanese woman who looks like she's 20. Thanks to the game being upgraded to have 60fps and 1080p for the PS4 release, the game feels pretty fresh. Whether they would be the cut scenes or the real time graphics, you'll feel convinced it's a Kiwami upgrade like the first two games. When you explore the streets of Shinjuku or Okinawa, you truly feel like you're there.
2. Doesn't Make The Game Rare Anymore
There have been reports that hard copies of the Western release to Yakuza 3 have been hard to find. So if you have trouble finding the game and happen to own a PS4, then this re-release will give you that chance you've been waiting for. Since the franchise's international fan base has been increasing since after the release of the original Yakuza 3, this would be a good opportunity to attract established fans who can't find PS3 copies.
1. Hostess Mini-Games are Reportedly Back for the Western Release
As to why it's best to not get the Western PS3 version, it removed some of the unique features, most notably the hostess mini-games, which were featured in the first 2 games in the West, and its following sequels. A good number of gamers instantly blamed PC social justice warriors for its removal, but Sega officially confirmed that they wanted to release it in a timely manner for Western audiences.
In addition, Sega said it would be hard for Western audiences to understand the concept of hostess clubs, which are common in adult entertainment districts in Japan, but many fans said they happen to enjoy them and found them educational in context to Japanese pop culture. But the good news is, it has been reported that the Western release to Yakuza 3 for PS4 is going to bring back the hostess games for players to waste their virtual yen on.
Reasons Not to Play Ryu Ga Gotoku 3
3. It's Not a Kiwami
Though the first two original PS2 games were upgraded as Kiwami (meaning ultimate) with new content for it story, this re-release is by no means a Kiwami. So if you're expecting a full remake using the Dragon Engine or new story elements to enjoy, all we can say is don't hold your breath. This is a direct port to the original PS3 game and nothing more.
2. The politics are outdated
Since the game takes place in 2009, a lot of the politics in relation to the story of this game are outdated. However, if you want an idea of the political landscape of Japan during 2009 when the Democratic Party of Japan temporarily took over the Japanese parliament from the long ruling Liberal Democratic Party (despite the name, they are a right leaning party), this gives you a good perspective on that. However, the Democratic Party of Japan has since gone down the toilet. Though it is still an ongoing issue (but now in a different perspective) but back in 2009, the presence of US military installations in Okinawa were a priority to the Democratic Party of Japan, and the story of this game uses that as a plot point rather effectively.
1. Not for the Easily Offended
Too many random fights (and where are the Nigerians?)
We know that random fights are part of the franchise (and the fighting system is simple and cool), but if you know about Japan being one of the safest countries in the world, getting into a fight every minute or so kind of negates that realism that people enjoy with this game. We know it's just a game, but who in Kami-sama's green Earth picks a fight with the kaichou of one of Japan's largest criminal organizations? Even a real life yakuza who played and reviewed the game admitted this feature was ridiculous. The real life Kabukicho may be crazy, but you're never going to get into a fight. What's even crazier is that there are no Nigerian touts (which are common in the real life Kabukicho and Roppongi) featured in this game who pester you to go to their bars. Even if you refuse, they won't pick a fight with you unless you tell them what Trump thinks about their country.
---
Final Thoughts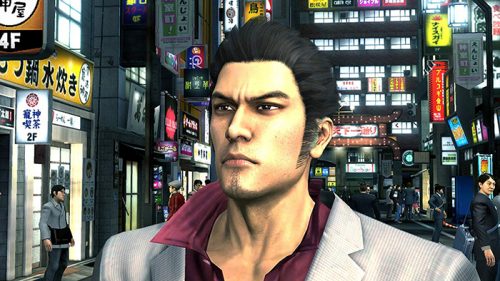 For some Western fans, it'll be a chance to enjoy something that is familiar and yet fresh thanks to the re-inclusion of certain mini-games. Despite being a game about Japan's criminal underworld, it offers a unique kind of educational outlook on Japanese society and gives you a realistic geographical representation of Tokyo and Naha. Not only do you learn about giri-ninjou (duty and obligation), you get to see real life Japanese restaurants and landmarks such as Matsuya and Don Quijote (think of it as Japan's Wal-Mart). So if you can't afford a $600USD+ trip to Tokyo, then maybe a $35 copy of Yakuza 3 is a suitable substitute.
---