When I was five, I wanted to be Chinese. Disney's Mulan had hit screens, and so my classmates viewed me as a "mini-Mulan."
They thought I was Chinese. I thought I was Chinese.
Due to my grandparents' Japanese-American internment camp experience during WWII and my parents' assimilation into "American culture," I had only a vague notion of Japan, and I sought a sense of belonging from the most readily available resource: media. Movies became my mirror, and for roughly a year, Mulan was the model for the person I perceived myself to be. What identification I had with Mulan faded when anime and manga infiltrated American pop culture. Like many of my peers, Japanese pop culture caught my attention. Sailor Moon, Card Captor Sakura, and Pokemon filled by fantasies.
However, perhaps unlike my peers, these shows' of Japanese origin attracted me. Finding surnames resembling my family's names in anime and manga, I connected those mediums to the mythical "Japan" alluded to by older relatives. Consuming Japanese media became a hobby linked to a distorted sense of identity, guiding my desire to find "Japan."
Through high school and college, I pursued self-study and formal courses about Japanese culture and society to expand my narrow, popular-culture-fueled perceptions. Education, particularly experiences while studying abroad in Tokyo, added a third dimension to my 2D imaginings of Japan, and forced me to see that anime and manga provided only a superficial view of Japan and sense of being "Japanese."
Nonetheless, though I now look at anime with a critical eye, I still enjoy it as a pastime and have more or less developed my own "anime tastes." The following is a summation of my tastes, or in other words, the list of my top five anime picks. This list may be a little off the wall, but no matter how strange the show is, I believe every series has its own redeeming value. With hopes, though, this list brings to light typically overlooked shows.
Now without further ado, let's get janky.
5. Tentai Senshi Sunred (Astro Fighter Sunred)

Episodes: 26
Aired: October 2008-March 2009
What happens when a Power-Ranger-esque hero and his entourage of alien monsters live in suburban Japan and have everyday lives? Look no further because Tentai Senshi Sunred has all of the answers and then some. Set in Kawasaki City, Japan, this series follows the story of Sunred, an unemployed hero mooching off his long time girlfriend, Kayoko. Throw in General Vamp, the leader of an interstellar organization who resembles more like a helpful neighborhood housewife, and we have a show made to make us laugh.
The comedic elements alone do not put Tentai Senshi Sunred on my top 5 anime list. Rather, the unexpected heartfelt moments scattered throughout the show elevates this series to genius. This, along with the helpful cooking tips that appear throughout the show, will be sure to satisfy anyone's comedic, emotional, and hunger needs.
Tentai Senshi Sunred Trailer
---
4. Mousou Dairinin (Paranoia Agent)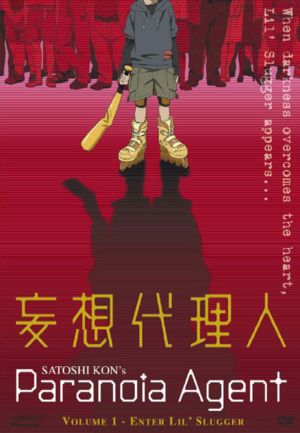 Episodes: 13
Aired: February 2004 - May 2004
On a slightly more dramatic note, we have Mousou Dairinin, Satoshi Kon's lone anime series. Bizarre and at times uncomfortable, Mousou Dairinin is not a series for everyone. Yet, for those searching for a taste of the darkness within the human soul, Mousou Dairinin might be the show for you. Since this series contains veiled commentary on contemporary Japanese society and the conditions of the anime industry, I find myself irresistibly attracted to the hidden depths of Mousou Dairinin.
Plot wise, the series begins when Lil' Slugger, a young boy on roller skates wielding a bat, wreaks havoc on Tokyo. After Lil' Slugger attacks Tsukiko Sagi, a nondescript character designer, a whole chain of detectives and diverse characters become entwined in a growing chaos within Tokyo.
Mousou Dairinin (Paranoia Agent) Trailer
---
3. Samurai Flamenco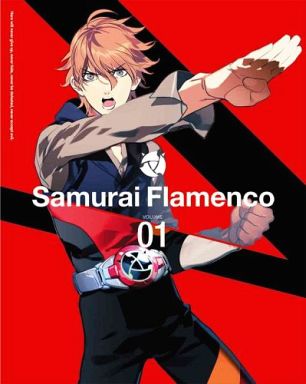 Episodes: 22
Aired: October 2013 - March 2014
Seeing Samurai Flamenco on this list might make you wonder. Do questions like, "Does this girl even know quality anime?" or "What anime watcher in their right mind would choose Samurai Flamenco on their top 5 list?" enter your mind? But, hear me out. Infamously inconsistent in both quality and plot, Samurai Flamenco does raise relevant questions that matter in our lives. Amid the grandeur of heroes and aliens, the central theme of love makes Samurai Flamenco worth far more than anyone could have expected.
For those unfamiliar with Samurai Flamenco, the phrase, "you have to see it to believe it," might be the most applicable when describing the series. To keep things simple, Samurai Flamenco follows the story of Hazama Masayoshi as he attempts to be a superhero. However, he soon finds the path to be a hero is far more strange and twisted than he had originally bargained.
Samurai Flamenco PV 02
---
2. Tiger and Bunny

Episodes: 25
Aired: April 2011 - September 2011
This next selection is more of a perverse pleasure for me than anything else. (For those fujoshi anime watchers out there, Tiger and Bunny might be up your alley.) Tiger and Bunny is ostensibly an anime series about heroes with a twist. Rather than your typical justice driven good-versus-bad hero show, we have a series that questions our notion of justice in a world dominated by multi-million dollar corporations and the media. Combine this with a shipping-friendly cast of characters, and we have a series perfect for the intellectual fujoshi.
As an introduction to this series, perhaps it would best to say that Tiger and Bunny combines X-Men with a little bit of Hunger Games. In this show's universe, certain people called NEXT are born with super powers. A handful of these NEXT become "Heros," or in other words, fighters of justice sponsored by corporations and filmed for national television. However, dark secrets reside beneath this setting. These secrets are soon to be discovered by the new Hero combo, Wild Tiger, aka Kaburagi T. Kotetsu, and Barnaby Brooks Jr.
Tiger and Bunny Trailer
---
1. Genshiken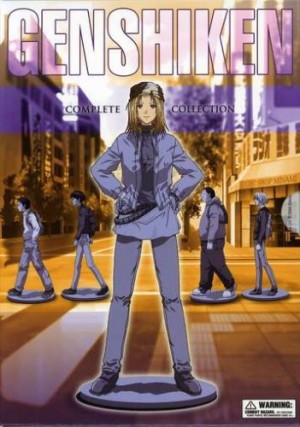 Episodes: 12
Aired: October 2004 - December 2004
Last but not least, we have Genshiken, a series that weaves in out of an otaku metanarrative. A series about the otaku lifestyle, Genshiken blurs the line between the "different" otaku life and everyday acceptable consumerism and questions our perceptions of the "other otaku."
As for why I selected Genshiken as number one on this list, my reasoning partially stems from my belief that any person who calls himself or herself an "otaku" needs to watch this series. Genshiken arose during particular historical and social circumstances in which otaku were slowly becoming normalized. For the sake of history alone, Genshiken is significant. However, Genshiken has ample character and plot development that outshines many other slice of life series today. For those who want meatier characters, check out Genshiken and its sequels, Genshiken II and Genshiken Nidaime.
Genshiken Trailer
---
Hopefully this list has not entirely alienated you. As a writer at Honey's Anime, I might not always have the most typical recommendations. But, I am always welcome to your questions, comments, concerns, and complaints! Feel free to message anytime in the comments section below!