What You Need to Know:
You all know the feeling - you start watching a new anime series, and all of a sudden you find yourself itching to go for a bike ride, play some basketball, or pick up a musical instrument.
With this in mind, My Navi surveyed 401 university students, 203 men and 198 women, to find out which anime clubs they'd join if they could.
Here's the most mentioned five - do you agree? Is there any other clubs you wish you could be a part of? Let us know in the comments!
---
Top 5 Anime Clubs You'd Want to Join
---
5. K-On's Light Music Club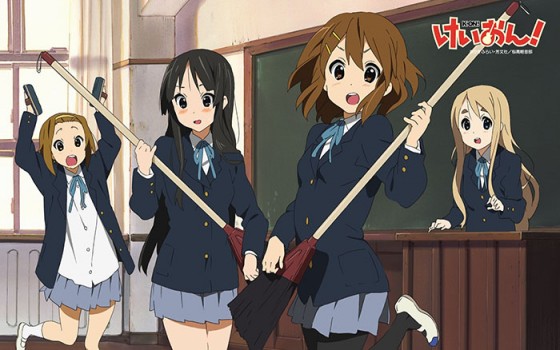 Episodes: 13
Aired: April 2009 - June 2009
Synopsis
Hirasawa Yui, a young, carefree girl entering high school, has her imagination instantly captured when she sees a poster advertising the "Light Music Club." Being the carefree girl that she is, she quickly signs up; however, Yui has a problem, she is unable to play an instrument.
When Yui goes to the clubroom to explain, she's greeted by the other members: Ritsu, Mio, and Tsumugi. Although disheartened at Yui's lack of musical know-how, they still try to convince her to stay to prevent the club's disbandment. After playing Yui a short piece which re-ignites her imagination, they succeed in keeping their new member and guitarist.
Along with the tasks of school and homework, Yui begins to learn the guitar with the help of the other band members, experiencing many mishaps along the way. However, with the school festival drawing near and Yui getting stuck with her practice, will the Light Music Club be ready in time for their debut?
(Source: MAL Rewrite)
4. Prince of Tennis' Tennis Club
Episodes: 178
Aired: October 2001 - March 2005
Synopsis
Echizen Ryoma is a young tennis prodigy who has won 4 consecutive tennis championships but who constantly lies in the shadow of his father, a former pro tennis player. He joins the Seishun Gakuen junior highschool, one of the best tennis schools in Japan, and there along with his teamates he learns to find his own type of tennis in an attempt to defeat his biggest obstacle of all: his father as well as himself.
(Source: ANN)
3. Touch's Baseball Club
Episodes: 101
Aired: March 1985 - March 1987
Synopsis
The story centers around three characters—Uesugi Kazuya, his twin older brother Tatsuya, and Asakura Minami. Kazuya is the darling of his town as he's talented, hardworking, and the ace pitcher for his middle school baseball team. Tatsuya is a hopeless slacker who's been living the life of giving up the spotlight to Kazuya, despite the fact that he may be more gifted than him. Minami is the beautiful childhood girlfriend and for all intents, sister from next door who treats both of them as equals. Society largely assumes Kazuya and Minami will become the perfect couple, including Tatsuya. Yet as time progresses, Tatsuya grows to realize that he's willing to sacrifice anything for the sake of his brother, except at the expense of giving up Minami to Kazuya. And thus the story is told of Tatsuya trying to prove himself over his established younger brother, how it affects the relationship between the three, and both brothers' attempts to make Minami's lifelong dreams come true.
(Source: MAL)
2. Haikyuu!!'s Volleyball Club
Episodes: 25
Aired: April 2014 - September 2014
Synopsis
Inspired after watching a volleyball ace nicknamed "Little Giant" in action, small-statured Shouyou Hinata revives the volleyball club at his middle school. The newly-formed team even makes it to a tournament; however, their first match turns out to be their last when they are brutally squashed by the "King of the Court," Tobio Kageyama. Hinata vows to surpass Kageyama, and so after graduating from middle school, he joins Karasuno High School's volleyball team—only to find that his sworn rival, Kageyama, is now his teammate.
Thanks to his short height, Hinata struggles to find his role on the team, even with his superior jumping power. Surprisingly, Kageyama has his own problems that only Hinata can help with, and learning to work together appears to be the only way for the team to be successful. Based on Haruichi Furudate's popular shounen manga of the same name, Haikyuu!! is an exhilarating and emotional sports comedy following two determined athletes as they attempt to patch a heated rivalry in order to make their high school volleyball team the best in Japan.
(Source: MAL)
1. Slam Dunk's Basketball Club
Episodes: 101
Aired: October 1993 - March 1996
Synopsis
Hanamichi Sakuragi, an entering Shohoku high school freshman, holds a record for being rejected by 50 girls during middle school. His nearly 2 meters height and bright red hair causes most students to write him off as a delinquent.
One day, a girl named Haruko Akagi approaches Hanamichi without any fear. When she asks Hanamichi "do you like basketball?" Hanamichi falls head over heels for the girl of his dreams. Without missing a beat, Hanamichi tells her he loves basketball, and the two head to the gymnasium where Hanamichi learns about the slam dunk. He also learns of Rukawa, one of the country's top basketball prospects, also a freshman at Shohoku.
(Source: Funimation)
Source: NicoNico News
---
Quite a few classics made it onto this list! I think I'd be a great addition to a basketball club. I can fly, after all!
Just don't play tennis, or you might get swatted! I wonder if I'd make it into Love Live's idol club?
---
[ad_dfp position="bottom1" unit_pc1="true" unit_pc2="true" unit_sp1="true" class="mt40"]