Bikini Warriors is just a simple anime with one goal in mind: to sexually arouse its viewers with a bunch of female RPG character-class stereotypes doing stupid things that lead to them screwing up for those boob and crotch shots. Zero story, zero character development, and the main characters have almost zero personality, Bikini Warriors is the type of anime you watch in between shows for that comedic or uplifting intermission break.
Don't get us wrong here, we love Bikini Warriors for what it is! And we love the show so much, we made this Top 5 list! Before we begin, though, the Honey's Anime Top 5 Bikini Warriors Ecchi Scenes will be based on the Hyper Sexy version of Bikini Warriors episodes 1-12, the special episode and the 5-episode OVA. What is the Hyper Sexy version? It's basically Bikini Warriors with less bikini and more ecchi stuff… Stuff that skirts the line between hentai and non-hentai. Now that's out of the way, let's look back at the best scenes from an anime people rarely talk about!
5. The Journey's End (Episode 12)

Episode 1 of Bikini Warriors has set the tone for the entire series with its healthy serving of ecchi fanservice. The ride gets crazier when our heroines end up in compromising situations like their clothes getting melted off by a tentacle monster, getting molested by a horny dog, stripped completely naked by the townsfolk after the heroines looted the town for gold, items and equipment, and almost sold their chastity to a perverted mayor, just to name a few instances. Bikini Warriors has practically thrown every lewd scenario conceivable at the viewers and, at this point, anything else will label the anime as hentai.
On episode 12, Bikini Warriors did the impossible: Fighter, Mage, Dark Elf, and Paladin are lesbians after all, and they're not afraid to show it! Episode 12 is a montage of various scenes of our heroines conquering villains, slaying demons, ending rivalries, and saving the world from the Demon King. And in between these random flashing moments, we see Fighter lovingly caressing the breasts of Paladin, Dark Elf sensually licking Fighter's erect nipples, and Dark Elf hungrily munching Paladin's blonde carpet. Episode 12 is a big WTF moment and the lesbian sex scenes were a great way to end the pre-OVA series. Again, these scenes are only available in the Super Sexy version.
4. The Legendary Bikini Armor (Episode 15)

Fighter, Mage, Dark Elf, Paladin, Hunter, Valkyrie and Cleric finally reach the realm of the divine where God lives. Impressed by the bravery of our warriors, God bestows upon them the most powerful equipment known: the legendary bikini armor! But wait, why are our heroines suddenly gone naked? Where is the legendary bikini armor? God says He has already given them the armor and its special property is that it is only invisible to idiots. Wait, really? Well, God doesn't lie, so our intrepid heroines go back to town to show off their new powerful armor! Yeah… You can easily tell who the idiots are here because our heroines are walking around town completely naked and it takes them a long time to figure out God just pulled a very perverted prank on them.
3. My Body is Moving on its Own! (Episode 13)

Our daring heroines defeat a powerful boss sorcerer, but before the sorcerer breathes his last, he casts a powerful curse on Fighter and Dark Elf. Our heroines later ignore the curse because nothing happened since then. It was probably a failed spell that was hastily conjured up by a dying sorcerer. The curse did eventually manifest when our brave heroines were looking around a busy street for a place to stay. Is it a curse that drains one's life force? A transformation spell that turns the afflicted into a monster? Nope. It's a spell that takes control of the bodies of Fighter and Dark Elf and forces them to molest anyone who is in close proximity (i.e. Mage and Paladin). Well, it's safe to assume that sorcerer was into very kinky stuff.
Episode 13 is an extra episode exclusively available on Blu-ray and, man, it definitely one-upped episode 12 because the girls were literally having sex in front of many people. Fighter slides her fingers deep inside Paladin's nether regions and Dark Elf digs her tongue deep into Mage's blossoming flower. Oh boy, oh boy… It's actually very hard to describe this scene because it's giving us lewd thoughts and kills any coherent logical thinking… *ahem* The best part of episode 13 is when our masochist Paladin goes back to the boss room, looking for the molestation spell. Yeah, Paladin really likes being defiled and humiliated, and having the spell at hand is pretty convenient, in all honesty.
2. Hunter and Valkyrie at the Inn (Episode 14)

Valkyrie and Hunter visit a town and prepare to settle in for the night by renting a room at the local inn. The two will be sharing the same room with another bikini-clad heroine named Cleric and the three get along just fine. What Cleric doesn't expect was that Valkyrie and Hunter are a couple and she can't sleep while the two are having passionate lesbian sex next to her. Valkyrie and Hunter were potential recruits for our main characters, Fighter, Mage, Paladin and Dark Elf, but the two ended up forming a party of their own because they like each other. A few episodes later, Valkyrie and Hunter show up and this episode is great at showing them off their personalities, with and without their clothes. The only problem with this scene is probably Cleric not joining them for a threesome.
1. The Black Knight Chuunibyou (Episode 17)

Bikini Warriors pokes fun at RPG tropes like how it's (supposedly) normal to break into someone's home and loot the place for potions, gold and equipment, and that the bikini-type armor offers more protection than regular full-body armor. Black Knight, a boss character, acts like an edgy chuunibyou who sees everything around her like it's a video game and sees encounters as scripted events with one or two possible outcomes.
After Fighter trips and grabs Black Knight's boobs, Black Knight immediately assumes she triggered an event of her getting raped by her opponent. The funny part is, everything is in Black Knight's head and she continues her delusion by narrating her sexual demise, explaining every lewd moment down to the last nasty detail. With so many graphic lesbian sex scenes, it boggles the mind how Bikini Warriors is still not classified as a hentai anime.
---
Final Thoughts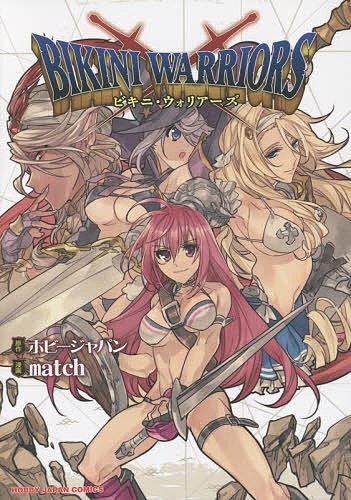 Phew, Bikini Warriors was a wild ride. Yeah, it sucked each episode is 4 minutes long, but in return, each episode is filled to the brim with ecchi and yuri fanservice. Bikini Warriors will not win any awards for great writing and story, but it did what it set out to do—make an enjoyable fanservice anime.
So yeah, what do you think of our picks, and did you enjoy Bikini Warriors? We would love to hear from you, so please, leave your thoughts down in the comments section below!
By Antoine Rizal
---