Over the last two decades, there has been a shift in mainstream acceptance of anime and it has firmly established itself on a global scale. It is so popular that anime films tend to get theatrical releases out of Japan, and fans from all across the world can follow the seasonal shows. Although it tends to be more heavily associated with its episodic content due to the huge number of TV series produced each season, movies are still some of the best anime mediums that can be found. Benefiting from a more generous budget and being forced to tell a concise plot in under two hours, they offer a better experience for the average watcher and for those who don't have the time or the patience to sit through a 12-episode marathon
From Studio Ghibli releases to modern classic shonen smash hits, we've had so many incredible movies. But which is the highest-grossing of the bunch? Who was it directed by? And how much did these films make? Sit tight as we cover all this and more in the article below.
5. Gake no Ue no Ponyo (Ponyo)

Episodes: 1
Aired: July 2008
Ponyo is a Ghibli film that tells the touching story of a little boy and his goldfish. After eluding capture and floating away on the back of a jellyfish, a newborn goldfish is discovered and liberated by Sousuke, the five-year-old son of a fisherman who lives in a seaside house. Ponyo, unaware of Sousuke, already has a name and a family, with a father who will go to any length to discover and return his daughter.
The picture, directed by the legendary Miyazaki Hayao and released in 2008, was intended more for a younger audience, with its classical design style and tone evoking childish admiration from the audience each time. It also has a somewhat slow progression of events, but that doesn't dilute the film in the least. A fact backed proved by Ponyo grossing $3 million in its opening weekend, $190 million at the International Box Office (it did extremely well in China with $4.3 million), and going on to win five awards at the 8th annual Tokyo Anime Awards with an overall gross of $205 million. Despite being one of the highest-grossing anime films of all time, this is considered one of Miyazaki's underappreciated films.
---
4. Howl no Ugoku Shiro (Howl's Moving Castle)

Episodes: 1
Aired: November 2004
The second film on the list is Hayao Miyazaki's Howl's Moving Castle. It tells the narrative of Sophie Hatter, a young lady who is trapped in the body of a ninety-year-old due to a curse cast by the vengeful Witch of the Waste. She is unable to inform anybody about the curse and ends up in the Waste, where with the help of a talking scarecrow she discovers a moving castle - a jumbled piece of architecture with creaking joints and smoke pillars. It is the home of Howl, a powerful wizard renowned far and wide for his magical abilities. To break her spell, she makes a deal with the fire demon who powers the castle, Calcifer, that if she can break the spell placed on him and Howl, he will break hers in return.
Granted, it wasn't one of Ghibli's greatest films, with significant problems in its script and numerous plot holes. However, it was still a fantastic watch, with the characters all being well fleshed out and the visuals and soundtrack making up for any flaws in the tale. The animation of the castle's general movement and all the various little pieces showcased the intricate details of a unique system at action work. It grossed $238 million worldwide, with a surprisingly strong showing in Italy (almost $1,000,000), as well as many accolades from the Japan Media Arts Festival, the Tokyo Anime Awards, and an Academy Award nomination.
---
3. Kimi no Na wa. (Your Name.)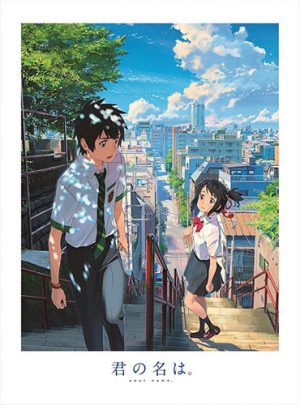 Episodes: 1
Aired: August 2016
Your Name, which debuted at the 2016 Anime Expo in Los Angeles, follows the narrative of Mitsuha Miyamizu, a high school student who dreams of living in the busy city of Tokyo—a fantasy that contrasts sharply with her current life in the countryside. Meanwhile, Taki Tachibana, a high school student in the aforementioned Tokyo city, is managing his part-time work with ambitions for a career in architecture. Mitsuha awakens one day in a body and a bed that is not hers, and realises she is living her dream life in Tokyo—but in Taki's body! Taki, on the other hand, finds himself living Mitsuha's life in the rustic countryside.
Your Name received widespread critical acclaim at its initial release, with many people hailing the paranormal story as the best anime film of all time. And, as one would expect from a Makoto Shinkai film, the artwork is stunning. The combination of colours and the alternating usage of movement/focus is revolutionary and moves the average viewer to tears. It grossed $351 million at the worldwide box office, with $346 million coming from the international box office and an especially good performance in China ($83 million).
---
2. Sen to Chihiro no Kamikakushi (Spirited Away)

Episodes: 1
Aired: July 2001
The third Hayao Miyazaki film to make this list, Spirited Away, tells the story of a spoiled and naïve 10-year-old Chihiro Ogino who accidentally discovers an abandoned amusement park on the way to her new house and stumbles into the spirit realm.
Now trapped, she must summon the courage to live and work amongst spirits, with the help of the enigmatic Haku and the cast of unique characters she meets along the way.
With beautiful visuals and unique characters, the film showed the struggle of a girl to find her way home. The colours are rich, the animation is fluid and the lights of the spirit world at night are breathtaking. Coupled with the amazing music score, Spirited Away became an instant classic- so much so that it held the record of being the highest-grossing film in Japanese history from 2001 until 2020. And as of December 2020, it had amassed $383 million worldwide with a whopping $69 million coming from China. This critically acclaimed film has also won numerous awards, including an Oscar for Best Animated Feature as well as the Golden Bear at the 2002 Berlin International Film Festival.
---
1. Kimetsu no Yaiba Movie: Mugen Ressha-hen (Demon Slayer The Movie: Mugen Train)

Episodes: 1
Aired: October 2020
First on the list? None other than Sotozaki Haruo's iconic Demon Slayer Movie. It's a sequel to the first season of the related TV show, and it follows the Demon Slayer Corps as they try to solve a series of inexplicable disappearances on a train. Kyoujurou Rengoku, the Flame Pillar, takes it upon himself to eradicate the menace to prevent future losses. Tanjirou Kamado, Zenitsu Agatsuma, and Inosuke Hashibira, some of the Corps' most promising fresh blood, accompany him, hoping to witness the blazing accomplishments of this model demon slayer firsthand. Unbeknownst to them, the evil powers behind the disappearances have already begun their sinister scheme.
Studio Ufotable performed an outstanding job with their beautiful animation once again, most likely due to a larger budget. The fights were silky smooth and satisfying, with 3D camera views, fast-paced actions, and a variety of flashing lights. Another fantastic component is the sound effects, which have to be one of the best-orchestrated soundtracks in an anime. Mugen Train had a worldwide box office total of nearly $506 million (including a $22 million box office gross in Taiwan) and over 41 million tickets sold, making it the highest-grossing picture of 2020 as well as the highest-grossing anime and Japanese film of all time.
---
Final Thoughts
Have you seen any of these movies? If not, I hope you'll give it a shot, and I'd love to hear your comments on them, as well as which movies you think should have done better at the box office!
Feel free to leave a comment if you want to start a discussion, and please share Honey's Anime with your friends so we can keep delivering more amazing content.
by Ahmad Animasaun