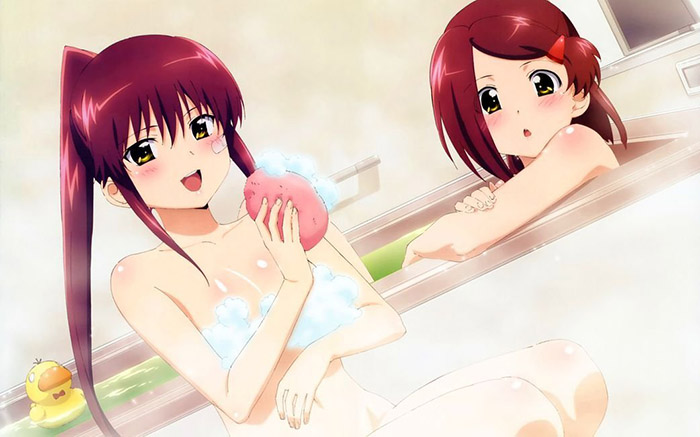 Introduction [naughty spoilers ahead]
Keita Sumione, like a lot of people, is part of a blended family. When Keita is around 5 years old his father remarries and he becomes the younger brother (by a year) to twin sisters. We fast-forward a decade and the five family members, mom, dad, Keita, Ako and Riko all live a very happy suburban life.
The family is very loving and extremely affectionate and because this is an ecchi anime that affection is taken up one or two notches; okay, maybe 10 notches. Keita's sisters, Ako and Riko, like to tease their brother. We know that siblings tease each other; it's just part of being a family. The teasing these sisters have in mind is a lot more than putting a rubber bug in their brother's shoe. The twins take their brocon obsession of their step-brother to the next level in this ecchi comedy that only needs to take a small step before it crosses that thin line between ecchi and hentai.
5. Episode 8

Yuuzuki Kiryuu is Keita's homeroom teacher, and rather young and innocent one. We learn that she is a closet otaku and a virgin. She starts out being concerned for Keita and the girls he's around, namely his sisters. Kiryuu thinks that Keita is having an immoral relationship with not only his sisters, but multiple other girls, including her own younger sister. She decides to do a home visit. We know where this is going, correct? The other members of his family, parents and sisters are all delayed in coming home so it is just the two of them, teacher and student. Keita leaves his teacher in his room, who then roots around in it looking for porn. Keita returns seeing his teacher looking at his stash of dirty magazines causing such a state of shock that it causes him to spill their drinks, a thick viscus substance, all over the place. The sticky goo covers the floor as well as the young teacher's face and blouse. You don't have to think very hard to determine what they are insinuating in that illustration. The sexy young teacher then uses the shower at the student's home (yes, we know that would never really happen), and fantasizes about the student. She returns to her student wearing only a towel and panties and ends up on top of the student on the bed. You don't have to have an over-active imagination to see what awkward grinding might ensue and the reason this is number 5 on our list of top ecchi moments.
---
4. Episode 4

We watch anime, so we know all about the hijinks that happen on a hot springs trips. Now consider a hot springs trip through the lens of this anime, in which two of the three people involved are actively trying to get in the pants of the third. You ready? We shall now begin. Keita, Riko and Ako head to a hot springs inn as a family bonding experience. Keita is weary of what his older sisters have in mind when they say "bonding." He is right to be worried. We start off with the three taking a dip in the outdoor bath, a bath much smaller than you'd expect for three people. Ako sets out to roofie her brother by spiking his drink. He shares the drink with Riko, who abruptly passes out leaving an affected Keita with a sober Ako. (Just for the record roofieing someone is wrong and illegal and we at Honey's Anime don't endorse or condone any illegal behavior.) Taking advantage of the situation, Ako convinces Keita that the hot springs waters are healthy to drink and that he should drink it off her body. Keita proceeds to drink the water from her chest and then as he's just about to head south and drink from Ako's eternal spring he passes out. We won't synopsize the entire episode but here's a tease to keep you tuned in: you get to hear Ako exclaim "Kei-chan's dick just slapped me."
---
3. Episode 0

We've all had this problem at one time or another, we wake up and our arm or leg is still asleep because we slept on it awkwardly. The same thing happens to Keita in episode 0, except he didn't sleep on his arms funny, Ako and Riko did. Ako decides that because Riko is still unconscious and Keita can't move his arms this might be the perfect time for her to make out with him. We watch the cute Ako, clad in pink pajamas, straddle her step-brother and begin to tease him, grinding her hips against him until she decides to kiss him good morning. She kisses him very deeply as we watch the exchange of spit and tongue letting us know it isn't the normal sibling relationship. Ako is called by their mother to help make breakfast and leaves Riko, who was pretending to be asleep, with a still semi-paralyzed Keita and his visible morning wood. Riko decides to pick up where her sister left off and straddles Keita and begins kissing him and squeezing his excitement through his shorts. We get a lot of little moans and suggestion in this opening scene, enough to set the make us uncomfortable and set the stage for a really raunchy comedy.
---
2. Episode 7

We begin with a classic romantic scene for anime. The hero, Keita, is walking home in the rain with an umbrella in hand. He comes across a female classmate, Mikazuki Kiryuu (his teacher's younger sister) taking shelter from the rain under an overhang and offers to share his umbrella. The boy gets splashed by a passing truck and the girl offers to dry his clothes for him if he comes into her home -- so he does. You think this situation would be nice and sweet until you remember the universe we are in and find that the sweet little girl with twin tails is a huge pervert also obsessed with her Keita-sempai. Do you remember that moment in the first American Pie movie when the sweet girl starts off with "one time at band camp…?" Well, Mikazuki informs Keita that she'd offer him milk tea, but she's out of milk and would like to use his milk instead. You get the same kind of initial shock before you remember that this is the norm for this show. Keita, being the straight man, of course says "what is your guest going to drink then?" and she replies "my love juice" then proceeds to show him a diagram of a 69 position, with the subtitle Recycle & Ecology. The jokes just get more blush-worthy from there, leaving you to clearly understand that this scene, despite not having the twins in it, is number 2 on our list of ecchi moments.
---
1. Episode 3

Ako and Riko decide to clean their brother's room -- and by clean we mean snoop -- and come across a porn magazine in Keita's gym bag. The porn they discover is titled "Slut Sister X 2." The girls are shocked and intrigued by the meaning of that kind of porn in their brother's possession. Ako finds herself alone with the magazine and for the first time thinking about sharing her brother with Riko at the same time. When Riko catches her in the act, the two come up with a plan to test out what it would be like to share their stepbrother; the plan involves a body pillow, a marker and a teddy bear. The two girls take their positions astride the home made sex toy and try some hip thrusts eliciting small embarrassed moans. The two begin to feel each other up noticing the changes arousal makes to their bodies until their raging teenage hormones run wild and they both collapse back on the bed. The two exhausted girls then refer to it as a "nice rehearsal" and look forward to trying it with Keita as soon as he will let them, making that the number 1 ecchi scene in a show packed with ecchi content.
---
Conclusion
We got to watch a series that took us right up to that thin line separating ecchi comedy with anime porn. We as viewers don't always need the artist to show us everything. We can just fill in the gaps with our active imaginations. The writers of Kiss x Sis filled the series with clichés and fantasies that fill a young man's head as evident from the magazines about naughty teachers, twins and imuotos that Keita has stashed around his room. We know this is far from real life; only a weird and truly perverted part of our psyche that we lock away in the dungeon of our subconscious envies Keita. We know it's only a fantasy and that's okay; that's why so many of us watch anime.
---