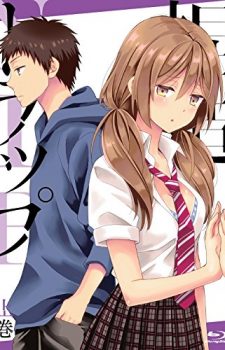 If you're an avid anime fan who watches almost anything, you know that lewd stuff is common in anime compared to other animated mediums from the West. Yes, we get to see boobs and panties more in anime, but there will be a point where you'll get fed up with all the fanservice. Who wouldn't be fed up seeing the 10 millionth upskirt shot or the 500 billionth boob slip? As one of the elite anime connoisseurs, we do not have this problem because we know there are shows that offer the same fanservice experience, but with an added spice to them. What is this secret spice? The delicious taboo — the forbidden fruit.
Kiss x Sis is a story of incest involving a guy with two beautiful step-sisters who are more than happy to make their new step-brother feel at home, in more ways than one. Kiss x Sis has the usual fanservice staples but turned up to 11 with near constant ecchi scenes that may be too much for the average viewer and added the idea that the people involved are siblings. The anime offers some fanservice that you won't see anywhere else and if you want to take more than one bite out of that forbidden fruit, then Honey's Anime is happy to share two shows that will do the trick! Liked Kiss x Sis? Then watch these!
About Kiss x Sis

Episodes: 12
Aired: April 2010-June 2010
Suminoe Keita, Suminoe Ako, and Suminoe Riko are step-siblings after their parents remarried. Since this is a romance-centric anime, the sisters are very attracted to our hero in a very, very, very, VERY lustful way. Initially, Keita avoided his sisters' advances since he thought it wasn't right to get so—romantically involved with his new family. Things changed after Keita transferred to the same school as his sisters. He's slowly getting attracted to them.
Liked Kiss x Sis? Then watch Netsuzou Trap -NTR-!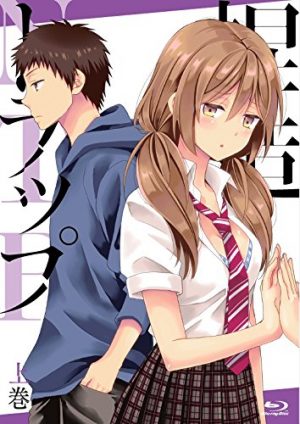 Episodes: 12
Aired: July 2017-September 2017
Yuma and Hotaru are best friends since childhood and by the time they reached high school, Yuma got herself a nice boyfriend. New to this experience, Yuma asks Hotaru for advice, but things starts getting complicated when Hotaru kissed her. Conflicted with her feelings, Yuma doesn't know what to do with Hotaru and her boyfriend vying for her love. Will Yuma cheat on her boyfriend so she can fool around with Hotaru, or will her boyfriend found out and feel devastated of the betrayal?
3 Major Similarities Between Kiss x Sis and Netsuzou Trap -NTR-!
1. Forbidden Love
What draws the viewer to Kiss x Sis is the incest story. And while the anime cheaped out a bit by not making Keita, Ako and Riko blood-related, their relationship as step-siblings is considered incest by law. So much so the three try to hide their sexual desires from their classmates and everyone else. NTR's main premise is two girls falling in love while committing the act of infidelity.
Yuma gets a boyfriend and it's a budding relationship that will affect their lives and their future after high school. Inexperienced with all this relationship business, Yuma asks her best friend Hotaru for some advice since Hotaru is currently in a relationship and has prior short term relationships several years ago. Things didn't turn out exactly as Yuma expected when Hotaru stole a kiss from her, and from that point onward, Hotaru finds ways to feel up Yuma every chance she gets. Keita is in the same situation that he's not a few feet away from his enamored step-sisters both at home and school.
At home, Keita is subjected to kissing, hugging, underwear flashing, showered with bodily fluids, etc. Each encounter is more intense than the last because the sisters Riko and Ako fight over on who gets to make Keita happier like they're competing in an incest Olympics. "Incenlympics"?
2. Keeping Their Relationship a Secret from Everyone
It's a fact everyone in Keita's school knows his step-sisters are in love with him, but what they didn't know are the no-no things when they are not looking. As previously mentioned, Keita is showered with sisterly love, and if Keita's classmates found out, he may get lynched for performing indecent things towards his sisters. NTR is similar to Yuma and Hotaru hiding their lesbian bond from everyone else, including their boyfriends. While the story of NTR focuses on Yuma's realization of whether or not it's love she's feeling towards Hotaru, Yuma still tries to hide anything that will make everyone, including her boyfriend Takeda, suspicious.
3. The Characters Were Very Close Since Childhood and that Attachment Grew to Affection
Hotaru was a social outcast and is often gets bullied at a young age, and it was Yuma, a tomboy at the time, who swooped in and fended off the bullies. The two became the closest of friends and sometime along the way, Hotaru has developed some romantic feelings towards Hotaru. Was is because Yuma was her only friend? Or was it her heart was stolen when Yuma saved her from harm? The anime gave vague reasons, but what's clear is Hotaru's longing for Yuma grew when they were young. Keita, Ako, and Riko are the same, though it's pathetically at the opposite.
In the first episode, we saw the young Ako and Riko saving the young Keita from a dog, and ever since the three are as close as real siblings. Though eventually as they mature, so does their sexual desires and what we see in the anime is, simply put, sibling love gone overboard.
---
Liked Kiss x Sis? Then watch Skirt no Naka wa Kedamono Deshita.!
Episodes: Unknown
Aired: July 2017-September 2017
The shy and conservative college girl Kominami Shizuka went to a college mixer, so she could hang out with other people and perhaps get rid her uneasiness around men. There, Shizuka meets Kirishima Ryou, a tall beautiful woman who is extremely polite and mature. Enamoured by Ryou's beauty, the two spent the night talking and drinking. After too many drinks, Ryou takes the drunk Shizuka to her apartment only to seduce her. The worst part is, Ryou is actually a cross-dressing man.
3 Major Similarities Between Kiss x Sis and Skirt no Naka wa Kedamono Deshita.!
1. A Very Complicated Relationship
Despite having genuine romantic feelings a few episodes in, Ryou undeniably raped Shizuka during that college mixer by deceiving her that Ryou is a woman, and molested her in Ryou's own apartment. As a textbook maiden, she is confused about whether or not to hate the guy or forgive him since he apologized even though Ryou kept molesting her in every episode. Soon we found out the reason why Ryou is cross-dressing as a woman and as the two got closer and closer, romance bloomed. A girl got raped, stalked and ended up falling in love with her molester? It's hard to comprehend their very complicated relationship.
Kiss x Sis's incest relationship is all over the place, though not as batshit as Skirt no Naka. Keita doesn't want to have any sexual relationship with his step-sisters, but he gets tempted and steps over the line. And what's worse (or great) is their parents totally approve of their relationship and even encourages to go further. The anime ended with no definite conclusion and the manga, as of this writing, is still ongoing. How are they're gonna wrap this up is anyone's guess.
2. Super Ecchi
Depending which of the 3 versions (all-ages, R-15, R-18), Skirt no Naka contains pornographic content in every episode like visible (yet pixelated) pussy shots and tons of fingering. Ryou is so horny, 90% of the episode's content is strictly focused on the ecchi scenes. In the case Kiss x Sis, their ecchi scenes are not pornographic, but they're designed in a way to titillate the viewers by showing many teases and scenes of the siblings doing weird lewd stuff like one of the sisters sniffing the underwear of their step-brother, flashing off their panties at him, and sometimes his face pressing against their crotch because reasons.
3. The MC is Super Aggressive with Their Sexual Advances
Ryou is one horny and aggressive guy and wastes no time feeling up Shizuka by rubbing her crotch at every window of opportunity. Whether it be on the school grounds, hotel or even the ferris wheel, Ryou will find a way. Thankfully, Shizuka slowly ends up liking Ryou's advances even though they're technically not a couple yet. So… Stockholm Syndrome?
Ako and Riko in Kiss x Sis are very aggressive with their sexual advances that they became rivals towards Keita's affection, ramping up the ecchi just trying to beat the other. They're always on their guard because, with one slip up, the other girl will have her way with Keita. The two are so aggressive, Keita sometimes collapses from exhaustion. That's sisterly love had gone too far.
Final Thoughts
Kiss x Sis, NTR and Skirt no Naka wa Kedamono Deshita. are one of those anime whose stories that most people will find repulsive, and that's understandable. But with an open mind, these stories can be interesting in their own right. Will Keita finally submit to his animal instinct and finally have sex with his step-sisters? Will Yuma dump her boyfriend for another girl? Will Ryou and Shizuka's relationship turn out okay considering everything started with rape? The forbidden fruit is indeed tempting to get a bite.
Though then again, anime has lots of forbidden stuff. Maybe we already have eaten the fruit and we just didn't notice it.
---