Every four years, beautiful, powerful, and sexy women fight in a tournament called the Queen's Blade, to decide the next Queen of the continent. Held in the Queen's Capital of Gainos, the chosen fighters must compete in single elimination combat, all with the goal of defeating the current Queen. Whether it be for power, glory, or fame, these women risk it all to achieve their dreams in this sexy battle-centered anime. The story of Queen's Blade isn't the only thing we love about this anime; it's in part because of the sexy women who often lose their skimpy clothing, the risqué scenes where women rub up against each other, and the plethora of panty shots that keep us coming back for more.
The Queen's Blade franchise is a fanservice wonderland with over thirty episodes showing nothing but panties, oppai, and the occasional naked wrestling match. We at Honey's Anime love some good fanservice and Queen's Blade certainly delivers that for us. With something for every ecchi fan, Queen's Blade is one of the most popular anime in this genre and that's why we thought it was time to give everyone a list of the best five ecchi scenes that Queen's Blade has to offer. So, sit back, relax, and we hope you enjoy the article!
5. Episode 3 of Queen's Blade: Utsukushiki Toushitachi (Queen's Blade: Beautiful Warriors)

This is one of those naked wrestling matches we mentioned earlier, and it makes this list at number five. On one side, we have Echidna, the sexy Elven mercenary who wears a snake for panties. On the other side, we have Leina Vance, the noble daughter of a count and beautiful warrior who often finds herself in very sexy situations. When these two first meet, it's in a ring filled with oil, fighting for money. This wrestling match is one of the best scenes in the first season.
With two sexy girls in a ring covered in what is practically lube, fighting in skimpy panties, bending each other in many different positions and that's what makes this scene ecchi paradise; it even has the fan loved snake breast bite by the luckiest snake around Echidna's hips, Keltan. Some questions which often come to mind when looking at Echidna and Keltan are, what does Keltan think about while he's wrapping around Echidna's lovely lady parts, and if he really likes being worn as panties?
---
4. Episode 2 of Queen's Blade: Gyokuza wo Tsugu Mono (Queen's Blade: Inheritor of the Throne)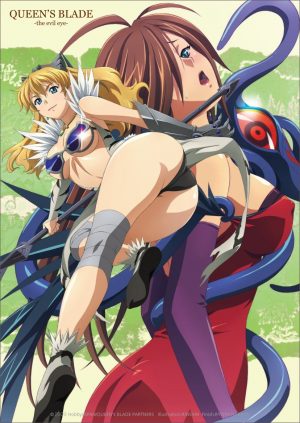 Here's a question: What do you get when you take a magical staff made of nothing but tentacles, and a beautiful and mostly submissive, lady? A wonderful ecchi surprise, and that's exactly what this scene of Queen's Blade gives us! We have Nyx, a former servant of the Vance family with a beautiful body, finds a magical staff named Funikura. In most anime, when a warrior finds a magic weapon, it gives them power, no questions asked. However, that's not how it works in Queen's Blade. This weapon has a mission and that's fondling Nyx anyway possible, from her boobs to her butt, he stays true to his tentacle nature of groping women.
That's not all though; we even get to see Funikura inject some questionable energy into Nyx to make her stronger. Since this episode is filled with sexy moans, breast squeezing tentacles, and questionable energy sources this scene is an ecchi masterpiece placing it at number four.
---
3. Episode Special 1 of Queen's Blade: Rebellion

In this very short episode, we see one of the sexiest scenes in the Queen's Blade franchise featuring the mouthwatering nun, Sigui, and the beautiful noble knight, Annelotte. Whenever we think of nuns, a picture of a virtuous and devoted woman of the church comes to mind, but Sigui is all that and more. She has a hot body and is determined to teach Annelotte the holy poses.
In this scene, we get a full course of sexy revealing panty shots while Sigui trains Annelotte in divine and sexy techniques to make nonbelievers submit to the Lord. If you enjoy looking at panties and hot women, this is a scene you won't want to miss. The poses these girls show us for an entire three-and-a-half-minute episode, place this scene at number three.
---
2. Episode 10 of Queen's Blade: Utsukushiki Toushitachi (Queen's Blade: Beautiful Warriors)

What's better than two of the sexiest characters in Queen's Blade fighting in skimpy clothing? Two sexy warriors fighting in armor that are completely see-through! This is the other sexy naked wrestling scene. Featuring the big-breasted Echidna and the perky-chested Leina Vance, where they go one-on-one almost in the biblical sense while getting ready for training. Echidna takes sap and begins to rub it all over their bodies, making sure to cover every inch by rubbing breast-to-breast and thigh-to-thigh.
This is one of those scenes that is paradise for the eyes, by taking two beautiful ladies and having them practically dry hump each other even if one seems to like it more than the other. This scene is indeed one of the sexiest scenes in all of Queen's Blade, placing it at number two.
---
1. Episode 2 of Queen's Blade: Rebellion

Tentacles, tentacles everywhere! That is the theme of this memorable ecchi scene when a friendly little squid decides to explore the beautiful Annelotte's body in the middle of a fight. Watching this scene, we see tentacles wrap around Annelotte's body, groping her, and exposing her sexy pink panties, it indeed makes you wonder why do all squids in ecchi and hentai anime go straight for the panties.
Trained in the art of the Holy Poses—that which we talked about earlier—Annelotte begins to fight off her frisky friend. However, even though Annelotte is one of the sexiest, more modest characters due to the fact that she is a knight. We can't help but root for this pervy little squid. Although he sadly doesn't complete his mission to explore all the panties in the world, at least he got to explore Annelotte's. Filled with beautiful breasts, a panty hungry squid, and sexy moaning, this ecchi scene comes in at number one on this list.
---
Final Thoughts
The world of Queen's Blade is just terrible with children being abandoned and women continually fighting in dangerous battles so that they can become Queen. But what it does give us is a world full of beautiful women and outrageous battle attire, all of which makes us fall in love with this anime. When looking for ecchi anime, it can be hard to find one that has something for every viewer because we all have different tastes when it comes to ecchi anime.
That's where Queen's Blade comes in. It has fanservice with bare breasts and scenes filled with panties, genuinely trying to hit every fetish they can. However, Queen's Blade isn't just an ecchi anime with no inciting incidents. It has great action scenes with fantastic outfit ripping fights, all while maintaining an excellent plot which makes the Queen's Blade anime franchise one of a kind. While these are just some of the ecchi scenes throughout the Queen's Blade series, there may be some that were overlooked or missed.
So tell us, what are some of your favorite ecchi scenes from Queen's Blade and what do you think should or shouldn't have been on this list? We would love to know what you think so feel free to comment below!
by Ayame Kōhī
---