También puedes leer este artículo en:Español
Nowadays, we have many talented female mangaka to choose from, but there was a time when mangaka were only men. One of the female pioneers was Machiko Hasegawa. Born in 1920, she published her first comic strips in the Shoujo Club magazine at 14 years old. At 16, Hasegawa became the apprentice of another legendary mangaka called Suiho Tagawa. However, her work came to its peak in the years after World War II. Sometimes compared to the American Charles M. Schultz and the Argentinian Quino, Hasegawa breathed life to manga in the days when short comic strips in newspapers was a common thing. Let's review some of her best creations.
6. Machiko Kabuki Meisakushuu

Genres: Comedy, Shoujo
Volumes: 1
Published: 1951 - 1956
This is a curiosity from Hasegawa's late years. It has been reprinted a few times as a stand alone volume, or together with the last volume of Sazae-san. It also was produced as a TV drama in 1956. Anyway, Machiko Kabuki Meisakushuu is a collection of parodies of traditional Japanese theatrical representations. From serious kabuki to hilarious rakugo, the stories were well known by the public of those years.
If you are the type of otaku who loves traditional Japanese culture but find it difficult to understand, you might want to try this manga. Some of the stories are still well known today, and their topics are universal. For example, everyone has heard about Japanese ghost stories, or tragic love stories, or tales about buddhist monks. Machiko Kabuki Meisakushuu is a difficult work to find, but it won't disappoint if you are into retro manga and culture.
---
5. Nakayoshi Techou

Genres: Comedy, School, Shoujo
Volumes: 2
Published: 1940 - 1951
This was Hasegawa's second serialized work, published in two versions (2 volume and single volume). Nakayoshi Techou is the story of the friendship among three girls in school. We first meet Umeko, a cheerful and innocent girl who transfers from Hokkaido to Tokyo. She befriends the independent Matsuko and the intelligent but shy Takeko. Together, they will go through several hilarious adventures.
What is particularly interesting about Nakayoshi Techou is that it was splitted in two parts. The first one was published before the Second World War and the second after the war. In the first part, it is noted that there was some censorship in the manga, which Hasegawa herself did not like. Therefore, there is a difference between both parts, even in the characters. If you are curious about how was one of the very first shoujo mangas in history, you might try to find Nakayoshi Techou.
---
4. Apron Oba-san

Genres: Comedy, Shoujo, Slice of Life
Volumes: 7
Published: June, 1957 - July, 1965
This manga was published in a version of 7 volumes and as part of the Complete Works of Machiko Hasegawa in 4 volumes. It also had three TV drama incarnations in 1959, 1963 and 1983. The story develops in the 1930s, in what is called the Showa period. A boarding house is the silent witness of the woes and foes of society, and its manager is our protagonist, the Apron Oba-san.
Among a mix of history and comedy, we can find some typical characters that are still alive and well in Japan. The salary-man, the overworked high-school student, the part-timer in College, and many more interact in the pages. One interesting thing about Apron Oba-san is that the author made special appearances on it for the first time. It also has some crossover with Sazae-san.
---
3. Manga Koufukuron

Genres: Comedy, Shoujo
Volumes: 6
Published: 1967
This is another rarity from Machiko Hasegawa's later years. Written in a fairy tale fashion, Manga Koufukuron misleads us into thinking this is just another Hasegawa comedy. In reality, it is full of dark humor and complex layers of human psychology. Manga Koufukuron is also considered a sister work to Ijiwaru Baasan.
The story follows two gods in the sky, one kind and the other nasty. The nasty god creates detailed plans to make the life of a soon to born baby a living hell, with bad luck at every turn. However, the kind god stops the nasty god almost every time. The constant interventions of the two create a twisted path of difficulties but also fulfillment for the human as he advances in life, without ever realizing that someone is interfering. If you are the philosophical otaku type, you will enjoy this reflection about human life.
---
2. Ijiwaru Baasan (Granny Mischief)

Genres: Comedy, Shoujo
Volumes: 6
Published: January, 1966 - July, 1971
By the sixties, Hasegawa was a bit tired of the fact that most of her work was heavy on social critic. She got inspiration from an American comic by Bob Battle about an egoistic old man for Ijiwaru Baasan. Of course, she created a nasty and comical female character as protagonist. Ijiwaru Baasan had several manga versions of 6, 4 and 2 volumes. The latest was compiled in the Complete Works of Machiko Hasegawa in 1997. The manga was so successful that it had two anime versions, one in 1970 and another in 1996. There also were TV drama versions in 1967, 1971, 1981 and 2009.
Although everyone refers to the protagonist as Ijiwaru Baasan, her real name is Ijiwaru Ishi. She spends her time doing pranks on people and sometimes helping them, but only for her own sake. Ijiwaru even goes on dates and is very vengeful towards men who betray her! This lady's family takes turns taking care of her, but also lends the responsibility to a caring facility from time to time. Here, we can see that, although this manga is mainly for the laughs, we can also catch glimpses of the issues of an aged society and care for the elders… especially if such an elder is the dynamite bomb Ijiwaru is. This manga is definitely for people who love humor and nasty old women of the modern age.
---
1. Sazae-san (The Wonderful World of Sazae-san)

Genres: Comedy, Shoujo, Slice of life
Volumes: 45
Published: April, 1946 - February, 1974
It is said that Hasegawa got inspiration from the sea to create her masterpiece, Sazae-san. Her ambition was to create the image of the Japanese family after World War 2. Sazae-san has had several incarnations in TV drama, from the years 1955, 1965 and 2010. As for the anime, it holds the Guinness World Record for the longest running anime series.
Sazae-san tells us the daily life of Isono Sazae, a 27 years old woman who is more interested in her horse than in being feminine or finding a husband. Nevertheless, she marries the kind Fuguta Masuo, who moves in with the Isono family. This is contrary to the usual custom, in case you did not notice :p Also, Sazae passes her time between her daily house chores, taking care of her brother, sister and her child; and her activism with her women's liberation group. Although she commands Masuo often (a scandal in those years) and gets into trouble often, most of the manga is full of the appreciation of the little things in life. If you are curious about how was the world without modern technology in Japan, you definitely have to read Sazae-san. Also, if you would like to find the first bold strikes of feminism in manga, you have to look for Sazae-san.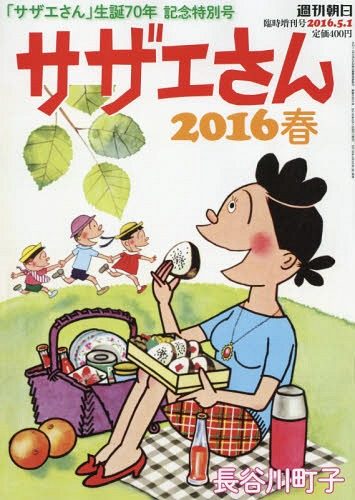 ---
Final Thoughts
Even for modern Japanese, the works of Machiko Hasegawa can be esthetically unappealing. However, we definitely have to read the manga in the context of their own epoque, when this style of drawing was more typical. Moreover, if we forget for a moment that they are manga, Hasegawa's characters have a vividness that has transcended the test of time. In a time when other mangaka were dreaming about an utopic future full of technology, Hasegawa was posing hard questions rooted in the present with humor. The position of women in society was changing rapidly in the years after World War 2, and it was Hasegawa's life mission to give the first feminist role models to a whole generation. For that and much more, we can not help but honor the Godmother of Manga. Long life to her memory and legacy!
Which manga by Machiko Hasegawa do you like? Which is your favorite character? Don't forget that we are open to all your comments and suggestions. See you soon!