También puedes leer este artículo en:Español
If you are into the nineties nostalgia, remembering the shoujo manga that we used to have in those years, then you are reading the right article! If you also like shoujo heroines that are a bit less of a doormat, once again, you are in the right article! Honey's Anime brings you an underrated mangaka: Takada Rie! Born in Hokkaido, Takada Rie has been working for Shogakukan for over two decades. Her sweet and fun shoujo has been translated to English before. Without further ado, let's review some of Takada Rie's best works!
7. Nandemo Arisa!

Genres: Comedy, Romance, Shoujo
Volumes: 1
Published: 2005
So you have never heard of Takada Rie and don't have idea where to start with her gorgeous works? Don't worry, we got you cover with this one-shot. In Nandemo Arisa!, we meet a former teenager delinquent named Arisa. She changed her ways because she fell in love with Ren, who is a top student, and well, practically the opposite of who she is. However, her neighbor next door asks her to be part of his band. How will this love triangle be solved?
Nandemo Arisa! has everything the shoujo lover needs: a cute protagonist, cute guys and fluffy visuals. However, Arisa is not as fluffy, as she is also full of laughter and comical situations. This is a girl that doesn't give up easy and goes after what she wants. The extra value of this manga is that it is super short, so if you are in need for a quick shoujo read, here you have Nandemo Arisa!
---
6. H3 School (Happy Hustle High)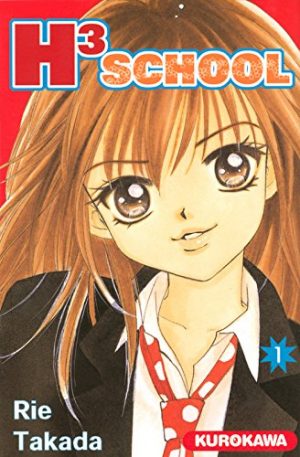 Genres: Comedy, Romance, School, Shoujo
Volumes: 5
Published: Aug 5, 2003 to Dec 4, 2004
Hanabi Oozora is a sixteen year old girl who is basically a tomboy. She has been the heroine of her school for a long time, helping the less assertive girls around her. However, the school becomes mixed! Hanabi falls in love with Yasuaki Garaku, a top student who couldn't care less about girls. However, when the Girl's Students Council clashes with the Boy's Students Council, Hanabi will have to prove her worth to Yasuaki.
The fun part of H3 School is how Hanabi acts the male part in her school and still keeps asserting herself even when the boys come in. She will not accept a no for answer from Yasuaki! When things get more serious, Hanabi is also a reliable ally. Yeap, she is not only the typical rude and physical girl, Hanabi got brains too! We have a lot of cute boys to choose from as well, so if you like the school type manga, this might be a good option for you.
---
5. Dan Dan Aishite (Gradually in Love)

Genres: Romance, Shoujo
Volumes: 1
Published: 1992
This is a work from the early days of Takada as mangaka. It is a purer type of shoujo, so the atmosphere is much sweeter. Anyway, what would you do if you were left an orphan and an older guy takes care of you? Worse, what would you do if you fell in love with him? This is the story of Aoi, who cannot find a way to confess to Hyougo for obvious reasons.
Proactive heroines are alright for you, but perhaps this time you are seeking something mellower. Dan Dan Aishite might not be the most original work by Takada Rie, but it has the enchantment of those good old days when boys and girls roles were more defined. It is also suitable if you like some drama in your shoujo manga. Dan Dan Aishite was so successful that it had a sequel, Dan Dan Dakishimete.
---
4. Trouble Kick

Genres: Romance, Shoujo, Sports
Volumes: 2
Published: Sep 1993 to Nov 1993
This is a bit unusual for a shoujo manga, as it includes soccer. Our protagonist is a girl who is looking for her childhood friend, Izuru. She has been in love with him all this time, so she transfers to the Jizufu High School to find him. Expect a lot of tournaments and a lot of fluffy shoujo in the mix!
We once more have the typical assertive girl who is the signature protagonist of Takada's mangas. Only this time, she comes with all the action of the soccer field. We have to admit that the action scenes of this manga are well drawn, making you go all nervous about the luck of Izuru in the game. This manga is not for everyone, but if you are into sport and shoujo, this is the right title for you.
---
3. Top Lady wo Mezase (To Be the Top Lady!)

Genres: Romance, Shoujo
Volumes: 1
Published: 1992 to Apr 1992
This manga can also be found as part of Takada Rie's Masterpiece Collection, which includes Dan Dan Aishite and Dan Dan Dakishimete. Of course, you can also enjoy the volume separately! Anyway, our protagonist is Karin Kitajima, the daughter of a powerful company's president. She led a normal life as a high schooler until her father falls ill. Therefore, Karin becomes the acting president for the company!
If you ever wondered how would Richie Rich be as a shoujo manga, we have Karin Kitajima to show you :p She will have to prove that she can handle the company at least until her father recovers! And let's not forget the presence of love, which complicates everything as it usually does in Takada's stories. In Top Lady wo Mezase, we have a condensed tale to pass a good, short lecture time. The volume also includes other short stories by Takada.
---
2. Ippitsu Nyuukon! (Let's tie the Knot!)

Genres: Romance, Josei
Volumes: 3
Published: Dec 29, 2010 to May 2, 2012
So you found the love of your life, the families approve and everything is ready to tie the knot. What could possibly go wrong now? Well… never say that! Renka and Saisho live together and are ready to get married. However, an accident might change everything between them… or perhaps not?
The originality of Ippitsu Nyuukon! is that the characters live immersed in the world of traditional calligraphy, also called shoudou. Yes, Saisho is a master calligrapher. In this manga, Takada shows us that she can be a masterful artist, exploiting the Japanese typical colors, patterns and styles. It is clear that she is experimenting with new concepts in more recent years. Plus, Ippitsu Nyuukon! is josei! Therefore, if you are attracted to more grown up manga or to the beauties of Japanese visual arts, this might be the right match for you.
---
1. Under Hero

Genres: Romance, Josei
Volumes: 4
Published: Aug 5, 2014 to Feb 6, 2017
Finally, the best work so far by Takada Rie in our humble opinion has to be Under Hero. Why, you say? Because it is about the world of mangakas! The protagonist is Ran Ran Mikage, who works for the great mangaka Tango Ifuu. Ran Ran also wants to become a mangaka, and for that, he counts on the undying support of his girlfriend Tenpei Watari, an editor. Or does he? Because lately, Ran Ran has been having problems with her. Is Tango Ifuu-sensei also going to be on his way towards conquering success? Nope, we are not telling you. You have to read Under Hero to know what happens next!
Takada scores once more with this manga, combining the difficult job of mangakas and that thing some people call work-life balance. Her illustration style has always been good, but in this last work of hers, we can see the improvement. The storytelling also got complex! It took Takada years to arrive to this point of perfection at combining a romantic story with the happiness and woes of daily life.
---
Final Thoughts
Takada Rie's works are a bit difficult to come by, especially the ones from her middle period. However, the extra effort to find them will pay back. She has been a rare case in the manga world, as Takada has matured and transitioned from the nostalgic classical shoujo to the more diverse scene we enjoy nowadays. Part of this was due to her proactive heroines, who sometimes could be sweet but definitely were upbeat even for the nineties taste. So tell us, which is your favourite manga by Takada sensei? Don't forget that we are open to all your comments and suggestions. See you soon!
---