As we mentioned in our previous top manga series, the rise of new mangaka in this evolving era is remarkable and it's all thanks to those who have risen before them. The community continues to shine illustriously due to the hard work and dedication of those who have shown great passion towards their work. Gosho Aoyama is one of those great individuals who has carved a path of his own since his beginnings as a mangaka, and ever since 1987 Aoyama has contributed constantly to the overwhelming popularity and success of the manga industry starting with his debut series Chotto Mattete. Aoyama's Yaiba was the title that placed his name in the spotlight in the late 80's, which granted him a Shogakukan Award for his achievements, but more notably it is Detective Conan that truly kick started his success as a manga artist, which to date has sold over 140 copies worldwide making it the seventh best selling manga series in history. Let's take a closer look at some of Aoyama's best works and perhaps shed some light on this shining star in the manga community.
5. Watashi ni Uso wo Tsuite

Genres: Comedy, Drama, Mystery, School Life, Supernatural
Volumes: 1
Published: 2007
The story of Watashi ni Uso wo Tsuite looks at a young girl named Terumi who has the ability to read a person's mind the minute she stares deeply into their eyes. Think of her like Detective Conan but female, and has a supernatural power to catch a liar in seconds. You can definitely see much of Aoyama's art style infused in the story, but it's certainly much different than what you'd expect from Aoyama's past written works. The manga itself is very short as it's a one shot (6 pages in total), but what makes this manga quite intriguing is how it doesn't just have the main protagonist blatantly come out and say "you're lying", but rather it reveals to the reader that person's true self and helps you to understand that nobody is truly a saint in this world.
Aoyama by the time of this manga being released, had already solidified himself as a heavy hitter in the scene since Detective Conan was making waves. Perhaps it was Aoyama's way of trying to explore new territory while still mastering his craft so despite it being incredibly short, there's a lot to absorb from it because it simply shows us that all of us have the power of observation, and we just need to use it to the best of our abilities to solve problems.
---
4. 4 Ban Third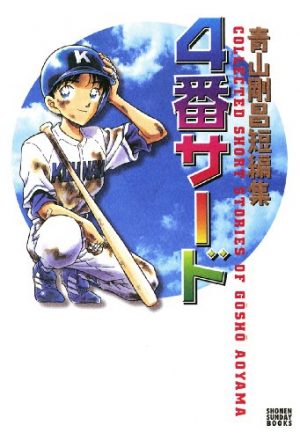 Genres: Shounen, Sports
Volumes: 1
Published: 1993
Shigeo Nagashima just can't seem to place himself in the correct position to land a hit for his baseball team, and so he feels dejected for not boosting performance. Determined to make a difference he one day seeks out a mysterious store that sells baseball goods, and finds the bat that really stood out to him. Little does Shigeo know that the very bat he purchased wielded a mysterious magical power, which would allow him to hit every pitch thrown at him. Unfortunately the catch is that for every hit he connects, he must pay money to the very store he bought it from. His team eventually reaches the championship game but another player on the mound has a similar power, only this time it's in his magical glove that allows him to throw pitches that move at blistering speeds. Kazuhisa, the pitcher, can afford to risk his finances but for Shigeo it's an entirely different ball game.
Aoyama has taken another step out of his comfort zone to create a story that's entirely removed from his typical crime fighting, problem solving character Conan, and now placed the spotlight on the game of baseball. Once again Aoyama's notorious art style stands out once you read into the story, but the story itself is quite entertaining as it places focuses on a young boy who must learn to deal with the problems ahead of him. The story teaches us that you simply can't pay your way to victory, and that there's always going to be a repercussion for actions of that nature. If you want to truly become good at something, you need to put in the work night and day to truly see the fruits of your labor shine. For Shigeo, he must learn this life lesson the hard way as taking shortcuts doesn't always guarantee success.
---
3. Yaiba

Genres: Adventure, Samurai, Shounen
Volumes: 24
Published: 1988 - 1993
This samurai tale revolves around the free spirited life of Kurogane Yaiba, whose purpose in life is to only be a samurai and nothing more than that. One day as Yaiba and his father Kenjurou were enjoying their meal, a group of vicious gorillas came and attacked them but the two managed to escape, finding a box to hide in. Unfortunately for these two the very same box they hid in was about to be shipped into the city, and Yaiba's life would then change dramatically from there. Once he arrives in the city he is warned of a demonic high school student named Takeshi, and that he must use his samurai abilities to stop him.
Yaiba was the first to receive a Shogakukan award and placed Aoyama into the spotlight that he always dreamed of standing in. It tells the remarkable tale of a young boy who must deal with a new environment, while having to overcome obstacles pertaining to building friendships, and most importantly the ones that lie within himself. Aoyama captures this superbly by using a lot of historical figures from Japanese history to emphasize a lot important lessons that Yaiba must learn, and to also invite readers to learn more about the deeply rich lifestyle pertaining to Samurai and their determination to survive in various circumstances.
---
2. Magic Kaito

Genres: Action, Comedy, Drama, Mystery, Romance, Shounen
Volumes: 4
Published: 1987 - Present
The magician known as Kaito Kuroba has more up his sleeve than many seem to suspect, and that is he's the notorious Kaito Kid a.ka. The Phantom Thief. After hearing that his late father was once the Kaito Kid himself, Kaito decided to live in his father's footsteps and carry the legacy. He later finds out after much research that his father didn't die from a tragic accident, but rather he was murdered because he wouldn't steal the precious Pandora Jewel from an evil organization. Now with the truth revealed, Kaito embarks on a dangerous adventure to ensure the Pandora is destroyed and that the evil organization is put down before it's too late.
For fans of the Detective Conan series, you'll most likely recognize this character but to avoid any spoilers pertaining to the Conan storyline we won't dive too deep. Magic Kaito was the precursor to the now popular Conan series which looked at the life of Kaito Kid and his mission to take down the evil organization that took his father's life. Many who follow Aoyama's work claim that the art style in this series was primarily a way for Aoyama to experiment and polish his design which would later evolve into what we know and love today. The story of Kaito Kid ends abruptly at 4 volumes which gave us a clear indication that Aoyama had planned this at some point, and wanted to combine Kaito's story along with Conan's. Nevertheless Magic Kaito is still a great read because it provides you with a great back story behind the magician's dark past and his mission to put an end to what started it all.
---
1. Detective Conan

Genres: Action, Adventure, Comedy, Drama, Mystery, Police, Shounen
Volumes: February 1994 - Present
Published: 90
Conan is the series that truly proved how potent Aoyama's talent was and to this day, Detective Conan is the best detective on the scene all over the world. When you come to Japan, Conan is glorified as a true superhero, winning over the hearts of both children and adults alike and carving the path for Japanese TV dramas to be created from it. Kudou Shinichi is unlike your conventional seventeen year old, who fancies partying and flirting with the ladies. Instead he places much of his efforts on fighting crime and solving the most enigmatical problems with his cunning detective skills, and attention to detail. After getting knocked unconscious during an illegal drug trade, Shinichi wakes up to find himself 10 years younger and now must uncover the mysteries behind his new body and track down the men that did this to him.
Who doesn't love a crime fighting drama with a sharp tongued young man trapped in the body of a child? It's truly a fresh take on the more serious crime dramas we've come to know and love, and throws in a lot of humor and mystery to keep you coming back for more. Each new murder case has you leaping out of your seat in hopes that Shinichi and his crew can somehow solve the problem before things spiral out of control, and you truly feel like a part of it all. Nothing ever truly feels predictable in the Conan series as Aoyama uses a lot of plot twists to keep the reader on their toes, and to use the right discernment when cracking a case. When you put all of his works together they all seem to blend in quite nicely and form Shinichi's character really well, while providing the story with plenty of depth to always maintain a sense of novelty and charm. If you're new to the Detective Conan series then this is definitely the best time to check it out as it's still ongoing, both in manga and anime respectively.
---
Closing Statement
Aoyama's diverse selection of hits is sure to captivate you in one way or another, whether you're into solving crimes or learning about Japanese samurai. All of it essentially blends together in the end to create a copious amount of entertainment, which is sure to last you a very long time. Are you fans of Gosho Aoyama's work? Which one do your consider to be your favorite out of his entire collection? Let us know down in the comments section below and share your passion with the Honey's community! Also, be sure to share, like, and tweet our articles out to the masses to ensure our news continue to generate buzz!
As always, if you want to know about all the latest buzz straight from the bee's nest in Japan, be sure to keep it locked here at Honey's Anime.