Release Date: August 16th, 2017
Label: U/M/A/A
Format: iTunes
Favorite Tracks: Sky Show, SunSun Sunrise feat. 9nine, From Battle to Flight
THE REFLECTION is an action, superhero, supernatural anime series produced by Studio Deen which has been created by the mighty alliance of three internationally well-known names in the entertainment industry: Stan Lee, Hiroshi Nagahama, and Trevor Horn.
This summer anime season has many good shows, but THE REFLECTION stands out not only because of its peculiar fusion of Japanese anime and American cartoon art styles, but also because of the score behind the action and suspense sequences. This anime series soundtrack does sound very different from what we are accustomed to hearing in our favorite anime. For this reason, we needed to get our hands on the the OST in order to analyze it deeply and break it down for you.
The Anime Series: THE REFLECTION
The whole world has been struck by a huge, mysterious disaster. This phenomenon, known as the 'Reflection', took innumerable lives, but gave a special type of 'power' to those who survived. Three years passed. At the New York memorial ceremony, said 'power' strikes humanity in the form of terrorism.
What stood in the way of those with power who had be tainted with darkness? X-on, a masked man whose true identity is unknown; I-Guy, who wears a huge metallic suit and who always accompanied by a peculiar 80s song titled "Sky Show"; Eleanor, a girl who follows X-on and puts herself at risk in battle. Why did the Reflection happen? Why did they bare their fangs at humanity? These mysteries are about to be solved…
The Original Sound Track: THE REFLECTION WAVE ONE
The entire score for the anime series was composed by English producer, Trevor Horn, who has a long career of producing film scores and GRAMMY award-winning songs in the 80s and 90s. Horn's songwriting can be heard on numerous film soundtracks. In 1992, Horn collaborated with composer Hans Zimmer to produce the score for the movie Toys, which included interpretations by Tori Amos, Pat Metheny and Thomas Dolby.
THE REFLECTION WAVE ONE contains 21 tracks filled with synths, electronica, ambient and pop rock and atmospheric soundscapes. It's an excellent fit for the anime's unrelenting intensity.
"Sky Show" featuring guest vocals, is the song that can be heard every time I-Guy, our robotic flying superhero, appears on the scene. This song is an excellent fit for the rapid-fire intensity of this character charisma. In the immediacy of violence, we can always hear "Battle Begins" which is a more cinematic and epic instrumental track. "Hear Them Come" brings us a darker ambiance with a menancing riff and sinister synths reverberating all over the place.
Many tracks reflect the bewildering sounds of machinery and combat, as an accompaniment to the anime. The score accomplishes its role of setting the mood and even assists the character development. The abnormal and obscure sound of "In Chaos and Confusion" cuts against the energy of the rest of the songs, this isolated track also demands attention. "From on High" is more like preparation for an action sequence. This track comes alive on its own, sounding even more disturbing when left with room for the imagination.
"My Daily Life" is a cheerful and melodic piece of art that bring us calm and safety in a happy place. "Reflected", full of thrill and suspense, feels intense and short, it functions as interlude. It all makes a calculated scenery for the anime's shaky combat scenes. Most tracks are built from melodic synths and string sounds that explode intesinly but also come creeping in heavy and slow.
A number of tracks sound quiet and magnificient like "Loneliness and Solitude" which starts off with a phone dialogue and finishes in a epic cascade of beautiful noise. There are a few moments in the anime when the score enters directly into the scene instead of taking over it. "Main Theme" sounds very much like an epic American action movie main theme with a progressive build-up and a dramatic break down. "Hear Them Come Again", the theme song for when the evil forces are approaching, goes on and on into slower tempos, heavy machinery sounds, and spacious synths.
"The Transition" has lead synthesizers gliding over well-defined guitar riffs, with awesome percussion opening up in the empty spaces. As for the finale of this soundtrack, there's the instant Japanese pop classic "SunSun Sunrise" performed by 9nine and which boasts the same kind of effortlessly gliding synth melodies. The English version of this song will be only available on the EP version under the title "Future Boyfriend". Check out the official video for this catchy song below:
1. Sky Show
---
2. Battle Begins
---
3. Reflection
---
4. Hear Them Come
---
5. In Chaos and Confusion
---
6. From On High
---
7. My Daily Life
---
8. Reflected
---
9. Peace in Blue
---
10. In a World of Unreason
---
11. I am Alone with Sadness
---
12. Loneliness and Solitude
---
13. Main Theme
---
14. Hear Them Come (Again)
---
15. Left in a Bleak and Desolate Land
---
16. The Transition
---
17. From Battle to Flight
---
18. The Future of Happiness
---
19. Greater Expectations
---
20. Reflection (Reprise)
---
21. SunSunSunrise (TV Edit)
Available On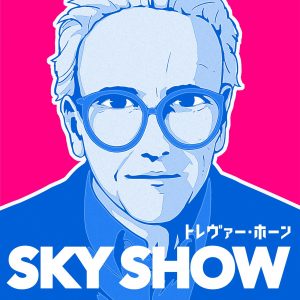 1. Sky Show
---
2. Sky Show ("Bel Air" Reflected & Extended Mix)
---
3. Future Boyfriend
---
4. Sky Show (Unplugged
Available On
Find out more about Trevor Horn here: https://www.facebook.com/trevorhornofficial/
---