Okay, most people know what ramen is, even if they aren't well-versed in Japanese cuisine. At the very least, people have experienced its instant form. But what about udon? Udon is another type of Japanese noodle soup, but it's made with much thicker and chewier noodles than ramen. Udon is also a versatile dish that can be eaten warm or cold, and can have many different toppings and flavours. It's a dish enjoyed in Japan year-round because it's flavourful, cheap, and has at least one variant that everyone can enjoy.
If that doesn't already make you curious about trying to make some udon yourself, how about a little otaku tie-in? Today we are specifically going to make udon with onsen tamago, an udon dish with an egg topping. This particular kind of udon can be seen in Kimetsu no Yaiba, and is a variation of a dish called tsukimi tororo!
What's an Onsen Tamago!?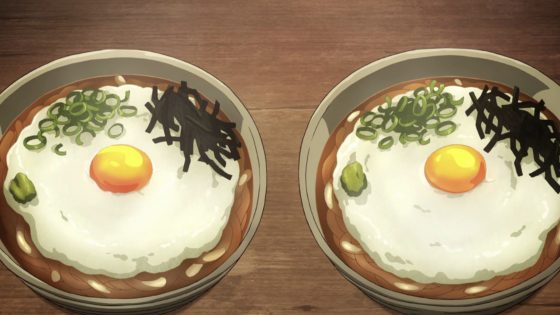 We already talked about what udon is, but what is onsen tamago? They might be words that some people are familiar with - onsen refers to a Japanese hot spring, and tamago means egg. Traditionally, these eggs are cooked in the water of a hot spring, and the result is an egg with the white part softer than the yolk (the opposite of soft-boiled). However, you're unlikely to have a hot spring in your house so we are going to tell you how to get your egg as close to an onsen tamago as possible!
There's also something else you may be unfamiliar with in this recipe, especially if you know it from Kimetsu no Yaiba. The white stuff on top of the noodles in the anime isn't the egg white, it's actually grated Japanese mountain yam, called nagaimo. If you can't find nagaimo in your local Asian supermarket, you can replace it with another yam or similar root vegetable for a similar result. The presence of nagaimo, along with the green onions and seaweed, is how we know this dish is tsukimi tororo. Usually tsukimi tororo is made with soba noodles rather than udon, though, so that makes this a special variety of the dish!
When Tanjiro Kamado first meets the udon seller Toyo in Demon Slayer: Kimetsu no Yaiba, he actually doesn't even eat any udon. This really agitates Toyo, who is very passionate about the udon he makes. Luckily for everyone, Kamado eats not just one but two bowls of udon the next time that he stops at Toyo's shop! The udon he enjoys in the anime is likely tsukimi tororo, topped with an onsen tamago. Hopefully you will enjoy it enough to eat two bowls yourself (though we don't really recommend it as udon is actually quite filling!).
Tsukimi Tororo with Onsen Tamago ( 2 Servings )
What you need:
grated Japanese mountain yam
1 cup
thinly sliced green onions
2 tbsp
thinly sliced dried seaweed
2 tbsp
---
How to Cook It:
First, you need to make the onsen tamago. Heat 4 1/4 cups of the water and bring it to a boil. When the water is boiling, turn off the heat and add the remaining 3/4 cup of cold water, then gently submerge the eggs. Cover the pot and leave it for 17 minutes. After 17 minutes, submerge the eggs in a bowl of cold water for at least 5 minutes. This method should give you the softer egg white with firmer egg yolk you're looking for!

Prepare the udon noodles based on the packaging instructions (likely, boiling them in water on the stove).

In a frying pan, add the dashi and bring it to a boil. Add the soy sauce, mirin, salt, and sugar. You can taste the broth now and adjust it to your liking with any more of these ingredients.

Separate the noodles into two serving bowls, and pour the broth over them evenly. Then, add the layer of grated yam. Crack one onsen tamago into the middle of the bowl, and finally add the green onions and dried seaweed. You're ready to eat!
Yum!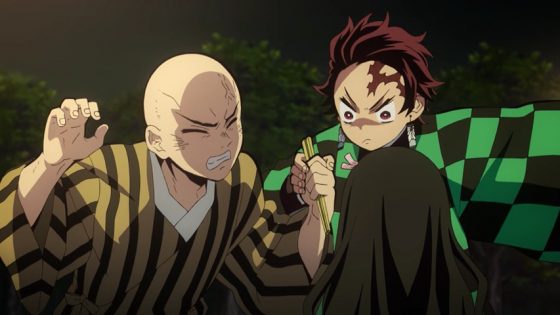 Final Thoughts
Hopefully now you can make a bowl of tsukimi tororo with onsen tamago that even Toyo the udon vendor can be proud of! At the very least, He will appreciate that you tried and are experiencing the love of his life - udon. And while yours may never reach his god-tier level of goodness, you can still enjoy a delicious bowl of udon with onsen tamago, and have a chance to try nagaimo as well if you're able to find it!
Have you tried to make tsukimi tororo with onsen tamago? How was your end result? Were you able to find nagaimo to buy? Are there any other foods you've seen in Kimetsu no Yaiba you would like to learn to make? Drop us a comment below!
---