Self expression comes in a variety of forms whether it be in music, literature, dance, or in this case illustration. The beauty about art is that it can be presented in a plethora of ways and really relies on the individual to bring out the true essence of their artwork. The world of gaming has really allowed artists to take their skills to the next level and showcase their gift to the world in a major way, and with Honkai Impact 3rd creating waves for the community, it's no surprise that MiHoYo has created a contest for everyone to take part in! Not only is this a wonderful way for artists to show off their talents but it can reach a wider audience that could ultimately land you a dream job in the field you desire!
While it certainly isn't as easy as it sounds, it all comes down to hard work and dedication but most importantly, the passion that you put behind the artwork. So do you have what it takes to be the next big artist and take home the big prize? Then perhaps it's time you participate in the Honkai Impact Fan Art Contest! Before we jump into things, be sure to check out the official Honkai Impact 3rd Summer Campaign website directly for details on how to participate! In the meantime, check out the awesome promo video for Honkai Impact 3rd titled "Reburn".
Honkai Impact 3rd Animation - Reburn
---
Submitted Arts!

To give you a taste of just what to expect, we have a gorgeous selection of submitted artwork which shows off all the Honkai Impact 3rd ladies in full detail! If this isn't motivation for you then we don't know what is! Be sure to enter the contest so that perhaps, your submission may receive the spotlight like these ones! Additionally, celebrated artists Ein Lee (the character designer of RWBY) along with Toni Infante (Cover Artist on DC's Batman Ninja) will be the official judges of the campaign, so please check their official profile! Down below are their art works to help promote the event!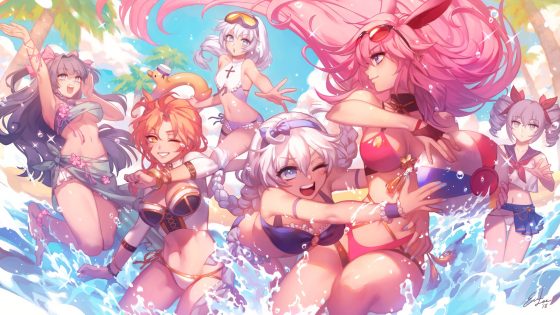 Ein Lee (the character designer of RWBY)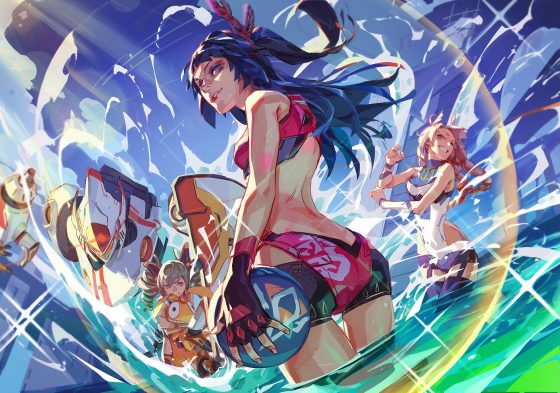 Toni Infante (Cover Artist on DC's Batman Ninja)
Show off your Passion to the World!

Nothing is more satisfying than receiving praise for a job well done. That could be in just about any field not just in art, but it certainly resonates more in your soul when it derives from something you've created from scratch. With the Honkai Impact Fan Art Contest this is a great way to not only develop your skills as an artist, but you're also showing an enormous amount of support to the team who created the game. Honkai Impact 3rd is no longer just a game for fans to pick up and play but also, it's now become a canvas for which passionate fans can express their inner happiness to fans around the world. It doesn't even have to be something extraordinary or Da Vinci level artwork but it should definitely come from the heart, as it portrays just how much hard work you've put into it all.
The world in which we live in is most certainly a competitive one, and many artists around the world are looking for that piece of the pie. While it may sound intimidating to go up against other artists for the limelight there's always one thing to mindful of, and it's that no one can be YOU. That's right, you're a unique individual with your own unique approach to art and so, if you're looking to stand out then it's best to put your own spin on things and shine brightly in your own way. With the Honkai Impact Fan Art Contest you can do just that, create something fascinating and be recognized for it. It's not about whether you win or lose because in the end, your work is being advertised and that's a massive plus in of itself.
Go Beyond Your Artistic Limits!

Many of us oftentimes create limited beliefs about our own abilities which results in poor performance. It's natural to of course not feel confident at times but in order to develop more self confidence, it's very important to practice consistently. With the Honkai Impact Fan Art Contest this is a chance to explore a new territory when it comes to your unique style, and take it beyond your limitations into a world of unlimited possibilities! The blueprint is already laid out for you in terms of the in-game characters and their personalities, but now you can build upon that and create something mesmerizing for not only the developers but fans around the globe. Art isn't just about self appreciation but it's also about inspiration. Just imagine what your art could do for other people when you put your heart and soul into every stroke, every line, every contour of the body. Your art becomes an extension of your personality and the way you portray each character on that canvas is a direct reflection of that. So in a way, your art is communicating with other people in such a way that you don't even have to speak! Honkai Impact 3rd is a game where the world is abundant and full of vibrant colors, where you can take advantage of that with ease.
Whatever you feel is holding you back let it loose on the canvas and let your heart do all the talking. When you look back at just how much you've accomplished you'll feel proud knowing that you never gave up, and even if you don't earn some sort of prize the true reward is you've gained experience. Nothing is more valuable than experience! Whether it be digital or hand drawn just remember that it's only you who can go beyond your limits!
Go Where Your Talent Takes You!

Honkai Impact 3rd is no longer a game where you can explore an immersive world and experience exceptional gameplay, it's now become an extension of our everyday lives. While that may sound a bit odd to some every true artist knows that to really be involved with your work, you need to live it and breathe it. If you're not investing 100% of your efforts then you'll never see 100% results, and so the hungry artist will never back down from an opportunity. With the Honkai Impact 3rd Fan Art Contest you can submit up to 3 pieces of artwork which means you have 3 times the chances of winning. You don't go to where the talent is, you go where your talent takes you!
Let your imagination run wild, dive deeper beyond the surface and uncover a new way of learning. All of the artwork that's submitted into the contest has a chance to be published in the official commemorative book created by the MiHoYo team themselves! Not only that but there are special edition emblems, cool merchandise and of course cash prizes (over 10k USD!). It's all down to you now, can you make it happen? Show the world what you're made of and bring the Honkai Impact 3rd world to life in your precious work! Give it your all so that all that you give will return to you in big rewards! Remember that in order to shine all you need is to find the light within, so make yourself proud by entering the Honkai Impact 3rd Fan Art Contest now!
---
Final Thoughts
It's clear now that Honkai Impact 3rd is a game that's helping to create a community of passionate individuals who not only love the game, but go beyond it to express their artistic nature. We wish all those who enter the best and hope that despite the results, you'll be able to take away from this an unforgettable experience that may help to open doors that were never open before! See every opportunity, whether big or small, as a gateway to success. Paint these beautiful Honkai Impact 3rd girls with all of your heart!
---