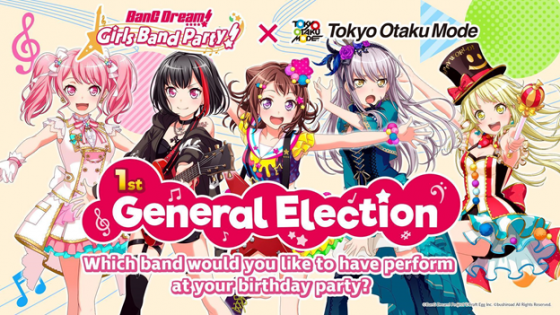 What You Need to Know:
Tokyo Otaku Mode and the good folks at Bushiroad International have announced a collaboration to hold BanG Dream! Girls Band Party!'s first general election of the English version of the game. This campaign will span from July 2nd to July 18th, 2018.
Fans will be able to vote for the BanG Dream! Girls Band Party! band that they would like to have perform at their birthday party. The band that wins first place will be awarded with an original illustration of the band members on an overseas vacation. Players will be able to acquire in-game members from this illustration. It will also be used in original items created through TOM Projects that will be available for international purchase.
The election will be held from July 2nd to July 15th 11:59 PM (PDT) and the results will be announced on July 18th, 2018. Fans who tweet from the vote completion page will be entered into a lottery to win an autographed sign board (called "shikishi") from Aina Aiba, the voice actress for Yukina Minato of the in-game band Roselia. Three winners will be selected then contacted through direct message from TOM's official Twitter account in August 2018.
BanG Dream! Girls Band Party! will have an in-game login bonus along with this campaign. Both TOM and Bushiroad International will promote this campaign at their booths at Anime Expo! For more details about this event, be sure to check out the official website! If you've never played BanG Dream! Girls Band Party! then be sure to click here!
Source: Official Press Release
Full Schedule
Voting Period: July 2nd (Mon) - July 15th (Sun) 11:59 PM (PDT)
Interim Results Announcement: Around July 9th (Mon) 10:00 PM (PDT)
Result Aggregation period: July 16th (Mon) - July 17th (Tue) (PDT)
Final Results Announcement: July 18th (Wed) (PDT)
Lottery Winners Announcement: August 2018
Original Illustration Announcement: TBA
Official Trailer
BanG Dream! Girls Band Party! Launch Trailer

---
This game just keeps getting better and better!
Yeah and there's always fresh new content that comes out which entices me to play even more!
---