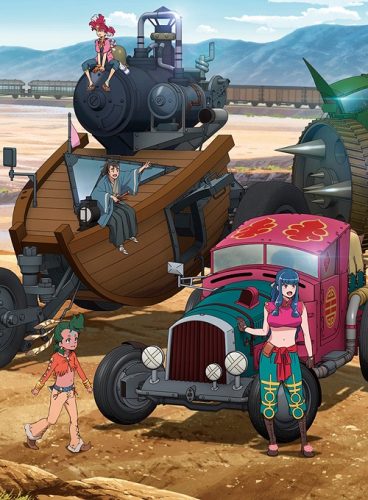 P.A.Works' exciting wild East-meets-West, steampunk-ish adventure has been one of our favorite series this season largely due to its colorful characters and unique setting, but what is a racing series without cool vehicles to race in? Today we'll be ranking the cars of Appare-Ranman! based on their design, style match with their racer, and general memorability/cool factor. Let's get this race started, here we go!
5. Jing Xialian's "Phoenix Fire Lotus"

Starting off, we have one of the more subdued vehicles in Appare-Ranman!, Xialian's modified track racer that bears a Chinese name meaning "Phoenix Fire Lotus", reflecting her heritage as a Chinese-American immigrant. This is further emphasized in how she has decorated her racer with a stylized Shou (壽) character meaning longevity, appropriate for the daunting Trans-America race ahead of her, and an upside-down Fu (福) character for "good fortune" referring to a Chinese wordplay where the words for "upside-down" and "to arrive" sound the same, combining with the meaning of Fu to mean "good luck arrives" which is what she must be hoping for! Linguistic deep-cuts aside, the car itself is quite cool in not hiding its origins as a normal track racing car, even keeping the single mirror but with some notable upgrades like the expanded storage trunk and extra set of rear tires. Overall a simple-yet-elegant car that connects well with its driver!
---
4. The Bad Brothers' "Bad Model"

Swerving straight into more bizarre designs we have the Bad Brothers' aptly-named "Bad Model" which seems to be pretty good at racing while simultaneously badass in design. 's This "car" feels more tractor or tank than sleek racer with its super-oversized front wheels and impressive solid metal ram in front. It's also absolutely covered with spikes to make for a very intimidating design overall like some sort of demonic green goblin bulldog becoming a car that fits the bad image of its drivers perfectly, even more so if you consider it's also something of a scary mask to obscure their true identity. Other elements like the enlarged and angular grill and horn-like hood ornament and winged fins coming off the doors add further interest, making this one of the most memorable vehicles in Appare-Ranman!
---
3. Sorano Appare's "Appare Model"

Of course we've got to give our hero his due and that's easy enough when the car in question is among the most iconic in the series. Like the "Bad Model", you'd have to be pretty generous to call it a car given how it's really more of a boat-tricycle-train-thing. It's also named after its creator Appare, which itself means something like "brilliant" or "splendid", and appropriately showcases the eccentric brilliance of its designer in both its previously mentioned cannibalized looks and unique engine that starts off using pure old-school steam power and later gets retrofitted into a hybrid steam-gasoline machine along the way. If we were to pick a vehicle that best represents the show as a whole, this one would probably be it, melding Japanese shipbuilding techniques with Western engines together in a crazy, fun, and surprising contraption that somehow just works. That being said, its looks are arguably not crazy enough for the clown-like intensity of Appare himself, so perhaps a Ukiyo-e inspired paint job is in order.
---
2. TJ's "Crazy Z"

Speaking of crazy, what the heck is this thing?! TJ is undoubtedly the other loudest character of Appare-Ranman! in both character design and arguably voice and personality as well and hard not to love despite his problematic violent tendencies. His car is even crazier with its odd 6-wheel layout, intense purple with yellow highlights paint, and, most importantly, a giant freaking face on the front of the car complete with huge lashed eye lights and prominent set of lips. There's also the spider web-like, or perhaps carousel-esque, cabin and heart-holed hubcaps to further add to the visual insanity that is Crazy Z. The whole thing seems to be going for a bit of a Mardi Gras vibe too but is in any case a supremely over-the-top design that both matches its larger-than-life driver perfectly and sticks out in our minds thanks to visual impact alone, making it one of our favorites!
---
1. Al Lyon's "AL9"

And finally we have the elegant vehicle of unspecified European racer Al Lyon in all of its unspecified European glory, although if we had to guess with the manufacturer BNW probably being a reference to Bavarian Motor Works, it's probably some flavor of German. In any case, we have the AL9 as our winning pick! A beautiful vehicle that we think strikes the perfect balance between believability and originality well and suits its similarly fancypants driver's posh sensibilities, this smooth, elongated vehicle is a winner! Somewhat reminiscent of the iconic Volkswagen Beetle, its futuristic form with its cockpit-like segmented windows looks almost like a fighter jet or even a spaceship. Its pointy gold hood ornament adds that final touch of class that pushed it over the finish line in our minds. With its refined sophistication while still being very much outlandish enough to fit within the world of Appare-Ranman!, we can think of no better vehicle to be our favorite!
---
Final Thoughts
Altogether, Appare-Raman! continues to be a captivating, high-energy show with its own sense of style that comes through throughout but is perhaps best showcased, at least visually, in its vehicles designs. Please let us know if you agree with our list here or have any other comments by writing to us and other fans below! Until next time, keep your eye on the track and your favorite shows here on Honey's Anime. See you at the finish line!
---