También puedes leer este artículo en:Español
Steampunk is an aesthetic that always looks cool. The look is loved and cosplay-worthy with its mixture of old and new, antique style, and mechanical advancement. Steampunk usually includes a historical setting and style with technical progress past the known abilities of the era depicted. Here at Honey's Anime, we published a list of our favorite steampunk titles a few years back, but the genre has more content, so we are back with updates! Without further delay, here are our favorite steampunk anime!
10. Code:Realize - Sousei no Himegimi (Code:Realize ~Guardian of Rebirth~)

Episodes: 12
Aired: October 2017 – December 2017
Code:Realize begins when Cardia Beckford is escorted out of an empty mansion that was her home. If being accompanied out of her home by the military was not unexpected enough, she is kidnapped from her "escorts" by the gentleman thief Arsène Lupin. Cardia is then taken to a safe place by Lupin, where she meets other handsome steampunk guys with historical names. Cardia meets Victor Frankenstein, Van Helsing, Saint-Germain, and other recognizable names in this reverse harem. Together, they try to learn more about Cardia's father, his experiments, and keep Cardia safe from parties interested in her powers.
This title is steampunk to the max. Code:Realize offers a Victorian feel with lots of updated styles added, and it delivers on the mechanics side as well. From the early-style cars to the mechanical leg on Sisi (a dog that lives in Saint-Germain's mansion), there are a lot of pieces of machinery that make this anime very firmly a steampunk theme. For a reverse harem you won't forget, watch Code:Realize!
---
9. Koutetsujou no Kabaneri (Kabaneri of the Iron Fortress)

Episodes: 12
Aired: April 2016 – July 2016
Set during an industrial revolution in Japan, a virus has caused a zombie-like effect in humans. These Kabane crave humans for meals, and several years later, humanity lives in small protected areas because of this illness. Mechanical advancements are extra significant in this anime because they are what people use to combat the Kabane. Kabaneri of the Iron Fortress centers around a mechanic named Ikoma who wants to put his inventions to the test but the unexpected happens.
Kabaneri of the Iron Fortress is steampunk to its core. With the industrial revolution being part of this anime's setting, you can imagine that mechanical innovation and vintage style are present. For a longtime favorite that makes many lists, watch Kanaberi of the Iron Fortress!
---
8. Machine-Doll wa Kizutsukanai (Unbreakable Machine-Doll)

Episodes: 12
Aired: October 2013 – December 2013
Machinart are technological creations made with a magical spell that brings inanimate objects to life. The Machinart are military creations that are in the care of people called puppeteers. Raishin Akabane is a puppeteer who comes to attend Walpurgis Royal Academy of Machinart, located in Liverpool. Raishin and his automaton companion, Yaya, attend this school and participate in its battle culture not for the reason of obtaining the sought-out title of "Wiseman," like everyone else, but for revenge.
Unbreakable Machine-Doll takes place in the United Kingdom in the early twentieth century. With steam-powered locomotives, carriage rides, and period clothing, this steampunk anime is a fan favorite. This title is our favorite steampunk ecchi title, and it doesn't skimp on the action either! Follow Yaya and Raishin as they go on the adventure of attending Walpurgis Royal Academy with Unbreakable Machine-Doll!
---
7. Levius

Episodes: 12
Aired: November 2019
Levius is another Netflix contribution to anime! Cybernetically infused warriors fight and die in a coliseum-like environment in the post-war Era of Rebirth that looks like the early 1900s. The sport of cybernetically augmented fighters combatting in martial arts and killing each other like gladiators for entertainment has captured international attention, and this is where we meet Levius. This steampunk anime of cybernetic alteration and an interpersonal battle to survive until your next fight is where Levius tries to stay alive. For an anime where the hits keep coming, and the stakes are always as high as they can be, check out Levius!
---
6. Appare-Ranman!

Episodes: 23
Aired: June 2020 – September 2020
Appare Sorrano is an inventor living in Japan in the last few decades of the eighteen hundreds. Appare and a steam-powered watercraft are adrift in the middle of the ocean without help from a series of unforeseen mishaps. After encountering another vessel, he is towed to Los Angeles and decides to participate in the "Trans-America Wild Race" to earn prize money that will let him get back home! With a series of misfits from many different countries, Appare constructs a machine for this race that only he could.
We love a steampunk theme, but seeing the inventor be a central part of the story is even more exciting! This anime features people from many different nations, so the vintage clothing is shown across several countries! Meet counterparts from a Native American tribe, Japan, China, and more countries as they pool together their mutual interest of winning this race.
---
5. Princess Principal

Episodes: 12
Aired: July 2017 – September 2017
In an early twentieth-century set London, the city is divided by a wall after discovering a new substance caused advancement in military technology and ripped the nation into a culture of espionage and undercover warfare. To this end, four girls from the Queen's Mayfaire school work as spies. This group consists of a driver, a sharp-shooter, someone with vocal-mimicking expertise, and a samurai. This unlikely group works to complete their missions and return alive. With period wardrobes, a setting that screams for this theme we love, and all the action-packed adventure we love in an old-world London, we're recommending Princess Principal!
---
4. Vanitas no Carte (The Case Study of Vanitas)

Episodes: 12
Aired: July 2021 – September 2021
The Case Study of Vanitas centers around the vampire Noé and his observations of the Book of Vanitas and its caretaker who takes that same name. Vanitas and Noé look to cure an illness that is causing vampires to lose sanity and cause their death sentence. Though there is plenty of magic, the historical city of Paris where this takes place has lots of early machinery and beautiful adaptations of it. In addition to these early cars, and early luxurious blimps, the style in this show is excellent! The beautiful animation makes us fall in love with the vintage city. For a brand-spanking-new title that made us all happy in 2021, check out The Case Study of Vanitas!
---
3. Kino no Tabi: The Beautiful World - The Animated Series (Kino's Journey -the Beautiful World- the Animated Series)

Episodes: 13
Aired: October 2017 – December 2017
Kino is a fifteen-year-old who rides solo on a motorcycle to different places. This traveler experiences cultures and countries different from their own, and that adventure makes up this delightful steampunk anime. Kino dresses in an early motorcyclist's garb, including a vest, hat, riding goggles, and gloves. Kino is the only person on the motorcycle but is not alone. The bike, named Hermes, has a personality of its own and often gives Kino an amount of realism and pessimistic sass in the opinions offered.
These two wander to unusual countries, like the one that is a floating machine and will eventually sink. They see people and ways of living (including their steampunk technology) very differently from place to place. For an excellently styled individual riding a popular early twentieth-century motorcycle, watch Kino's Journey!
---
2. Violet Evergarden

Episodes: 13
Aired: January 2018 – April 2018
Violet Evergarden is a war veteran who lost her arms, favorite person, and emotions before returning to civilian life. With her job as an auto-memory doll, Violet helps people put their thoughts and intentions into a special letter for their loved ones. She does not seem to show any emotion herself, making it very difficult for her to understand that about other people. As the story progresses, Violet's interactions with people expressing things significant to them help her to begin to understand emotions again.
Violet has a Victorian-esque dress, a ruffled parasol, and gloves which are only removed to type her letters. Violet's arms are impressively advanced and flexible, with their modernity moving the feel from historical to steampunk. And what fabulous fashion! We love her bolo-tie-looking jewel that hangs on her ruffled ascot. For another more recent anime that comes from Netflix, check out Violet Evergarden!
---
1. Fullmetal Alchemist: Brotherhood

Episodes: 64
Aired: April 2009 – July 2010
Topping this list is the only title that stayed here from the previous publication. Fullmetal Alchemist: Brotherhood is immediately thought of with steampunk anime, and the adventure is one that fans watch repeatedly. Brothers Edward and Alphonse Elric decided to try their hand at a spell that would bring their mother back from death. Instead, they lost a great deal of themselves. Edward has a mechanical right hand that replaces the one he lost, and his brother Alphonse does not have a physical body at all, but his being is contained inside a suit of armor alone.
These alchemists seek the philosopher's stone to restore their previous state. This anime has an old-world style, and while there isn't a lot of steam coming out of anything, it does have the mechanical advancements we love to see, so we're counting it! For a favorite that has been around and is still loved more than a decade later, check out Fullmetal Alchemist: Brotherhood!
---
Final Thoughts
Steampunk is a feeling that is always juxtaposed with the antiquated and the advanced. If you love that vibe, we hope you found something to add to your watchlist here today! If you want more steampunk titles to explore, keep scrolling to get to the article from a few years back for more content. Have you seen these titles yet? Which ones are your favorites? Comment and let us know!
---
---
Let me just say that we here at Honey's Anime believe that the steampunk genre contains some of the best anime titles ever made. Any dissenting voices? I figured not. After all, with their trademark retro-futuristic technology and usually deep plot elements, steampunk anime has had the distinction of being among the genres of anime which are both visually and mentally stimulating.
So what makes a steampunk anime? Steampunk anime usually deals with alternate universes that are populated with similar or more advanced versions of Victorian era technology. Thus, steam engines and other notable aspects of the Industrial Revolution could be found in its titles. So, without further adieu, here are our Top 10 picks for the best steampunk anime ever made!
10. ∀ Gundam (Turn A Gundam)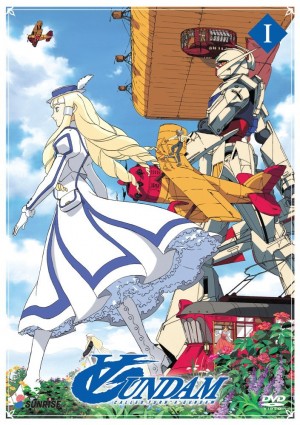 Episodes: 50
Aired: April 1999 - April 2000
Turn A Gundam is arguably one of the most unique entries in the long-running Gundam franchise, featuring a titular mecha whose design deviated far from the traditional Gundam look. Despite this, however, the series' engaging storyline, coupled with its memorable universe, made it into a fan favorite nonetheless.
While it's quite surprising to find a Gundam title in a steampunk list, Turn A Gundam is nonetheless one of the most memorable Gundam universes because it was able to feature both futuristic and retro-futuristic technology in its plot. With the anime being set in a world where humanity is starting over, numerous steampunk elements, such as basic Industrial Age contraptions that the characters use on an everyday basis.
---
9. Samurai 7

Episodes: 26
Aired: June 2004 - December 2004
This action-packed anime from 2004 features a story that is loosely based on one of the best samurai movies ever made, The Seven Samurai. The plot of the anime is quite straightforward, featuring a land that is ruled by fear under the thump of the Nobuseri, a race of brutal warriors that are part machine. To counter the threat, a young priestess travels and gathers samurai in order to protect the populace.
While the plot of the anime is quite simple, its execution, as well as the numerous steampunk elements, make for a very engaging series. The action scenes, especially those involving the half machine villains are certainly a pleasure to watch. Of course, with Gonzo's signature quality of animation, steampunk fans could rest assure that this anime is one that definitely deserves to be watched.
---
8. D. Gray-Man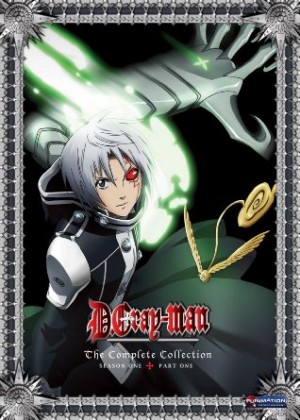 Episodes: 103
Aired: October 2006 - September 2008
D. Gray Man is one of those anime that one simply cannot help but love. After all, with a cast that is extremely likable and a universe that is extremely engaging, viewers were immediately enamored as they explore the world of exorcists and Akuma. Being created in line with the manga, the storyline of the anime is pretty solid too.
While the steampunk elements in D. Gray-Man are pretty subtle, the influences of the genre in several key aspects of the plot is undeniable. The Black Order, for one, uses technology that appears very anachronistic, including highly advanced machines with designs that are obviously inspired by Victorian technology, such as the second stage of Allen's cursed eye. Apart from the technology, the presence of corruption, which is a common theme in steampunk titles, is also present in the Vatican itself.
---
7. Steam Detectives (Kaiketsu Shoki Tanteidan)

Episodes: 26
Aired: October 1998 - March 1999
From the title of this anime alone, one could immediately tell that this is a steampunk title. The premise of this little steampunk gem is pretty straightforward. With steam power being used as the primary source of energy in Steam City, criminals and other undesirables have begun using the white mist from the city's steam to carry out their nefarious activities. Thus, it is up to young detective Narutaki, his nurse assistant Ling Ling and their megamaton Goriki, to solve crimes and keep the peace.
The elements of the steampunk genre in this title are undeniable, from the setting of Steam City to the Megamatons that are highly featured in every episode. Though the anime is marketed towards younger anime fans, the design aspects of the title, together with its rather noir setting, makes it an enjoyable watch to anime fans of all ages nonetheless.
---
6. Nadia: The Secret of Blue Water (Fushigi no Umi no Nadia)

Episodes: 39
Aired: April 1990 - March 1991
From the creative minds behind Neon Genesis Evangelion comes Nadia: The Secret of Blue Water, an anime inspired by the famous Jules Verne novel, 20,000 Leagues Under the Sea. Set in an alternate universe in the year 1889, the anime features Nadia, a mysterious girl whose pendant is the focal point of a hunt by notable jewel thieves. Eventually, she gets rescued by none other than Captain Nemo, who helms the powerful submarine, the Nautilus.
As Nadia, together with her inventor friend Jean, travel with the crew of the Nautilus, they find themselves in a middle of a conflict where the freedom of the world is at stake. Throughout the course of the anime, steampunk elements are abounding, from the technology used in the Nautilus itself to Jean's inventions. In fact, the actual Jules Verne novel is widely regarded as one of the best examples of steampunk literature. With the anime inspired by the timeless classic, how could it really miss?
---
5. Sakura Taisen: Katsudou Shashin (Sakura Taisen: The Movie)

Episodes: 1
Aired: December 2001
Sakura Taisen is a mammoth franchise from gaming giant Sega, singlehandedly creating millions in revenue for the game developer. The movie, which focuses on events a few months after the events of Sakura Taisen 3, features the Imperial Assault Force facing off against a threat that has set its sights on making the Flower Division's Koobus, or steam-powered mecha, obsolete. With their captain in Paris, the Flower Division would need to do everything they can to counter the emerging threat.
What's particularly great about Sakura Taisen: The Movie is the fact that it honors its gaming roots very well. The battle scenes, as well as the neo-industrial setting of steampunk Japan, are exactly the way they are rendered in the games that the series came from. After all, Sakura Taisen has always had a winning formula - a killer soundtrack, a cast of really attractive females, and mecha battles. With those elements, who can not like the movie?
---
4. Last Exile: Ginyoku no Fam (Last Exile - Fam, The Silver Wing)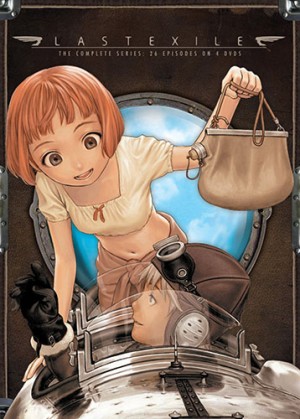 Episodes: 21
Aired: October 2011 - March 2012
The Last Exile series is one of the best examples of an anime that fully embraces the steampunk genre. Fam, The Silver Wing, which is a sequel to the 2003 hit anime, is set four years after the events of the original Last Exile title. The sequel features the headstrong young female pilot, Fam, who decides to help a princess by becoming her "wings."
The steampunk elements of Last Exile - Fam, The Silver Wing, are very overt from the non-zeppelin airships and other post-Edwardian technology that is always on display. Other popular steampunk themes, such as the lack of resources and a focus on the oppressed, as well as the characterization of the leaders as being corrupt, are also present. Last Exile - Fam, The Silver Wing is definitely one of the most notable steampunk titles of recent years.
---
3. Steamboy

Episodes: 1
Aired: July 2004
Steamboy is, in a lot of ways, anime's love letter to the steampunk genre, featuring a story that is set in an alternate Great Britain during the middle of the 1th century. After Ray, the movie's protagonist, receives an advanced machine from his grandfather in Russia, the young inventor finds himself in the middle of a deadly game of cat and mouse, where he would be pitted against powers far beyond his own.
Though some critics stated that Steamboy featured a story that is rather simplistic in nature, everyone, critics and commercial audiences alike were unanimous in the movie's excellent production values, with the consensus being that the movie is a satisfying visual feast. Currently, the movie is one of Japan's most expensive anime movies to date, utilizing more than 180,000 drawings and 440 CG cuts. The film also took a full decade to make. If you are a fan of the steampunk genre, this movie definitely deserves a watch.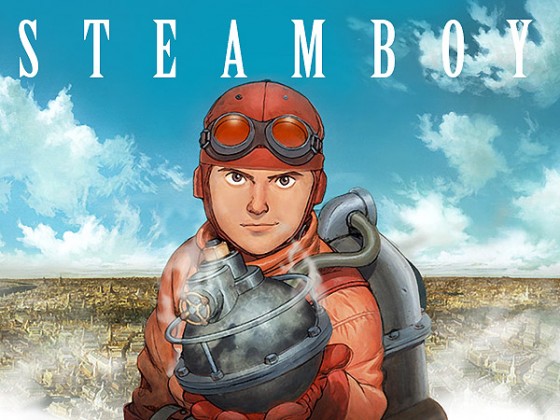 ---
2. Fullmetal Alchemist: Brotherhood

Episodes: 64
Aired: April 2009 - July 2010
The tale of Edward and Alphonse Elric is one of the most notable stories that anime has ever told over the last few years. Indeed, with its rich storyline, deep philosophical undertones, and characters that are unforgettable through and through, Fullmetal Alchemist: Brotherhood, stands as one of the best examples of not just the steampunk genre, but of anime as a whole. Ranked as one of the highest rated anime of recent years, it is definitely one that deserves to be on the top of every anime fan's viewing list.
The steampunk elements of FMA: Brotherhood is pretty overt as well, with the anime's setting being influenced greatly by Industrial Age Europe. Edward's automail arm alone is one very big steampunk element that could be seen in every episode of the anime. Overall, the series' setting, the weapons of the main characters, as well the pervading tension between classes, are very notable examples of common tropes and themes present in the genre.
---
1. Kaze no Tani no Nausicaä (Nausicaä of the Valley of the Wind)

Episodes: 1
Aired: Date: March 1984
Nausicaa is not just a classic of the steampunk genre. It is a classic of anime in general. Critically-acclaimed, commercially successful and created by arguably the greatest mind behind anime, Hayao Miyazaki, Nausicaa has become a timeless classic featuring the young, brave Nausicaa and her epic conquest. Apart from a timeless story, the movie is also home to one of anime's most notable engines of destruction, the God Warrior, which has influenced anime for decades to come.
So what makes Nausicaa so steampunk? Well, it basically has everything that anime fans love about the genre. Air pirates, retro-futuristic machines, military airships, google-totting characters are just among the many elements that are commonly found in steampunk titles. Nausicaa is a masterpiece through and through, and because of this, the movie ranks as our number one entry on this list.
---
Thus ends our list of the best steampunk titles ever to be made in anime. Of course, with a genre as expansive as steampunk, there are still countless others that are worthy of mention. If one comes to your mind, please do mention them in the comments.
Until then, we'll see you on the next list!
---