What You Need to Know:
Haruhi & Aqua? We aren't mad... welcome to the weekly light novel chart!
This week, High School DxD remains strong. Date A Life 18 Bakemonogatari 1 Part 1, and Danmachi 1 all return to the chart after weeks to months of being off.
As for new things, from the featured image, you can see there is a new light novel celebrating the 30th anniversary of Dengeki Bunko, Boku wa Tomodachi ga Sukunai CONNECT and Re:Zero kara Hajimeru Isekai Seikatsu 17 all debut.
---
High School DxD Harem King Memorial
Hangoku no Oji (Captive Prince)
DATE A LIVE 18 Mio Game Over
Re: Zero Kara Hajimeru Isekai Seikatsu 17
BLEACH Can't Fear Your Own World 2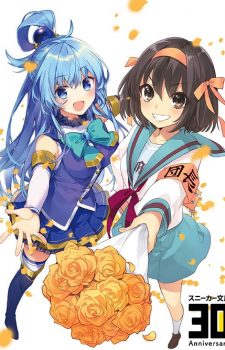 Boku wa Tomodachi ga Sukunai CONNECT
Is It Wrong to Try to Pick Up Girls in a Dungeon? (Dungeon ni Deai wo Motomeru no wa Machigatteiru Daro ka) 1
Source: CD Japan
Huh.... I wonder if the two god light novel series will take off.
Ahhhh I am so excited to see that Haikyuu!! has a light novel!
[ad_dfp position="bottom1" unit_pc1="true" unit_pc2="true" unit_sp1="true" class="mt40"]