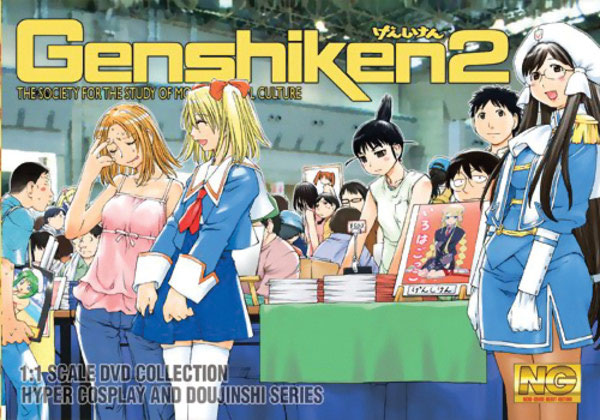 Since Japanese pop culture has spread outside its motherland, anime and manga conventions such as the anime Expo have become famous all over the world. These events' popularity have increased year by year so much that now they attract millions of visitors who are not only Japanese graphic literature lovers, but also people who aren't interested in it at all and are just intrigued by its uniqueness. That is because anime conventions have all some special characteristics which make them completely different than any other existing event: for example, a large number of exhibitors offer rare collectible comics and action figures for sale, and seminar and workshops are held for people to understand Japanese pop culture better, it is possible to meet authors in person, and above all, comic lovers can wear their favorite character's outfit and walk around the whole area without bystanders thinking they are some sort of weirdo.
People interested in animation and illustration are probably more than familiar with these kind of conventions, but did you know that not all anime and manga dedicated events are the same? Indeed, in Japan, there are also very special events such as the Comiket which you have probably never heard about before.
First of all, let's start saying with the word "Comiket." It stands for "Comic Market" and it refers to the largest dōjinshi fair existing. Held for the first time in 1975 as an idea by the Japanese manga critic and author Yoshihiro Yonezawa, the Comiket now takes place twice a year – December and August – in Tokyo, at the Tokyo Big Sight convention center near Odaiba quarter. Originally, Comiket was just a little event which counted very few participants and attendees. Today, attendance has exceeded half a million people and the number is certainly growing. Comiket's importance is not just all talk, and the fact Comiket is often mentioned in anime and manga is clear evidence of how big of a phenomenon it is. But what is that makes Comiket such a special event? There are at least three good reasons for it!
Reign of Rare Items

The first reason for Comiket's popularity lies without a doubt in the kind of goods sold by participating authors (also said "circles"), namely the dōjinshi. For those who don't know what a dōjinshi is, let's briefly explain they are self-published Japanese manga featuring either a cast of original characters and plot or characters from another manga or anime. Being self-published and hardly reprinted, dōjinshi are very rare and difficult to find in official shops and through specific suppliers so Comiket becomes the sole possibility for dōjinshi's lover to purchase them.
However, although dōjinshi are the main star of the Comiket, they aren't the only rare items to be sold. In smaller quantities limited-edition CD and DVD, non-official anime gadget, T-shirts and action figure can also be found, but it could require a couple of hours of desperate research since the Comiket is quite huge and with many attendees. These items are rarely sold by authors themselves and are more like provided by Comiket's official sponsors. Now, it isn't too hard to figure out why Comiket is such a great catch for Japanese pop culture's lovers, including many anime otaku characters. In Ore no Imouto ga Konnani Kawaii Wake ga Nai, for example, Kirino and Kuroneko don't lose their chance to take part to the Summer Edition in pursuit of extremely rare gadgets.
Ore no Imouto ga Konnani Kawaii Wake ga Nai/ My Little Sister Can't Be This Cute
Episodes: 12
Aired: Oct. 2010 – Dec. 2010
If anybody could be defined as an otaku obsessed with rare items and games, it is Kirino Kōsaka from Ore no Imōto ga Konnani Kawaii Wake ga Nai. From the outside, Kirino may seem the typical ideal student with high grades and quite capable of taking care of her own self. Kirino even has a part-time job as a model together with her best friend Ayase Aragaki, so Kirino can cover her personal expenses without asking for money to her parents. The problem is that Kirino hides a terrible secret which she can't reveal especially to her best friend; Kirino is, in fact, an otaku who lovesComiket's importance is not just saying and the fact it is often mentioned in anime and manga is a clear evidence of how big of a phenomenon it is. But what is that makes Comiket such a special event? erotic games (eroge) and Ayase would hate her if she only knew about it. Kirino's secret seems to be safe from the rest of the world until her older brother Kyōsuke ends up finding one of her games. Trouble is coming on Kirino's way while her brother becomes more and more involved with her otaku life.
Kirino's passion for eroge brought her to online communities of which she is an active member and where she met many of her otaku friends such as the gothic lolita Kuroneko and the anime lover Saori Makishima. The three of them often organize offline meetings with other otaku fellows and regularly take part to both Comiket's Summer and Winter editions, of course. In episode 4, for example, Kirino, together with her brother and her friends, is waiting in the intense summer heat to enter the convention hardly able to get a hold of her emotions. Her objective? To lay her hands on the limited edition of her favorite game SisCaly and buy everything she can!
---
Fujoshi's Paradise

Speaking about dōjinshi, a second good reason for Comiket's popularity relates to the rapidly increasing phenomenon of fujoshi, namely homophile readers of yaoi. When Comiket was first created, the fujoshi phenomenon still wasn't as massive as it is now and the event was meant to host both male and female authors who were interested in publishing amateur manga. Today, male authors' attendance to Comiket is drastically decreased, while circles of female authors illustrating homosexual dōjinshi have become the core of this unique comics fair.
Some of these authors have become incredibly famous, so it isn't that rare to find long lines of fujoshi waiting to meet their heroes and purchase their manga when they are still cheap enough to be affordable. Indeed, according to the popularity of the author and the quality of her work, a dōjinshi could cost up three times as much or more on online shops, so Comiket becomes an opportunity for fujoshi to buy their favorite works in bulk – and some of them actually attend the event with suitcases to fill with manga! Fujoshi attending Comiket is so widespread that it is often ridiculed in some anime and manga. Osomatsu-san, for example, features a very funny Comiket parody scene.
Osomatsu-san/Mr. Osomatsu
Episodes: 25
Aired: Oct. 2015 – Mar. 2016
The Matsuno family is quite big; apart from mom and dad, the cool and collected Matsuno Choromatsu has to share his vital space with five interest-free twin brothers of which he is the third-born. The older brother Osomatsu is a pervert who spends all his time wasting money at pachinko or horse races, and watching porn. The second-born Karamatsu is an empty-minded layabout only capable of saying"painful", nonsensical things. The fourth-born Ichimatsu has an obvious sociopathic personality. The fifth-born Jyuushimasu is simply an absent-minded idiot, and the last-born Todomatsu is a demon in disguise. They are already in their twenties, but except for Choromatsu, none of them seem to be interested in finding a job and becoming independent. But… is really Choromatsu that concerned about his brothers' futures?
Actually, Choromatsu hides a deep, dark secret that is called Nya-chan. Indeed, although he is ashamed about it, Choromatsu is an idol otaku who would do anything to be noticed by his loved heroine also if just for a second. Of course, like any self-respecting otaku, Choromatsu enjoys attending Comiket. What does Choromatsu's story have to do with fujoshi? Well, basically nothing, but Choromatsu was a good pretense for Osomatsu-san's authors to mock fujoshi and their homosexual dreams. Indeed, in episode 17 Choromatsu finds out his brother Jyuushimatsu is a Comiket's exhibitor and… is also very informed about seme/uke's sexual activities!
---
Meet Otaku & Share Interests

In the end, the final reason for Comiket's fame lies in its essence. Comiket is meant for Japanese pop culture lovers and was created to grant them a good time and opportunities. Comiket isn't simply a fair where you can buy your favorite dōjinshi or rare items, but also a place where people who share the same passion can meet. Once high school is over, Japanese people are supposed to leave their families and friends to enroll in university or join society as functioning members, so it becomes extremely hard for them to spend time with friends who have their same interests. Therefore, Comiket is a chance for otaku scattered all over Japan to meet with their peers and have a good time together.
Besides, Comiket represents also a good chance for wannabe professional cosplayers to be noticed by talent scouts and photographers. Indeed, there are some specific parts in Tokyo Big Sight designated as cosplaying areas where people can pose with their outfits on and hand out their business cards to get publicity for their Twitter, Facebook, or blog pages. After all, those who understands the love for manga and anime can think of supporting an otaku's hard work, while cosplayers may otherwise be perceived as childish. This sad reality is well depicted – luckily in a hilarious way – in Genshiken through Saki and her otaku boyfriend Kōsaka.
Genshiken
Episodes: 12
Aired: Oct. 2004 – Dec. 2004
The Society for the Study of Modern Visual Culture – otherwise known as Genshiken – is a unique college club; all his members have a sole interest that in sharing their otaku passion with each other. While its members have fun all together reading dōjinshi, watching anime and attending conventions, the introverted Kanji Sasahara is still searching for a place to belong to. One day, he accidentally stumbles upon Genshiken, but he claims to have no interest in that sort of activities. Actually, Sasahara is just too afraid to accept his otaku nature, so he tries to stay as far as possible from those people so weird to him. However, he ends up befriending Makoto Kōsaka, who turns out to be a club member and a hardcore otaku. Through Kōsaka, Sasahara gets involved more and more with the club activities.
The background to Genshiken is, of course, Comiket which is one of the conventions the club attend the most. Kōsaka is the more excited about it every time the period for Comiket comes, but that doesn't apply to his poor girlfriend Saki, who joined the club just to be able to meet Kōsaka more often, considers its members' otaku nature lame and childish. Saki has really nothing to do with Genshiken's activities and absolutely loathe them, so her role could be said to be representative of the way "ordinary people" think about otaku and their world. However, Saki's could be just a mask since she doesn't seem to dislike cosplaying and hanging out at the Comiket that much. The fact is probably that spending time with friends is more important than the embarrassment of taking part to an otaku convention. In Comiket's perfect style.
Genshiken: Second Generation - Official Trailer
---
Final Thoughts
How could Comiket be defined, in brief? Let's say it could be defined as a comics fair unique in the world where rare items such as fujoshi's beloved dōjinshi are undisputed protagonists and where otaku coming from all over Japan can share their love for manga and cosplay.
Have you ever been to Comiket and would like something we forgot about it? Let us know with a comment!
---