The world of Yaoi is ever-expanding, resulting in different sub-genres being born to please a wide range of readers. Sometimes, a cute story about two men who love each other profoundly is not enough; sometimes we want them to have kids and watch them grow, even if it goes against the laws of nature. That's why we will talk about Omegaverse!
What is Omegaverse, Then?
Here are the things you need to know about Omegaverse: it started out as a sub-genre focused on werewolves and shapeshifters, where the characters would act according to the place they belonged to within that society. Now, the stories have drifted apart from what they originally were, but they kept some of the initial characteristics. For instance, characters are divided according to ranks belonging to, for example, a wolf pack: with alphas being at the top of the hierarchy and omegas being at the bottom.
In these stories, one is expected to act according to the category (second gender) they belong to. Alphas, being at the top, are usually elite students with great grades and excellent leadership skills. On the other hand, not much is expected of omegas, always regarded as inferior creatures. Through a medical exam, kids learn at a young age to which category they belong to, and their lives take a huge turn from that moment on.
Pendulum: Juujin Omegaverse

This manga tells the story of Kai, a young omega who was abandoned by his parents. He is soon taken in by Roald, the leader of the Siegfried family, to become one of his partners and bear his children. At first, Kai is happy just to have a roof over his head and food to eat, but soon his feelings towards Roald change and he finds himself wishing to become a couple with this powerful alpha.
In this omegaverse manga, we have a man-beast and a human boy, exploring what it's like to be together and going against the clan's traditions to find their happily ever after. Faithful to the origins of omegaverse manga, Pendulum portrays half-human, half-beast people who follow a strict set of rules, but who can't help falling victim to their instincts.
Second Gender: Characteristics and Differences Between Them
As we mentioned before, apart from being male or female, a person can either be alpha, beta or omega. Betas are "normal" human beings who don't release pheromones or have a rut. Most people are betas, and they go about their lives normally.
Alphas, on the other hand, are special. They're at the top of the social pyramid, being excellent students, successful businessmen and businesswomen, CEOs of big companies, etc. When they reach adulthood, alphas experience a rutting period that lasts approximately one week, during which they will be more prone to smell other people's pheromones. They can get violent and, sometimes, their judgment will be clouded by their instinct.
Lastly, omegas lie at the bottom of the box. Not much is expected from them and most of the omegas are seen more like a sex toy rather than a human being with feelings. Omega men have the same reproductive system than females, which means they can get pregnant too! That's why they have to be extremely careful during their heat, carrying suppressants with them and drinking pills in order to control it. Omegas have strong pheromones that attract other males, especially alphas, who succumb to instinct and can't control themselves when there's an omega in heat near them; this usually results in omegas being attacked by alphas.
---
Oyasuminasai no Ato wa

Kotarou is an omega who had a difficult life, but managed to leave all the suffering behind and start fresh. He dotes on his cute son, Otsujiro, and has a healthy relationship with the kid's kindergarten teacher, Suguru, an alpha. What Suguru ignores is that Kotarou is an omega, so when he discovers the truth, he has to face all of his insecurities, putting his love to the test.
This manga depicts the dangers that an omega in heat has to face, and what the worst possible outcome can be: an unexpected pregnancy, although Kotarou is able to raise his child on his own and find love even after a traumatic experience. Suguru is an alpha tormented by his past actions; he once attacked an omega in heat, unable to control his instincts. That's why, when he discovers that Kotarou is an omega, he tries to put some distance, but soon realizes that he is unable to be apart from him. One of the things that makes this manga so interesting is that it shows us a pregnant male, the baby's birth, and two adoring parents raising him with love.
The bond between alpha and omega
It's not unusual for two men to be married in an omegaverse, and it's even seen as something normal. Still, there are some alphas that believe themselves to be superior and regard omegas as lowly human beings; they just use them for pleasure and then toss them aside. However, some alphas form a really deep bond with omegas because it is in their nature to feel attracted to them.
Alphas and omegas can form a "pair", a bond so strong that can't be broken. Forming a bond means that only the paired alpha will react to the omega's pheromones, and that the omega will only be able to have sex with his paired alpha. To form this pair, an alpha has to bite the omega's nape while having sex during his heat period, leaving a mark that will never fade.
There are also couples that are destined to be together, forming a "fated pair". They recognize each other before knowing they're meant to be together, feeling an undeniably strong attraction. Also, an omega's heat comes unexpectedly when crossing paths with his fated alpha, so signs are important here.
---
Sayonara Alpha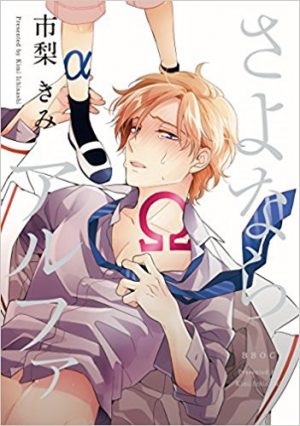 Chika has always thought himself to be an alpha, and how could he be wrong? He comes from an elite family of alphas, and his mother always told him he was one, too. But something strange happens when Chika crosses paths with Haruka, a middle schooler: his body feels hot and he feels a strong urge to be with the kid. Could it be that his mother lied to him?
It's a little bit weird that Chika falls in love with a little kid, but that's how fate works: nether an alpha nor an omega can control their instincts when it comes to this. Of course, Chika has to be patient and wait for Haruka to finish high school before they start going out, so they both have to overcome some difficulties during this period of being apart. Still, we get our happy ending and we get to see how strong a bond between alpha and omega can be!
---
Final Thoughts
Most omegaverse definitely offer an interesting premise that will attract many readers. It's true that male pregnancy may sound a bit like a turnoff, but once you start reading and get over it, you can't help but feel sucked into the story.
Each day, new omegaverse manga are being published, expanding our choices when it comes to picking up a story. Give it a try!