Mangaka : Rifujin na Magonote (Story), Yuka Fujikawa (Art)
Publisher : Seven Seas
Genre : Comedy, Fantasy, Magic, Seinen, Ecchi
Published : May 2014
Introduction
Irony can be a b*tch. You make it 34 years in this world and look back at your life and resolve to do it better and try to do a good deed when you should have been looking at the oncoming truck that kills you. We also guess god or gods listen to us occasionally because after you do an impression of a bug on a windshield you wake up cold and wet in a new world, not because he was dropped in a pond, but because you were born, born with all his memories of your old life.
The baby known as Rudeus Grayrat had all the knowledge and personality of the 34-year-old NEET who had been run over by a truck. He also had the resolve to do his life better this time. He was no longer a loner, but the son of a beautiful woman and skilled knight where he learned magic from a cute teacher and by the age of 10 had the skill and power of a master mage. We follow Rudeus the prodigy as he grows up in a dangerous fantasy world filled with magic, monsters, and lots of cute girls.
Discussion Time
We all have or will have that moment in our lives that call for introspection and we steal our resolve to change something about ourselves. Yet, few of us can follow through on that self-imposed change. The NEET in this story gets the not so subtle encouragement to be better by actually starting over. He realizes that to do so he has to let go of some of the things that made him NEET in the first place, like reclusiveness. He does, however, hold on to a few mature attitudes that make a 34-year-old in a child's body fun to watch- if you get our drift.
Why You Should Read Mushoku Tensei: Isekai Ittara Honki Dasu (Mushoku Tensei: Jobless Reincarnation.)
1.Isekai done right (at least in the writer's opinion).
NEET (no actual name given) is actually reborn in another life. He isn't transported. He doesn't wake up one day in the body of a teenager. He is born naked and cold and despite having the life experience of a 34-year-old. He has to learn the language, the magic, and everything else, he simply has the advantage of being mentally older, so he advances at a blistering pace.
2.The world isn't perfect, and neither is his life.
Rudeus has some great parents that love him. He is given a nurturing environment and the best education his family can afford. But we quickly see that there are some cracks in the façade of the happy life of the beautiful noble and the handsome knight. He quickly understands that parents aren't perfect and may have issues but still love us unconditionally.
3.Ecchi.
We don't get gratuitous panty shots or sex scenes. Yet we do get a glimpse at what a mature man is thinking when he is cup close and personal with women who let their guard down because they view him as a child.
Why You Should Skip Mushoku Tensei: Isekai Ittara Honki Dasu (Mushoku Tensei: Jobless Reincarnation.)
1.The Length of Arcs
The long length of some arcs can be tedious. We often read manga because they move fast. Mushoku Tensei: Jobless Reincarnation takes some time to speed up to the point where the adventure begins. You have to get through 3 volumes before a magical calamity and the struggle begins.
2.A Harem Wasted on the Young
A harem as a 10-year-old, yes, but none of the benefits. We hear him talk the talk. We just don't seem him walk the walk in the woman category. Rudeus gradually is surrounded by cute and sexy girls but he takes us right up to the ecchi/sexy line but doesn't cross it. We know that a general audience is their target. It just that the book can be such a tease sometimes.
---
Final Thoughts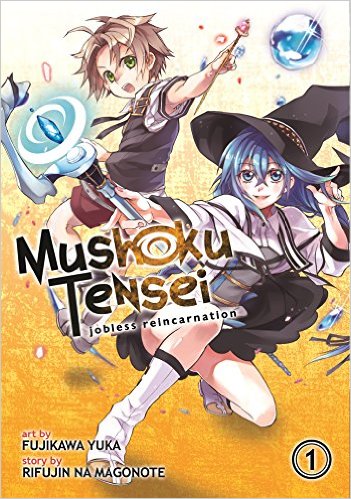 Mushoku Tensei: Jobless Reincarnation gives some of us what we've asked for a reincarnated into another world that is actually a reincarnation story. We also get a lot of well fleshed out characters with real backstories that contribute our understanding of their behavior. The world that Rifujin na Magonote creates is not ideal and that makes it easier to get invested in as a reader because of the things, like discrimination, we see in own. You should take some time to pick up volume one and see if it can inspire you to make a change for the better in your own life.
---