After a close look at some of the most popular virtual Youtubers in the scene, now is the perfect moment to talk about Kaguya Luna, another one of the top girls but the only one that tries something a little different in terms of personality and behavior. If you're tired of idols being nice and pure, don't miss this article about the dark princess! She may not seem like something otherworldly, but not every other girl can be proud of successfully flirting with Mirai Akari and Kizuna Ai, right?
The "Bad Girl" of virtual YouTubers

By comparison, Kaguya Luna is very different from what you would imagine when picturing a virtual YouTuber. While other girls try to be sweet and kawaii, Luna is more of a tsundere who doesn't even seem to care about her fans… although she obviously enjoys the company and the fact of being popular. She's kawaii when she has to, but on the other hand, she's free enough to sometimes call names at people or fellow YouTubers, often making fun of others or assuming this arrogant persona. And that's what people love!
To put it simply, Kaguya Luna is like a deconstructed idol that bounces between parody, self-parody, and common practice. She's a genki, charismatic, teen-like 2D girl who loves singing, video games, and is obsessed with blood-types; however, she doesn't care about being polite and has this dark and rebellious personality, so mocking at her followers and double-meaning jokes are very common for her. That's when you understand that, even if her goal is to become a popular virtual YouTuber, Kaguya Luna wants to achieve this through irony and avoiding common places. Just look at her bio: Luna says she is 143 years old!
If you're new to this kind of content then this virtual idol will most certainly make you laugh, and that's because her antics and conversation topics are rather bizarre. Still, her character design is beautiful and that's always another selling point for those looking for a waifu-like idol, especially if you accompany it with a voice actress who does her job very well. Who would want a virtual idol that besides being a little crazy and bossy, is also ugly and has an unpleasant voice?
What Can I Find in Luna's YouTube Channel?
We already stated that Kaguya Luna likes video games, but this doesn't mean she will be streaming games or doing gameplay videos. In fact, Luna only played Getting Over It —just like every other VTuber has— and she doesn't even have that many uploads in her channel. She must be remarkably good to draw more than 800.000 subscribers with less than 60 videos, don't you think?! To put some context, Siro has a little over 53.000 subscribers, and she uploads daily!
Luna's videos range from talking about herself or answering questions, to doing impressions or trying some apps and browser-based games with funny outcomes. For example, she tried Google's Quickdraw once, but then you have this other video of her talking about the FIFA World Cup. Curiously enough, her video with the most views is indeed the one where she plays Getting Over It, but Luna has been strong enough to avoid doing gaming videos just for the views, instead focusing in differentiating herself from other VTubers.
Since her first video, uploaded to YouTube on December 9, 2017, we must say that her views have gone down a little bit. For instance, you can see her older videos have between 1 and 3 million views, while the newer ones kinda struggle to reach the 1M mark. However, she's one of the most popular virtual girls on Twitter, only bested by Kizuna Ai.
Besides her YouTube Channel, Luna also dabbled in music uploading to Spotify and Apple Music a song titled "Beyond the Moon". This single is composed by Pablo a.k.a. WTF?!, a popular musician you may know from HYDE's, "Afterlight" or Fate/Apocrypha's opening, "Ash", performed by LiSA. It's a very catchy mix of J-rock, metal, and a little hip-hop, and it debuted on August 30 thanks to Japanese record label Sacra Music, owned by Sony Music Entertainment Japan. This is a perfect example of VTubers branching out YouTube and taking its first steps towards being true idols, aside of selling merchandising in popular conventions and expos. The lyrics to the song talk about Luna herself and some memes that her followers often point out, such as Luna always saying "ohayo" ("good morning") to people in her videos, whatever the time it is.
Kizuna Ai's crush?

So, why is Kaguya Luna so popular on YouTube if she doesn't have that many videos? Well, let's not underestimate her charisma and sense of humor, but we can't overlook there's another reason for people following her on social media. You see, virtual idols are not that far from regular anime characters, so for some of their followers, shipping them is just as natural as necessary. In this case, Kaguya Luna has the honor of being considered Kizuna Ai's love interest! At least for fans of "AiLuna" shipping, that is.
It all started after both characters interacted for the first time, because now it may seem like something normal, but addressing other characters was very rare when the VTubers fashion started. It was like every girl lived in her own world until Kaguya Luna started talking to Kizuna Ai over Twitter. As an April Fools joke, both characters exchanged their voices and impersonated each other, with the outro to Luna's video (with Ai's voice) talking about both of them liking and loving each other, throwing fuel to the already burning fire of speculation.
If you take the time to do some research, fanart of Ai and Luna is really easy to find, and people behind both characters have been taking advantage of the whole situation. Why would a character with more than 2 million subscribers put her eyes on a lesser-known one? Just because Luna has been growing stupidly fast, making them the true power couple of virtual idols on YouTube. Of course, Mirai Akari is another tempting option, but why would you settle for 2 of them if we can have a three-way party?! Only time will tell how far can Kaguya Luna go, but other VTubers are already expanding her careers while Luna is taking her time.
---
Final Thoughts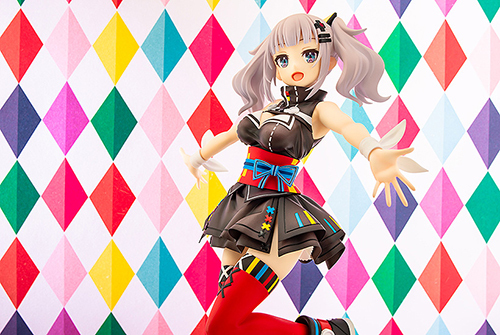 As you see, you don't need thousands of videos to stay relevant on YouTube, and finding a niche could be a good idea if you relate to the right people. Kaguya Luna earned the right to be part of the top tier virtual idols so we can expect a lot more development on her part and more collab videos with other popular VTubers. If you want to know more about her, please refer to her YouTube channel or her Twitter account. It won't take you that much to watch all of her videos!
So, what do you think about Kaguya Luna's place in the virtual YouTuber's world? Is she your type of girl? Feel free to leave us a comment with your thoughts on this chatty idol!
---