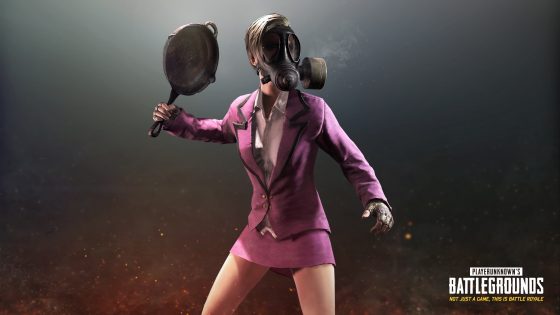 Introduction
We've often asked ourselves, "Why is clothing so important in this game? There are no buffs!" But then we realize that beyond the surface there are actual "buffs" that will ensure that you stay alive longer and not become an easy target. In this article we're going to take a look at why clothing choice is important in PUBG, and how it can help to secure you more of those juicy Chicken Dinners in the late game. Clothing in PUBG don't come with buffs like armor or helmets, heck even the pan provides you some cover! That doesn't mean clothing should be overlooked because while they seem like more of a cosmetic item than anything, towards the end game is where having the right gear on can determine whether you die first or stand tall as the victor.
Color Coordination Keeps You Covered
Picking out the right outfit to make your character look snazzy is great and all, but none of that really matters once you're ejected from the plane and find yourself in an all out frenzy for loot. This is where color coordination really comes into play because depending on the colors you choose for an outfit, it'll make you stand out or be a complete ghost on the battlefield. This same philosophy can be seen in our society where the general population will try to cater to a certain style to avoid standing out, and then you have the peacock who just wants to be all flashy and show off to everyone. While that flashy behavior may secure you some phone numbers and a few dates in real life, doing so in PUBG may have you securing a nice bullet to your head if you're not careful.
One of the detriments to dressing too "fly" in PlayerUnknown's Battlegrounds is that everyone is able to recognize you out in the open, and since much of the environment is green or sometimes yellow depending on where you are it leaves you susceptible to being shot. Anything too bright like a purple jacket or white pants gives you away, while wearing something more monochrome will likely keep you alive longer. The reason the Ghillie suit is such a sought after item brings us back to the point we just mentioned, where the environment is saturated with greens and yellows making it so easy to just blend in. So when you're running through a house looking for loot items and you see clothing lying around, don't just ignore it because they're there for very good reason.
So if you're out there in PUBG in search for high level loot items, look for some high level clothing that will keep you protected in every scenario because it'll work wonders for you down the road. Make good use of the crate boxes you can purchase with battle points and be on the lookout for those nice colors that will mesh well with the environment.
Weather Changes Everything
So we mentioned in the previous paragraph that the environment plays a big role in just how long you survive in PUBG, and is a very concrete strategy to implement into your game. In PUBG the weather will change which greatly affects your visual awareness and so, having a gameplan around weather changes can also help to secure victory. When the map becomes a grey fog you'll want to opt for more monochromatic appeal, whereas when it's raining you'll want to be more creative. The fog is perhaps the most important out of all the weather changes because it really is tough to see just where you're going, let alone who's around you when it's so thick. So making sure to dress appropriately will make you less of a target and make you a serious threat. Now with the new Desert Map about to drop perhaps it's that time to start grabbing some of those dark brown khaki's and black tanktops huh?
Honey's Final Verdict:
What do you think makes clothing so important in PlayerUnknown's Battlegrounds? Maybe nothing? Perhaps you don't even care that much and that's totally fine. This is more of a little added tip that could help prevent early deaths and make you be one with nature. If it's helped you out in any way let us know, because we'd love to hear your stories. Be sure to follow us on Twitter to keep up with all the latest gaming news along with anime, manga and more from Japan. Follow us on Twitch as well to know when we go live and watch us play some PUBG! Until next time, this is NualphaJPN and I'll see you next time.
---
I never really considered the whole clothing aspect when playing. I figured the clothing was just more of a cosmetic so that players felt more attached to their character.
It may strike both chords since crates allow you to stand out, but when on the battlefield every little detail matters. I may try this new strategy out.