Yakunara Mug Cup mo

Genre:
Slice of Life, School
---
---
Official Images / Key Visuals
Synopsis
High schooler Himeno Toyokawa's father quits his office job and the two of them decide to move to her late mother's hometown, Takami City, in Gifu Prefecture. Himeno ends up enrolling at her mother's alma mater and makes friends with her classmate Mika Kukuri. Mika invites her to go to a certain place. And that place is none other than the school's pottery club! That is where she finds out that her mother was a legendary potter and gets drawn into the world of pottery.
Mika is the heart of the pottery club and another girl, Naoko Naruse, is an eccentric character who can always be found hanging out in the clubroom even though she isn't a member. The club president is Toko Aoki whose grandfather is a famous potter. Enchanted by the joy of pottery, an upbeat and fun life unfolds for these girls full of individuality!
Characters & Voice Actors
Himeno Toyokawa:
Minami Tanaka
A first year student at Oribe Academy. Her mother died when she was a child. Himeno and her father move to her mother's hometown in Gifu Prefecture, Tajimi City. There she discovers that her mother was a potter. She enjoys her relaxed lifestyle and occasionally comes up with outrageous ideas.
Mika Kukuri:
Yu Serizawa
A freshman at Oribe Academy and classmates with Himeno. She cares for her friends and is the life of the pottery club. She's tiny and adorable, and loves gohei mochi, a skewered, grilled rice cake famous in Gifu Prefecture.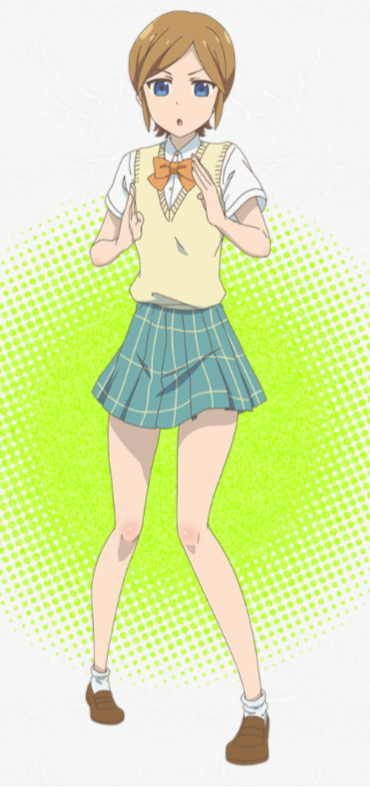 Naoko Naruse:
Yuki Wakai
An eccentric first year student at Oribe Academy who spends all her free time in the pottery clubroom, even though she isn't a member. She loves manga and video games and is a fan of Himeno's father's coffee.
Toko Aoki:
Rina Honizumi
A second year student at Oribe Academy. Her grandfather is a famous potter. She's the president of the pottery club and is Mika's childhood friend. She's a hard worker who gives her full attention to pottery so she can be a potter like her grandfather someday.
Tokishiro Toyokawa:
Kaito Ishikawa
Tokishiro is Himeno's dad. He's very good-natured, but slightly unreliable. He came back to his hometown of Tajimi because his mother-in-law suggested they open a cafe together. He watches over Himeno as she gets into ceramics.
Sachie Tokikawa:
Ako Mayama
Sachie is Himeno's grandmother. She's reliable and very gentle. In addition to working in the cafe, she also takes classes on how to use a computer and how to play koto. She always tries new things.
Mami Koizumi:
Mana Ogawa
Mami works at Oribe High School and is an adviser to the ceramics club. She's quite calm and is very popular among all students. She's still learning about ceramics.
Mud Deiemon:
Aya Uchida
Mud Deieimon was made by someone who used the last clay in the ceramics club. They worked really hard to make Mud Deieimon and it turned out amazingly. Mud Deieimon is friends with Kamisama.
Kamisama:
Kamisama was left outside of the ceramics club room, and is a product that is modelled to look like a Kappa. The club members refer to it as the god of the ceramics. Actually, Kamisama was made by Himeno's mother and her friends when they went to school.
Other Title
Let's Make a Mug Too
Theme Songs

Opening Song: "Tobira wo Aketara" by MUG-MO
Ending Song: "Pale Blue" by Aya Uchida

Adaptation

"Yakunara Mug Cup mo" (Manga)


Main Staff

Original Creator: Planet / Nihon Animation
Director: Jun Kamiya
Script: Naruhisa Arakawa
Series Composition: Naruhisa Arakawa
Character Design: Ayano Yoshikiawa
(Credit Honey's Anime when you use our description.)
---