Yuru Camp Δ 2nd Season

Genre:
Slice of lLife, School
---
---
---
Official Images / Key Visuals
Synopsis
The story starts one wintry day. Yamanashi high schooler Rin Shima gets on her beloved moped and heads straight for Lake Hamana to do some long overdue solo camping. It's her third day of traveling and she rings in the new year in Shizuoka's Iwata City. As Rin makes a side trip to the seaside, it occurs to her that it's quite a long distance to be driving, but it's kind of fun. Camping by herself really is her thing.
Meanwhile, a new feeling is budding within Nadeshiko. Nadeshiko loves camping with others; making food for everyone and seeing their smiling faces makes her happy. However, she decides to try solo camping like Rin.
The story of these outdoorsy girls that began with Nadeshiko and Rin's surprise encounter continues in season two of Laid-Back Camp!
Characters & Voice Actors
Nadeshiko Kakamigahara:
Yumiri Hanamori
A member of the outdoor crew at high school, she's drawn into camping when she meets Rin at a lake shore. She's always cheerful and positive and loves anything fun. She has a beautiful older sister.
Rin Shima:
Nao Touyama
A solo camper who started camping due to her grandfather's influence. She experiences camping with another person for the first time when she meets Nadeshiko. She's not a member of the outdoor crew, but she worries about Nadeshiko a bit.
Chiaki Oogaki:
Sayuri Hara
A bright and active person who chooses the camping spots and gear and brings the fun. She's lively and cheerful but is also full of emotion and easily brought to tears. Wanting to camp, she forms the outdoor crew with Aoi.
Aoi Inuyama:
Aki Toyosaki
A gentle girl who speaks with a Kansai accent. Of the reckless outdoor crew members, Aoi is like the secret leader who looks out for everyone during important times. She's called 'Inuko' by Chiaki.
Ena Saitou:
Rie Takahashi
Rin's friend, a free spirited person who goes at her own pace. She's not a member of the outdoor crew, but she occasionally shows interest in their activities. She also gives casual advice to Rin, who is bad at dealing with people. She has a dog called 'Chikuwa.'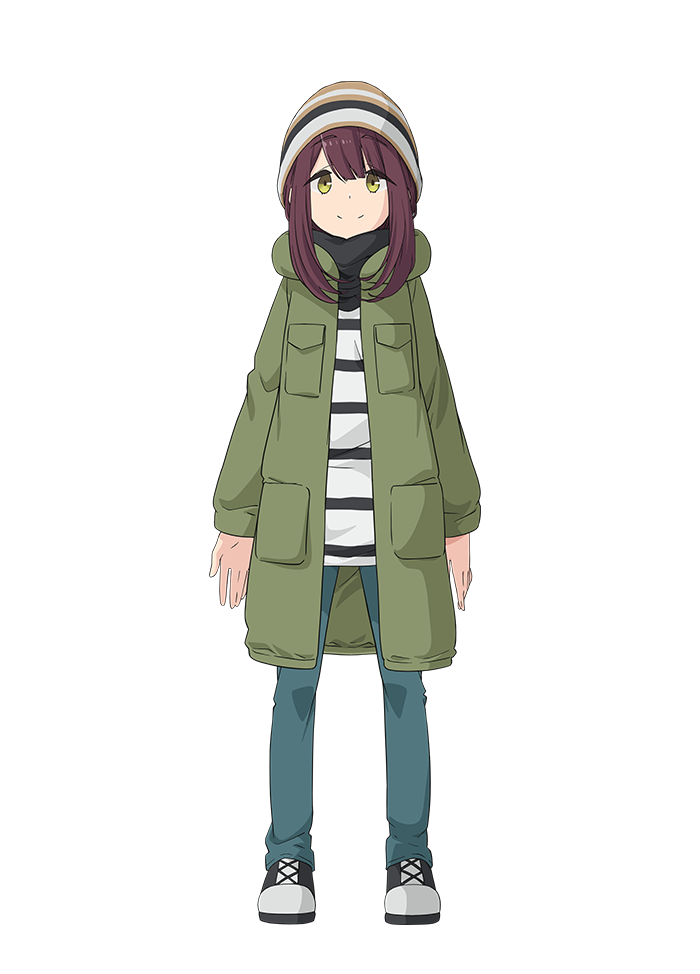 Ayano Toki:
Tomoyo Kurosawa
Nadeshiko's childhood friend who lives in Hamamatsu. She's called Aya-chan by Nadeshiko and has known her since middle school. She speaks in a slightly listless manner.
Sakura Kagamihara:
Marina Inoue
Nadeshiko's older sister who's a college student. She's good at looking after her sister, and Nadeshiko is really attached to her. She drops Nadeshiko off at camp sites and picks her up, and sometimes even sleeps in the car with her overnight. She's always so laid back that people can't tell whether she's happy or angry, but Nadeshiko knows how to read her moods.
Minami Toba:
Shizu Ito
A new teacher at Motosu High School who loves to drink. Her sister is an outdoorsy person and she usually accompanies her. Just before she started work at the school, she happened to meet Rin and Nadeshiko at a campsite when she was absolutely hammered. At first Rin and Nadeshiko don't recognize her because her personality is completely different at school, but after she becomes the adviser to the Outdoor Activities Club, they finally put the pieces together.
Other Title
Laid-Back Camp 2nd Season
Theme Songs

Opening Song: "Seize The Day" by Asaka
Ending Song: "Haru no Tonari" by Eri Sasaki

Adaptation

"Yuru Camp Δ (Laid-Back Camp) "


Main Staff

Original Creator: Afro
Director: Yoshiaki Kyogoku
Series Composition: Jin Tanaka
Character Design: Mutsumi Sasaki
Animation Director: Yoshimi Umino
Sound Director: Takeshi Takedera
Music: Akiyuki Tateyama
(Credit Honey's Anime when you use our description.)
---