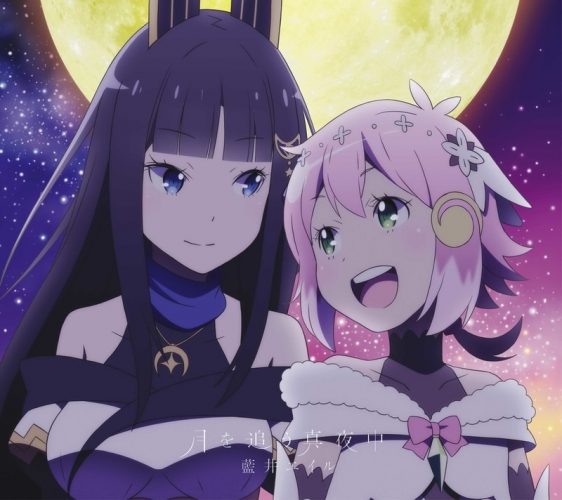 Since the introduction of Madoka Magica, dark magical girl anime have come into their own genre. We do love this combination, as adding darker elements to the traditional innocence of magical girls provides a unique twist. Today, we thought we would take a brief look at some of the most unique anime in this genre, all from the past five years. While each series in this genre share the traditional magical girl style, it is often a dark twist in the combat or fighting style that sets each one of these anime apart from the next!
5. Granbelm

Episodes: 12
Aired: July 2019 – ongoing
Magic has mostly vanished from the world, though it still exists in remnants of humanity, hidden away from most of society. Mangetsu Kohinata believes she has nothing to offer. But one night, she is pulled into another world, into the midst of a battle between magical girls controlling giant mech suits! After the dust settles, she meets Shingetsu Ernesta Fukami, who teaches her about the world of magic that she now finds herself involved in.
Granbelm is one of the newest anime on our list, but it has already proven itself to be an interesting series! Though it starts out a little slow, the last few episodes have really picked up, showcasing a depth of character interaction that hadn't seemed possible initially. The combination of mecha and magic is something not often done in these genres. We've loved getting to know each of the characters as their backstories unfold throughout the show!
---
4. Senki Zesshou Symphogear XV

Episodes: 13
Aired: July 2019 – ongoing
This is the fifth season of Senki Zesshou Symphogear, another anime that is currently airing this season. Senki Zesshou Symphogear follows a group of magical girls who use song and magic to fight, though the main character Hibiki Tachibana received her amazing gifts after a near-death incident. Action and adventure follow the girls, even as their fighting turns to despair in some instances…
If you've seen any of the previous seasons, you will love this latest season of Senki Zesshou Symphogear as well! At this point, Hibiki and the other girls are already well-established characters, so we get to see even more development for them. The music is great, as always, and the animation is the same quality style it has been for the series. If you haven't seen any of the series before, this might be the right time to jump in, though you may want to go back to the beginning to fully understand what is going on!
---
3. Mahou Shoujo Ikusei Keikaku (Magical Girl Raising Project)

Episodes: 12
Aired: October 2016 – December 2016
For many girls, being a magical girl is their ultimate dream—and Koyuki Himekawa is no different! She gets a chance to fulfill her dream through the Magical Girl Raising Project's real-life offering to become a magical girl. But soon, they begin to make the magical girls fight against one another in a competition to see who will remain. And while the contest seems innocent at first, Koyuki and her friends quickly find themselves fighting for their lives!
Magical Girl Raising Project is an interesting dark magical girl anime in its own right, known for its characters and intense story. The animation is unique, allowing for the series to have its own place in a genre that often seems like a lot of the same. Like many of the other anime on our list, the series starts out innocently and quickly becomes far more serious!
---
2. Mahou Shoujo Tokushusen Asuka (Magical Girl Spec-Ops Asuka)

Episodes: 12
Aired: January 2019 – March 2019
Though Asuka and her friends have tried to get back to their normal lives after fighting the Disas, the battle quickly comes to them in the form of more monsters and evil magical girls!
A combination of the military and magical girl genres, Mahou Shoujo Tokushusen Asuka is another fairly new anime, but has earned its place on our list! From the first episode when Asuka relives her parents' death from her past battles, we knew this was going to be an incredibly dark iteration of the magical girl genre.
---
1. Yuuki Yuuna wa Yuusha de Aru (Yuki Yuna is a Hero)

Episodes: 12
Aired: October 2014 – December 2014
Yuuna Yuuki is the brightest member of the Hero Club, using her skills to help people in everyday life. Yet soon, she is able to prove herself as a hero even more, fighting off mysterious entities called Vertexes in a different magical realm! Alongside her friends in the Hero Club, they set out to protect the world. But being a magical girl comes at a cost, one they will soon discover…
Yuuki Yuuna wa Yuusha de Aru is the oldest on our list of magical girl anime, but it is one of the best, thanks to its close comparison to Madoka Magica. We love the character development between Yuuna and her friends, as they fight despite the dangers of doing so!
---
Final Thoughts
We love a good magical girl anime, and adding in the darker, more serious elements makes the genre even better! We hope you will give some of these newer anime on our list a chance.
What are your favorite dark magical girl anime? Let us know in the comments!
---