Action, action, and more action…who doesn't love action anime?! The chills we get watching a heated battle between two super powerful warriors never get old and anime usually delivers it better than any other medium. Fall 2020 gave us several amazing action anime but we wanted to share with you, amazing readers out there, our personal five favorites! Now then, let us here at Honey's Anime give you a taste of the better action anime to release this fall 2020 season!
5. Noblesse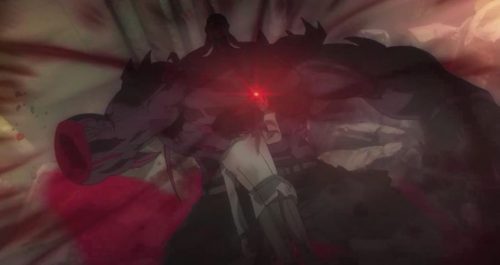 Episodes: 10+
Aired: October 2020 – Currently Airing
Noblesse—the OVA—wasn't a series known to most sadly when it released several years back. Here at Honey's Anime we took notice of it and wished to see more of the webtoon it's based on in a full anime series format. Thankfully, Crunchyroll heard our prayers and released a full series for Noblesse that hasn't disappointed us. While Noblesse will probably remain as a hidden gem to most, we hope our fellow otaku readers will give it a shot as this is a truly wonderful action series.
---
4. Kimi to Boku no Saigo no Senjou, Aruiwa Sekai ga Hajimaru Seisen (Our Last Crusade or the Rise of a New World)

Episodes: 12
Aired: October 2020 – Currently Airing
Our Last Crusade or the Rise of a New World has focused more on romance with supernatural elements/drama thrown in but when the action gets underway…this series becomes true eye candy! We have witnessed several amazing anime battles from Our Last Crusade or the Rise of a New World that have truly wowed us each and every time. We are anticipating a truly epic finale—or at least hope we get one—when the series ends but for now we eagerly await Iska and Alice's next action-heavy battle…and hope they finally admit they love one another!
---
3. Akudama Drive

Episodes: 12
Aired: October 2020 – Currently Airing
Did you expect Akudama Drive to be as intense as it was? Probably not if we had to guess. Akudama Drive at first seems like an intense Danganronpa-like series—which isn't surprising when you look at the creator—but instead of a sci-fi drama, we got an action-heavy anime with tons of eye-grabbing action scenes and moments! Whether it was Brawler unleashing his superhuman strength or Courier using his massive bike's railgun, Akudama Drive doesn't disappoint with the exciting battles!
---
2. Golden Kamuy 3rd Season

Episodes: 12
Aired: October 2020 – Currently Airing
When you need a strange action anime with drama, comedy, military elements, and great animation then we steer you towards the 3rd season of Golden Kamuy. So far, Golden Kamuy season 3 has hit all the right notes being an incredible action series that knows to keep things constantly fresh to avoid feeling repetitive. If you missed out on Golden Kamuy or this current season, then head to Crunchyroll right now and start binging!
---
1. Jujutsu Kaisen

Episodes: 24
Aired: October 2020 – Currently Airing
Hands down the best action anime—and possibly best anime—of the year goes to Jujutsu Kaisen. This Shounen Jump manga has leaped to the TV screens for an anime adaptation and we have thanked the anime gods it has. Every single episode of Jujutsu Kaisen has impressed us and we truly feel this show deserves even more love and admiration! Tell us in the comments below who your favorite character is and why you're loving Jujutsu Kaisen as well!
---
Final Thoughts
The world of action anime will always be a needed genre for us otaku. While we all love various genres like comedy, slice of life, and romance, we need action anime to get our adrenaline levels up and make us want to go out and learn martial arts! Action anime this fall 2020 didn't disappoint us but we'd love to know if you guys/girls agree as well! What action series really made this fall 2020 anime season special for you? Comment below to let us know and for all your kick-butt list needs, keep stuck to our tough as honey hive here at Honey's Anime!
---