If you love a certain anime, you can easily show that appreciation to the world with t-shirts, figures, keychains, or any of the other common styles of merchandise found at anime conventions and specialty stores. But what if you want to go the extra step and find something truly unique, something classy and expensive that you'll treasure forever? Luckily for you, today we're taking a look at five of the most luxurious pieces of anime merchandise. Surely, you'll find a timeless treasure that will perfectly express your adoration for anime!
5. Giorno Giovanna and Bruno Bucciarati VANS Shoes

If you've ever wanted to capture the same kind of effortless style as the fabulous Italian gangsters from JoJo's Bizarre Adventure: Golden Wind, these fly kicks are for you. The redesigned versions of the Vans Era Pro (Giorno) and the Slip-On (Bucciarati) feature iconic design motifs like ladybug brooches, golden zippers, and heart-shaped cutouts—all rendered in immaculate detail with quality materials. We particularly love the crisp black-and-white portraits of the characters and their Stands on the insoles! For $88 at Bandai Fashion Collection's site, these shoes can be yours.
---
4. Saint Seiya Golden Sanctuary Wristwatch

The God Cloths from Saint Seiya are some of the shiniest and most intricately designed suits of armor the world of anime has ever seen, so it seems only natural for the series' most expensive piece of merchandise to be a gorgeous golden wristwatch. This $649 men's watch is made of stainless steel and brass with a gold ion coating and its two interchangeable bezels feature the Zodiac symbols and a familiar star motif. Only 1200 were ever made, so make sure to snag one of these exquisite masterpieces before they're all gone!
---
3. 'Crescent Moon' 0.55ct Natural Diamond and White/Rose/Yellow Gold Sailor Moon Necklace

Sapphire Studios sells a wide variety of fine jewelry, including a set of Sailor Moon-inspired engagement rings, but this pendant necklace is our favorite. It depicts the Moon Stick/Crescent Moon Wand in stunning solid gold, with diamonds inlaid on the wand itself and among the sakura flowers that cascade from its surface. The Melbourne-based jewelry house sells this piece for $1333 - $1521, depending on the type of gold you choose. Personally, we think the rose gold accentuates the flowers best and gives the necklace a subdued pastel color palette. If you have a romantic heart and a very healthy bank account, order one for yourself!
---
2. Brook's Shark Guitar from One Piece

Brook, the stylish skeletal swashbuckler from One Piece, is undoubtedly one of the coolest characters in the whole franchise. And if you've ever dreamed of rocking out on a shark-shaped guitar just like him, Premium Bandai has you covered! Expertly crafted by Shimamura Music for the collection, this $2547 electric guitar comes with an embossed leather strap, a case, and a certificate of authenticity. You can also choose from 27 different One Piece-themed guitar picks on Shimamura Music's site!
---
1. Vintage Life-Size Dissected Astro Boy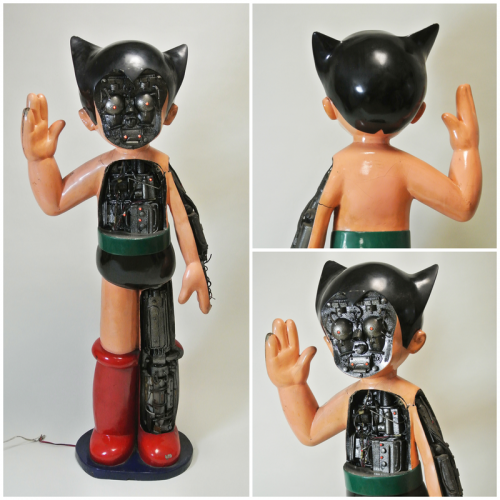 Vintage Mighty Atom/Astro Boy merchandise tends to be expensive in general, since the series is such a massive cultural institution in Japan, but this piece is on a whole other level. Retailing at $25,000 (yes, really), this life-size statue of a dissected Astro Boy was used by Osamu Tezuka himself as a part of many exhibitions and promotions over the years. The original owner hopes to sell it to a museum, but if you're the world's biggest Tezuka fan and have 25 grand burning a hole in your pocket, feel free to snap it up!
---
Final Thoughts
What did you think of our list? Would you buy any of these luxurious pieces of anime merchandise? What other classy products would you like to see? Let us know in the comments, and thanks so much for reading!
---