The summer might be a hellish time for some—especially those who hate the heat—but for others it's a great season filled with wonderful sights to take in. Yes folks, by wonderful sights we meant the majesty that is summertime apparel! In anime especially, summertime outfits can make mouths open in utter surprise and noses run red with mini waterfalls. The summer is a truly amazing time for girls—and guys—to show off some impressive outfits that will make you double take! We here at Honey's Anime scoured the anime world to find our favorite summertime outfits and we'd like to share them with you in this eye catching list! Be warned, nosebleeds might happen with or without your consent!
5. Takeo Gouda from Ore Monogatari!! (My Love Story!!) - Episode 11

Muscular guys find that the summertime allows them to show their hard chiseled abs to the world without being arrested for indecent exposure. Takeo Gouda is a prime example of this when he dons his impressive—but wonderfully simple—beachwear in episode 11, titled "My Ocean".
Takeo's hard toned body is allowed freedom to breathe as he removes the shirt and goes with a simple pair of swim trunks. Readers might think this is an overly simplified outfit but when you pair a body like Takeo's with a nice pair of swim trunks you realize this is indeed a summertime outfit for the ages. Ladies, if you nab a guy like Takeo you will find your future summers never unpleasing to the eyes.
---
4. Rei Ryugazaki from Free! - Episode 4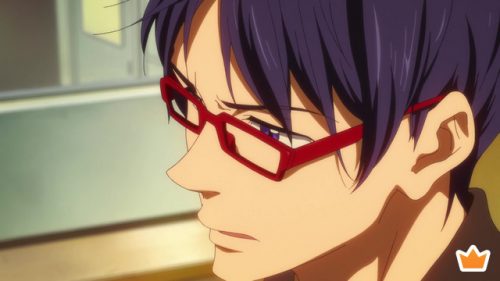 During the summer, we tend to believe that removing clothes is the only way to show the world our bodies. Rei Ryugazaki from Free! proves that one doesn't need to always wear less for a nice summer ensemble. Rei has possibly the oddest summerwear of any anime character we can think of as it legit is a one-piece black bodysuit with purple butterflies and butterfly wings on the back. If you want to be eye-catching on the beach or near the pool you'll probably want to mirror what Rei wears.
---
3. Aoi Sakurai from Rail Wars! - Episode 4

For the ladies out there, we know getting a nice summer outfit can be quite daunting. Do you show off too much skin to attract everyone or do you go modest and end up being overlooked by most? The challenges are numerous but Aoi Sakurai from Rail Wars! might have the perfect outfit for all. Donning a one-piece swimsuit with a black vest, Aoi is ready to show her impressive proportions and participate in an event that takes place during episode 4. Aoi not only looks quite sexy but she's still in a work-themed outfit that keeps her from revealing too much.
---
2. Raphtalia from Tate no Yuusha no Nariagari (The Rising of the Shield Hero) - Episode 23

Raphtalia stole the hearts of most anime viewers from her introduction but where she really won them over was in episode 23. As Naofumi and his team end up going to Cal Mira Archipelago, the team decides to enjoy a bit of fun in the sun and the various girls show their bathing suits. However, the true grand moment of the episode comes in the form of Raphtalia's amazing summerwear that made us hit the screenshot keys on our keyboards numerous times. Raphtalia is already a gorgeous waifu but in this outfit, her loveliness goes up one thousand points.
---
1. Asuna Yuuki from Sword Art Online - Sword Art Online Extra Edition

In Sword Art Online Extra Edition—which is a recap episode of sorts—the girls from SAO all don swimsuits for a nice day at the school pool. Despite retelling their darker days of SAO, the girls all don some truly eye-catching swimsuits but Asuna Yuuki steals the show. Even if it ultimately is just a bikini, Asuna's red and white swimwear choice is the perfect outfit for her as it matches the colors she had while she was trapped in SAO. Kirito better thank the gods above for allowing him to be with a girl who has a keen eye for a good-looking swimsuit.
---
Final Thoughts
Summer isn't beloved by all due to the pains of the sun's melting temperature but we can all enjoy one element of it. The majesty that are swimsuits and summer apparel. There are millions of anime that show the world some truly impressive summer outfits and we know we only scratched the surface. What summertime outfits in anime do you love? Let us know via the comments section down below! Be sure to keep stuck to our thankfully chilled hive here at Honey's Anime for even more summertime articles!
---