You've got to love the classic anime beach episode – just like the festival episode, hot springs episode, or test of courage episode, a trip to the beach is just the thing to lighten up a show and give the audience some precious fanservice. We've got five of the best recent beach episodes in anime to bring some sunshine into your life this summer, so let's check them out!
-- Some Spoilers Ahead! --
5. Nekopara - Episode 12

This very strange but cute catgirl anime finishes off its first season with a beach episode filled with adorable antics and sexy swimsuits. We've got the precious kitten Cacao in an array of swim outfits, Cinnamon and Maple singing together, all of the cats helping a seaside restaurant get more customers, and Kashou and Shigure gleefully documenting the whole thing. The cat ears on the bikinis are an especially nice touch.
---
4. Shokugeki no Souma: Gou no Sara (Food Wars! The Fifth Plate) - Episode 1

On the contrary, the fifth season of Food Wars goes all-in from the start with an entire beach arc, starting off with this episode where the teenage chefs have to make a beach restaurant (which is essentially just an abandoned building) financially successful in only three days! A mysterious new teacher is introduced and cooking hijinks ensue, but more importantly, there's also a scene where Ikumi, Ryoko, and Yuuki relax in vibrating massage chairs and their boobs jiggle (or rather, Ikumi and Ryoko's do and the flat-chested Yuuki is jealous). So... if you need any more incentive to watch this episode... there you go.
---
3. Kanata no Astra (Astra: Lost in Space) - Episode 5

Kanata no Astra's beach episode has plenty of the usual fanservice-y fare (including Quitterie tanning in a particularly nice bikini), but unlike most entries on this list, it's actually pivotal to the plot. The ongoing tension between Luca and Ulgar boils over and Luca is forced to reveal that he's intersex, which has caused him to be shunned and disinherited by his wealthy family. Luckily, the Astra crew accepts him and he's able to make up with Ulgar, but we still don't know why Luca's father had Ulgar's journalist brother killed. What's the man trying to hide?
---
2. Outbreak Company - Episode 9

Outbreak Company is a self-aware parody isekai so naturally, it had to do a riff on the beach episode. Lifelong otaku Shinichi practically bounces off the walls at the prospect of a real-life version of his favorite anime cliché, so he tries to get everyone to play along. Here's what follows: awkward splashing, elder scholars discussing school swimsuits, Minori reading a Free doujinshi, and Myucel's top falling off while trying to have a heartfelt conversation with Shinichi. If you're looking for a beach episode with a hilarious twist, check this one out!
---
1. Fruits Basket 2nd Season - Episode 6

The Soumas and Tohru head to the family beach house to have some summer fun, and it's wonderful to see these characters relax and unwind for once. Plus, we finally get to see Tohru's pink swimsuit that the gang bought for her last season! There's beetle catching, playing in the sand, swimming races, and more; but we particularly love when Kyo playfully spins Tohru around in her inner tube and she laughs as she careens away. Unfortunately, this is Fruits Basket, so things won't be this sunny forever...
---
Final Thoughts
Be sure to check out the previous list for even more beach scenes! But are there any that we missed? Let us know in the comments, and thanks so much for reading!
---
---
Summer is right around the corner, and all of your favorite characters are heading out for fun in the sun. Virtually every anime has an episode where we head to the beach. The question is, which anime has the best beach to enjoy? This is a list of our Top 10 Anime Beach Scenes.
For this list, we'll be going through what made the beach memorable. Things that will make the scene stand out would be the artwork, the location, what's done at the beach, etc. We want to show you the beach scenes that immerse the viewer in the bright sun and the crisp sea air with their favorite characters. So, sit back and enjoy our road trip through the best beaches anime has to offer.
10. Gurren Lagann (Tengen Toppa Gurren Lagann)

Episodes: 24
Aired: April 2007- September 2007
Let's kick this list off with an action anime already laced with comedy. Coming in at number ten is Gurren Lagann. The story follows our two heroes, Simon and Kamina. Both lived in an underground village where neither fit in. Until a giant robot known as a Gunman came crashing through their very own roof. With the help of a spunky sniper, Yoko, they have now been freed from their underground world. Now Simon, Kamina, and Yoko live on the surface to fight back against the Gunman and their pilots known as Beastman.
In episode twelve, the members of Simon's team, Dai Gurren, take a day to relax and have fun at a beach. The beach itself has clear water, beautiful white sand, and the nearest clouds are out in the distance leaving them with plenty of sun to take in. While there, Dai Gurren enjoys playing volleyball, and smash the watermelon. To top it off, Simon and his team end their experience with a good old fashioned sea shore barbecue. How else are you suppose to enjoy a trip to the beach? Maybe, spend the rest of the time gawking at the girls in their swimsuits like Kittan and the rest of the clowns from team Dai Gurren. Though when Yoko is getting less attention than Nia she begins to lash out in a fit of jealousy. So, the competition to see who's better kicks off as Yoko tries to show off her strengths, literally, with some volley ball and smash the watermelon.
---
9. Shuffle!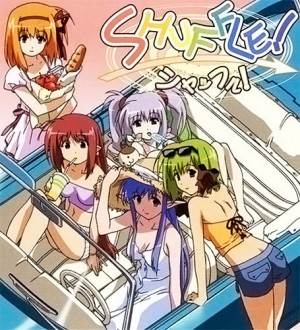 Episodes: 24
Aired: July 2005- January 2006
High school is one of the craziest points of anyone's life. This goes double for Rin Tsuchimi who finds himself torn between countless women that want him in our number nine entry, Shuffle!. Now that I think about it, his high school experience isn't bad. Verbena Academy has allowed gods and demons to join the school after a mysterious gate opened years ago. One day, Rin is given a choice to be king of the gods or the demons by taking on one of the current king's daughters, Sia or Nerine.
Episode nine has Rin and his harem enjoying their summer break at the beach. There's a few things that put this beach on our list. The male reaction to Sia, Nerine, Asa, and the rest of the girls coming out in their swimsuits was hilarious, and the youngest girl, Primula, goes out and builds sandcastles, that get washed away by the tide. The most important factor is the romantic setting at night. The calm water reflecting the light of a pale white moon as Rin and Sia spend the last few hours together in paradise looking into each other's eyes under the stars as they lean in for, what would be, their first kiss. And it would have happened if Rin and Sia's friends weren't peeping on them. Poor Sia can't catch a break.
---
8. Fairy Tail

Episodes: 175
Aired: October 2009- March 2013
The beach can be a magical place for anyone, especially for a powerful mage. Number eight for best anime beach scenes is Fairy Tail. Lucy Heartfilia, an aspiring celestial mage, teams up with Natsu Dragneel when he invites Lucy to join his guild, Fairy Tail. The guild consists of many mages that take on job requests, hone their magic, and enjoy spending time with those they have forged bonds with. Lucy and Natsu, along with Erza, Gray, and Wendy, embark on many adventures that will leave you laughing or crying, sometimes in the same episode.
In episode one-hundred and fifty three, Lucy and Natsu head to the beach for some training, along with others from Fairy Tail. This beach has a lot of fun to offer, like building sand castles and laying out to tan. What really sets this beach apart is the theme park complete with roller coasters and a ferris wheel, which adds on to the excitement. Not to mention the awesome beach side hotel where you can kick back and unwind from a full day spent in the sun. Still, Lucy and Natsu's team still take time to train. Natsu uses the underwater pressure of the ocean to amp up his fire dragon roar. Gray and Juvia use the ocean to focus on control over their magic and the water that surrounds them. Erza takes on sprays from the waves by slashing at water droplets to hone her accuracy, and Lucy uses the peaceful atmosphere to meditate so she can call upon more magic.
---
7. Blue Exorcist (Ao no Exorcist)

Episodes: 25
Aired: April 2011- October 2011
When you go to the beach you typically bring your friends, but it doesn't hurt to have an exorcist in training either. For number seven we give you Blue Exorcist. Rin Okumura is a rebellious teenager who is trying to find his way in life. Too bad his journey leads him to finding out that he is the son of Satan. After turning his father down regarding taking over the human world, Rin decides to become an exorcist to combat Satan's plans. This is where Rin's training begins to control his newfound demon powers with the help of his brother, Yukio.
Episode seven of Blue Exorcist puts Rin on a "mission" that turns out to be working a barbecue stand at the beach. Anyone would take this mission on. This beach has beautiful, calm waters with wildlife like Seagulls enjoying the sun with everyone else. Here you have tourist attractions like Rin's barbecue stand on the actual beach along with other attractions like a lighthouse. There's plenty to enjoy and relax with in this beach scene.
---
6. Love, Chunibyo & Other Delusions: Heart (Chuunibyou Demo Koi ga Shitai! Ren)

Episodes: 12
Aired: January 2014- March 2014
For number six on the list we are going to hit the beach like we are kids again! Up next we have Love, Chunibyo & other Delusions: Heart. The second season to the original Love, Chunibyo & Other Delusions has Yuuta and Rikka living together. Yuuta is having to learn how to date a chunni girlfriend while trying to keep their living situation a secret. Things get a little complex when an old friend of Yuuta's, Sophia, shows up and old feelings begin to come back.
This beach scene was really cool because it takes you back to how you would play on the beach as a kid. Having "sword fights" and pranking friends was definitely on the agenda. This beach scene is also good because it's a bay so the water is calm for tubing, and there's even a food shack on the beach where Yuuta, Rikka, and their friends hang out. During this scene there was also a love rivalry that escalated to a "magic" fight.
---
5. Bokurano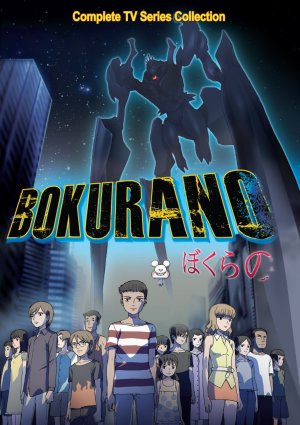 Episodes: 24
Aired: April 2007- September 2007
For number five we've got Bokurano. Takashi Waku and his 14 campmates are hanging out by the ocean when they find a grotto. In the grotto they find a lot of tech and it's creator, Kokopelli. Kokopelli convinces the kids that he is developing a video game, and wants Takashi and his friends to test it out. All of them sign a contract to do so except for one. Next thing you know, Takashi and the 14 other kids wake up on the beach and believe their experience to be a dream.
The beach in Bokurano, in episode one, is awesome because of it's natural setting. This beach is virtually untouched by man so the entire scene is natural. So, this beach is hidden from the world and Takashi and his campmates have it all to themselves. What else could a group of kids ask for but to have their own private beach?
---
4. Another

Episodes: 12
Aired: January 2012- March 2012
Creeping in for number four is none other than Another. Middle schooler Kouichi Sakakibara transfers to class 3-3 at Yomiyama North. While there he finds that there is a dark presence looming over the class. Sakakibara begins to get close to what seems to be the social outcast of the class, Misaki. However, the closer he gets to Misaki the closer Sakakibara gets to knowing exactly what this dark feeling is.
Even dark anime can have their bright moments. In episode eight, Sakakibara and his friends spend time at the beach for some fun in the sun. This beach in particular is stunning with the way it's portrayed. The crystal blue water shimmers in the sunlight, as the thick clouds glide over the horizon. Gentle waves roll in as Sakakibara and Misaki enjoy their time with their friends by swimming, eating watermelon, and playing jokes on each other.
---
3. Nisekoi: False Love (Nisekoi)

Episodes: 20
Aired: January 2014- May 2014
Where's the best place to take the girl you like? The beach of course! That's what we plan to do for number three in Nisekoi. Bonyari High School first-year student Raku Ichijou is completely in love with his long time friend Kosaki Onodera. However, he couldn't get any farther from her when, to stop a war between the Yakuza and the Mob, he gets an arranged marriage to the Mob boss' daughter, Chitoge Kirisaki. To make things worse Raku and Chitoge can't stand each other, yet they have to pull off being the "perfect couple" to prevent their families from fighting.
Episode eighteen had a lot of good points for being so high up on our top ten. The most notable points are the scene and the mood it sets. You already have a beautiful shimmering sea and golden clouds as the sunsets. When the sun's down and the moon is high with this beach scene, it may be the perfect opportunity to get closer to the girl you love. Raku took advantage of this and got to sit with Onodera on the pier under the moonlight. Even being with the girl he loves, Raku still finds himself alongside the ocean with Chitoge. This really is a love triangle.
---
2. Guilty Crown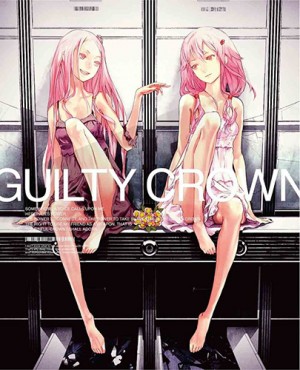 Episodes: 22
Aired: October 2011- March 2012
Let's jump into the future a bit to see what the beach scene will be in a few years. For number two we have Guilty Crown. In the year 2039, Japan has been placed under the rule of the organization GHQ to prevent the spread of the "Apocalypse Virus" that's plagued the country for ten years. Shuu Ouma is a timid individual that is forced into a life as a "terrorist" when he aids Inori Yuzuriha, a member of the group Funeral Parlor. When Shuu gains the King's Power, he has to fight against GHQ and begin to find who he truly is.
This beach scene, in episode 8, is an incredible set up. You have your own personal beach house on the same beach as a high end resort. Clear blue water and white sand in front of you and there's not a care in the world. Then to make things better you have the girl of your dreams with you in this setting. This is paradise at it's finest. Shuu and the members of funeral parlor do take advantage of this scene as a cover up for an operation. See, work can be fun too. Even if it is to break into a top secret GHQ base.
---
1. Expelled from Paradise (Rakuen Tsuihou: Expelled from Paradise)

Episodes: 1
Aired: November 2014
Coming in at number one we finish our list with Expelled from Paradise. When the world as we know it has become uninhabitable where can humanity run? All of life can't be placed in space with the limited resources the Earth has. So, humanity had it's mind digitized and lives in a virtual reality within the space station DEVA. When a hacker on Earth threatens this new way of life, it is up to Angela Balzac to protect the current way of life.
This movie opens up with a very good beach scene. There's the main beach with crystal water and bright sunshine. There's plenty of space for everyone to enjoy themselves to the fullest and really brings a piece of mind. What really makes this the best scene is that since this is a virtual world, you have the capability to create your ideal beach scene. The scene is literally what you make it to be, and the opening scene already has an incredible beach. Just imagine the possibilities from there.
---
Final Thoughts
There was a great lineup for beach scenes, and it was really hard to narrow it down to this list. However, these ten had their own flare to add to the beach which made each of them quite enjoyable.
Let us know your thoughts on our list. Did you agree with the above anime? Is there another anime you think that should be added to the list? Leave a comment below, and remember; alway have fun in the sun.
by Nojaxs
---