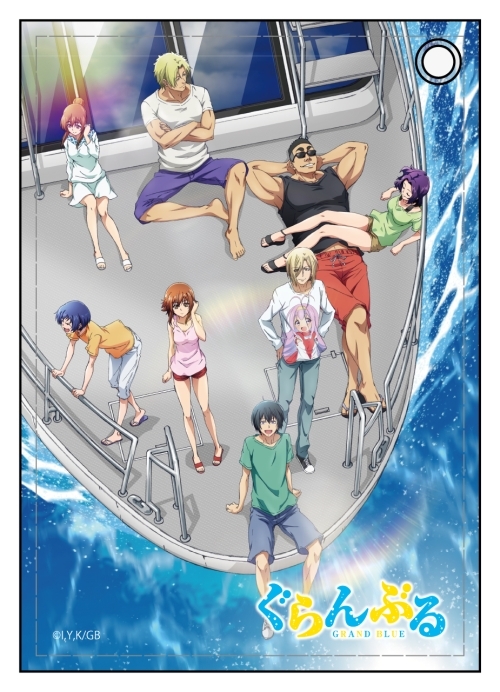 The beach, the ocean, a cool refreshing drink with friends/companions. These are just a few elements we love about summer. During those extremely hot days where we feel like the sun is trying to melt us, we decide to skip the beach and stay indoors. Why stay indoors when the fun waits outside? Simple, folks, so we can enjoy some summertime themed anime which is what this list will provide you with!
5. Ano Natsu de Matteru (Waiting in the Summer)

Episodes: 12
Aired: January 2012 – March 2012
Aside from the beauty of the warmer weather and freedom from school, there's also the chance that the summer will provide some much-needed love. Ano Natsu de Matteru is the perfect summertime anime to see a young man—in this case, Kaito Kirishima—fall for a beautiful girl from outer space named Ichika Takatsuki. As the summer rages on, the two begin to get closer and their romance blossoms before the viewer's eyes. If you're stuck at home trying to avoid the hellish heat of summer, check out Ano Natsu de Matteru to see a beautiful summertime romance flourish, with of course comedy/drama thrown in for good measure.
---
4. Grand Blue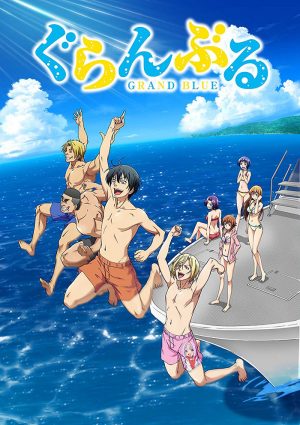 Episodes: 12
Aired: July 2018 – September 2018
Those free from adult responsibilities will treasure the freedom the summer allows. Rather than being stuck in study hall for hours, you can run outside and go on an adventure with friends! Grand Blue is the mental image of what we envision the summer being like. Watch as Iori Kitahara removes himself from the woes of university and ends up pulled into a wild trip with new friends and new acquaintances. Summertime can be liberating, especially in the anime world of Grand Blue.
---
3. Barakamon

Episodes: 12
Aired: July 2014 – September 2014
If the summer isn't about beach life and lazing about in the ocean, then you're probably into exploring hobbies during the summer heat. Barakamon story focuses on Seishuu Handa, a young calligrapher struggling with his passion and ends up on an island that screams endless summertime. Handa finds his passion once again sparked as he enjoys the summer-like environment of the island and even meets some new friends. Anime fans who want a summer-themed comedy anime will fall in love with Barakamon and wish we get a second season.
---
2. Free!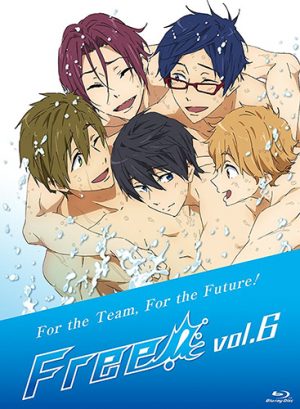 Episodes: 12
Aired: July 2013 – September 2013
Pool parties are incredible during the summer but they can end up quite packed with families and those also on summer vacation. On those days we recommend a pool-themed drama called Free! from Kyoto Animation. Free! dives into the life of a club who wishes to show their swimming skills to the world but face numerous struggles from rivals to personal battles. Many think Free! is geared for ladies but like the beauty of a good pool party, even guys can enjoy this series. Free! is a beautiful animation that captures the elegance of the pool and will make you feel like you're diving into one as well. Minus the crowded public pool populous.
---
1. Keijo!!!!!!!!

Episodes: 12
Aired: October 2016 – December 2016
We hear you anime fans out there, maybe Free! is a bit too guy-centric. Those who want a more laidback pool-themed anime with plenty of fan service—and we mean plenty—will set their sights on Keijo!!!!!!!! In this summertime waifu anime, our girls are battling it out in Olympic sized pools using their oppai and butts to knock their opponents into the water. Yes, Keijo!!!!!!!! Is absolutely ridiculous but if you find yourself not able to stare at swimsuits all day in the 3D world, you can stare to your heart's content here in Keijo!!!!!!!!
---
Final Thoughts
Even the most outgoing otaku will occasionally want to bask in the summer sun and we completely understand that desire. Yet, when the sun is bearing down with its violent rays of heat, you want to be indoors watching anime and remembering it's summertime. Even when the summer ends you might love the shows above as they can keep the summer rolling even when the snow begins to erase your driveways outside. What summer-themed anime do you love? Why not comment below to let us know? For even more summer-themed articles be sure to keep stuck to our AC filled hive here at Honey's Anime!
---