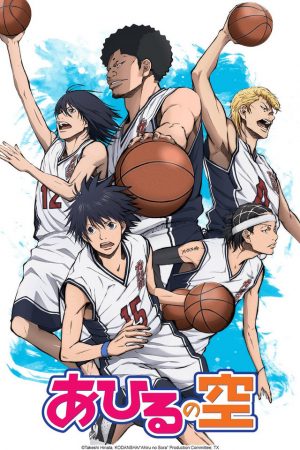 One thing that has always been awesome is the concept of sports in anime. Take the drama and action that comes with anime, plus some amazing characters and character growth and you have yourself some incredibly compelling shows that sometimes don't feel like they get enough attention. This time around, 2019's Ahiru no Sora is the medium's new take on basketball, which isn't something entirely new but given previous experiences with basketball anime and sports anime in general, we're right to expect something that is absolute fire! Enough of that though, we're bringing you 6 anime like Ahiru no Sora – call it a sports anime alley-oop if you'd like. 
Similar Anime to Ahiru no Sora
1. Kuroko no Basuke (Kuroko's Basketball)

Episodes: 25
Aired: April 2012 – September 2012
Teikou Junior High's basketball team is a powerhouse. The strength of the team lay in its starters who were considered miracles of athleticism. Teikou Junior High's championship team eventually graduates and like many great teams of the past split up and go their different ways. Seirin High wants to win a championship of their own and recruits Kagami Taiga, a returnee from the US and Kuroko Tetsuya. Tetsuya is the kind of player who slips under the radar of most scouts but has a stacked stat sheet that shows he's the man that makes plays by getting the stars the ball. Kuroko and Taiga want to help Seirin become the best team in Japan, so they make a promise to mow down any team that gets in their way; however, to do that, they have to defeat some exceptional teams.
Possibly the very first title from recent times that comes to mind when someone mentions the basketball-themed Ahiru no Sora, Kuroko no Basuke is one of the standout sport anime titles of the past decade and with good reason – it's pretty amazing! The similarities here go beyond basketball; however, as both anime feature, main characters with great potential but they begin in an underdog position of some sort.
Kuroko no Basuke PV
---
2.Haikyuu!!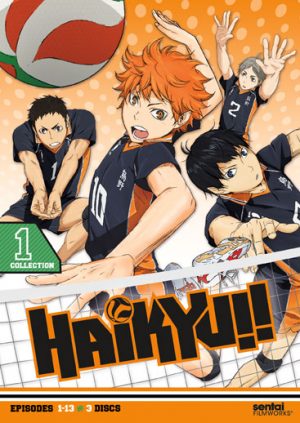 Episodes: 25
Aired: April 2014 – September 2014
Hinata Shoyo dreams of becoming the next "Little Giant", a famous volleyball player who was short in stature, just like him. He works, and works, and works hard to make himself and his middle school volleyball the best they can be and even make it into a tournament. Hinata and his middle school team are brutally dismantled by the larger more talented team lead by Kageyama Tobio. The embarrassing defeat lights a fire in Hinata to one day defeat Kageyama. A twist comes when the small kid with the big dreams ends up on the same high school team as his rival. Can Hinata earn Kageyama's respect with his athletics and sheer will? And will Kageyama learn that even at 162.8 cm you can be a giant.
Like Ahiru no Sora, Haikyuu! presents the viewer with an underdog protagonist – in both shows, the main character experiences a height disadvantage that makes them seemingly ill-suited for the sport they'd like to play. However, both shows also have main characters who are compelled to become great in their respective sports and work extremely hard in order to achieve their goals.
Haikyuu!! Trailer
---
3.Slam Dunk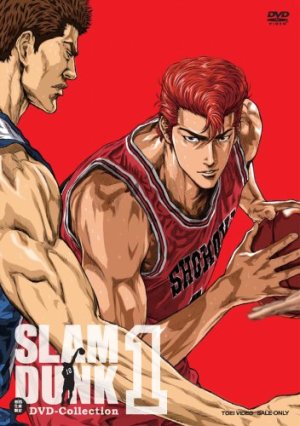 Episodes: 101
Aired: October 1993 – March 1996
Sakuragi Hanamichi is delinquent known for his height, size, and temper. Yet, the tough guy wants to change his rep now that he is entering high school. He like a lot of high school guys wants to be popular with the ladies. So, when a girl named Akagi Haruko comes up to him and asks him if he likes basketball, a sport he loathes by the way, he says yes. The two run off to the gym where she encourages him to show off and asks if he can dunk the ball. He with all the confidence in the world tries to dunk the ball but jumps so high he slams his face into the backboard. Hanamichi's ability quickly reaches the ears of the basketball captain and the new reputation he wants is born on the hardwood.
The one known classic title on this list, Inoue Takehiko's Slam Dunk has done a lot for the sports anime as a sub-genre. The main similarity between Ahiru no Sora and Slam Dunk is most obviously the fact that they are both basketball anime that feature main characters who are somewhat disadvantaged when it comes to the sport. Hanamichi begins with very little skill while Sora is forced to overcome a physical deficit if he ever hopes to become a success.
---
Any Anime Like Ahiru no Sora?
4.Hinomaru Zumou (Hinomaru Sumo)

Episodes: 24
Aired: October 2018 – March 2019
Professional sumo is an intense sport where anyone willing to push their boundaries can step into the ring. There may not be any weight classes but there is a minimum size requirement and Ushio Hinomaru doesn't meet that requirement despite his hard work. He dreams of one day becoming the highest sumo class, the Hinoshita Kaisan. He has only one path to professional sumo is if he becomes the high school Yokozuna, the strongest wrestler in the high school tournaments. Ushio is feeling the pressure as he has only one window to show off his skills or else, he'll never be able to go pro. Instead of going to the strong sumo school Ishigami High, he enrolls at Odachi High, where he has to build the sumo club from the ground up if he wants to have any chance at becoming a professional sumo wrestler. 
 
Yet again, we're shown a sports anime where the main focus is a diminutive protagonist who will stop at nothing to become great at their favorite sport. The other similarity between the two series is the fact that both main characters are put into a situation where they have to build their respective schools' sports clubs in order to have an actual competitive edge in the greater sporting community of which they are a part.  
Hinomaru Zumou PV
---
5.Baby Steps

Episodes: 25
Aired: April 2014 – September 2014
An honor student's life isn't always easy. The hours of study Maruo Eiichiro has to commit in order to stay at the top of his class aren't always easy to keep up. He also understand that you can go mad sitting inside all day studying. The studious Eiichiro happens across a flyer for the tennis club and decides to join. His hopes are that tennis gives him a chance to relieve some stress from studying as well as getting some exercise. A first year named Takasaki Natsu, who dreams of going pro, takes him under her wing to improve his skills at tennis one baby step at a time.
Baby Steps and Ahiru no Sora have one major similarity: a devoted main character. Much like Sora, Maruo stops at nothing to improve his tennis game; however, unlike Sora, Maruo is surrounded by people who have an intense love for the sport that they play.
Baby Steps Trailer
---
6.Hanebado!

Episodes: 13
Aired: July 2018 – October 2018
Athletes, especially successful ones expect to keep on winning and when they don't the feeling can be overwhelming. Aragaki Nagisa felt a combination of shame and frustration when she lost 21-0 at the National Junior Badminton Tournament. She takes out that very frustration on the other members of the club causing them to leave or give up the sport. The club is a coached by a former talented Olympic hopeful who wants to make the team and Nagisa better players. He goes about recruiting Hanasaki Ayano the very girl that wiped the floor with Nagisa. The only problem is getting Ayano to play badminton again after leaving the sport and the mental scars from her years of practice behind.
Hanebado and Ahiru no Sora have different dynamics as far as the main character goes; however, there is a common denominator in the way in which the series has characters who have lost their love for the game that they play, for various reasons. Hanebado's Nagisa and Ahiru no Sora's Sora are similar in the way in which they put everything into the game; however, Sora being the catalyst for a basketball resurgence at his high school can be likened to the impact Hanesaki Ayano has on the badminton club at Kitakomachi High.
Hanebado! PV
---
Final Thoughts
Ahiru no Sora is an exciting new entry to the sports anime realm and comes in as yet another great addition to 2019's anime catalog. With comedy, intensity and an inspiring protagonist, Ahiru no Sora is definitely something one can get addicted to! Are there any other anime like Ahiru no Sora you think would be great on this list? Drop a comment below and tell us all about them!
---