También puedes leer este artículo en:Español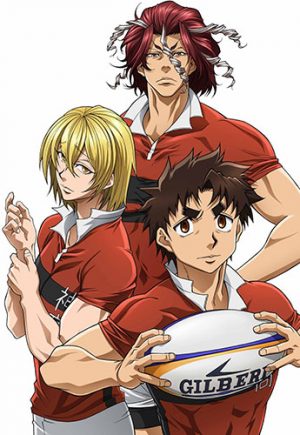 There's a genre of anime capable of keeping his watchers glued to the screen until its very end. It's capable of giving people the strongest emotions and the will to fight with all strength to achieve goals, even when they seem to be impossible to reach. "Rise and fight till your final breath" is the motto of this kind of anime, best known in Japan as spokon, that inspired generations and generations of young people to prove themselves and try to cross their personal boundaries. Indeed, everyone who watched All Out!!, one of the most popular series of the recent times, learnt that limits don't exist, that they are only in people's head, and that physical features can't be an excuse to give up before even trying.
The All Out!! team definitely is not made up of pumped-up heroes, who crush their opponents with fabulous performances. They are, indeed, the overweight Hachiouji, the pretty dull Iwashimizu, and the shorty Gion, with captain Sekizan being the sole valuable element. So, what's the key for their success? Well, the spirit of self-sacrifice and a severe training regimen surely are important, but it's teamplay what really makes them able to win also the hardest competitions. If all members of a team are connected and play together supporting each other's performance, that's when the magic happens. Because, by counting on mates' support, everyone can become the star of the ground!
If you're searching for some anime like All Out!! that will teach you what teamplay means in all aspects, then you are in the right place! Here's a list of 6 anime similar to All Out!!
Similar Anime to All Out!!
1. Diamond no Ace (Ace of Diamond)

Episodes: 75
Aired: October 2013 – March 2015
Let's start with the most popular team sport in Japan. It's so popular that it's considered one of its national sports. If you have no idea of what we're talking about, then you should definitely give Diamond no Ace a try, especially if you like stories about baseball!
Diamond no Ace is about pitcher Eijun Sawamura's adventure, who after being defeated at the final middle school baseball tournament, swears to himself he's going to reach the nationals with his new high school team. But his life is going to change completely after a talent scout, fascinated by Eijun's unique pitching style, invites him to Tōkyō to join the prestigious Seidō High School team. Life is hard for Eijun on the new team: surrounded by real champions, he'll have to give his best to prove worthy and find his place among aces.
Gion in All Out!!, who's completely inexperienced and fairly mistrusted by Sekizan in the beginning, is much like Eijun in Diamond no Ace who demonstrates he's not trying to step on his mates' toes. But his solitary struggle, just like Gion's, will come to an end as soon as his initiation test is passed. From that moment on, in fact, they'll all become the reason for him to become great. As both All Out!! and Diamond no Ace taught us, once the trust of your teammates is won and you become one with them, then you're invincible and able to overcome also the hardest battles.
---
2. Free! (Free! – Iwatobi Swim Club)

Episodes: 12
Aired: July 2013 – September 2013
When we talk about "teamplay", no anime better that Free! can explain what relying on your mates truly means. Free! is, indeed, Haruka Nanase's story, a high school student who's fond of water and swimming. In elementary school, together with his childhood friends Makoto Tachibana, Nagisa Hazuki, and Rin Matsuoka, he took part to a relay race. His team was able to win, but after that, all its members went their separate ways. Except for Rin, they met again in high school, but Haruka claims he has given up swimming competitively. Maybe, the reason lies in Rin's sudden change: he now seems to hate his old relay mates and is obsessed with proving himself better than Haruka. The traumatic reunion won't stop Nagisa and Makoto from starting a swimming club anyway. Thanks to their support and with Rei Ryuugazakiìs help, Haruka will finally understand what's really important to him and what the real meaning of "friendship" is.
As for Iwashimizu, Haruka has a traumatic past too, that stops him from doing what he truly desires. But in Free!, just like in All Out!!, mates are there to help Haruka find out his own path and what swimming mean for him. Teamplay isn't a simple matter of playing together to make a miracle happen, but it's something deeper, that has to do with feelings and emotions. Teammates must be your best friends first, the ones who understand you the most, so that they can become your strength and help you to overcome all of your weaknesses.
---
3. Haikyuu!!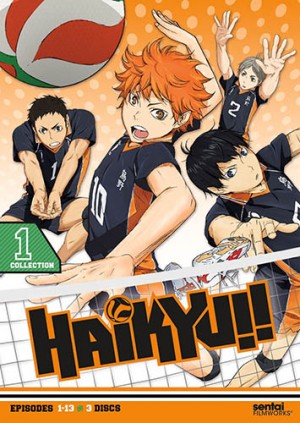 Episodes: 25
Aired: April 2014 – September 2014
Shōyō Hinata is an enthusiastic and very short middle school student who, inspired by small-statured "Little Giant", a volleyball ace, is determined to get his team to victory. But determination itself isn't enough if you lack experience and your mates have already given up, so Hinata needs to prepare himself for a big disappointment. Defeated by "King of Court" Tobio Kageyama's team, Hinata will have to wait for high school to make his dream come true, but… he didn't expect to end up in Kageyama's same team.
In Haikyuu!!, the similarities with All Out!! goes from the exclamation marks in the title to main characters Hinata and Gion! Both short, selfish, and in the beginning, the only thing they can think about is being the stars and improving themselves. But one thing that would definitely not work for a team, especially if it aims to become the nation's top, is selfishness. Not only Hinata and Gion, but also Kageyama will have to learn what makes you a winner is, first of all, a complete connection with your teammates.
For a spokon fan, but most of all for an All Out!! fan, Haikyuu!! is an anime that can't absolutely be missed!
Haikyu!! - Official Trailer
---
Any Anime Like All Out!! ?
4. Kuroko no Basket (Kuroko's Basketball)

Episodes: 25
Aired: April 2012 – September 2012
Kuroko no Basket follows the adventures of Seirin High School team and, in particular, Taiga Kagami. Kagami is a promising player who trained for a long time in the US, but once he comes back to Japan, he feels like Japanese basketball isn't that interesting anymore. He decides to join the basketball club anyway, and there's where he meets Tetsuya Kuroko, an ordinary student who lacks presence and is incapable to score any points. It'll be Kuroko who gives Kagami a new objective, making with him the promise to defeat all players with godlike abilities from "The Generation of Miracles".
Who said basketball is a one man show? Kuroko thinks differently, this is why he parted from his junior high team, known as "The Generation of Miracles". Kuroko resembles Hachiouji from All Out!! in his way to perceive mates and the game, basketball isn't meant to show yourself off or be individualistic, but to be played in a perfect connection with all the members of your team.
Searching for a story about the same sacred importance All Out!! characters give to teamplay and friendship? Then, don't waste time and watch Kuroko no Basket now!
---
5. Yowamushi Pedal

Episodes: 38
Aired: October 2013 – July 2014
Do you need to look big, scary and muscular to be a genius? Here's another anime like All Out!! that teach the viewers that appearance doesn't count, because everyone who's strong willed, undergoes a hard training regimen, and is able to fix his own weaknesses to become the better version of himself can be a winner. Sakamichi Onoda is a high school student who has a huge passion for anime, manga and for Akihabara. Onoda lives in Chiba prefecture, that's pretty far away from his loved Akihabara, but that has never discouraged him; indeed, he rides there every weekend on his dear Mamachari, a bicycle actually meant for short-distance trips. While Onoda happily rides around the city, he doesn't go unnoticed by Shunsuke Imaizumi and Shokichi Naruko, two cyclists from his high school. Despite his slender body, Onoda seems to be very skilled with bicycles, so they'll torment him until he'll join the high school team.
As All Out!! fans was surely able to get, Onoda is a mix of Gion and Iwashimizu, being both not particularly fitted or willing to join the club. But his mates will be able to make him aware of his talent as a cyclist and to bring out the best of him. This is exactly the same as the main characters in All Out!!. Yowamushi Pedal is one of the greatest examples when it comes to mates' support and team-play. If you like the can-do atmosphere in All Out!!, you NEED to give Yowamushi Pedal a try!
---
6. Yuri!!! On ICE

Episodes: Unknown
Aired: October 2016 – December 2016
Lately, the universe is getting more and more variegated, and it's giving us meaning to the word "teamplay" we were never able to think about before. In All Out!! we saw a group of teenagers becoming each other's coach and supporter. However, when you lack in self-confidence, as in Iwashimizu's case, you need something more than a pat on your back to find that spark in yourself which'll make you capable of overcoming the hardest obstacles.
This is what happens to Yuri Katsuki, a professional ice skater who was last at the Grand Prix Finale, the most important competition in figure skating, though he worked out like crazy to be on top. Defeated both physically and mentally, Yuri decides to give up skating and devote himself to study. One year later, he's a fat graduate who doesn't know what to do with his life. To clear his head, Yuri goes to skate at his former ice rink, where he performs one of his idol Viktor Nikiforov's choreography, without knowing he's being filmed. His video goes viral and reaches Viktor himself who, certain of Yuri's talent, offers to train him for the next Grand Prix Finale.
Yuri!!! on ICE, just as All Out!!, is a story about a team, but not in its conventional shape. Viktor isn't older than Yuri, but he acts as his coach, being more experienced than him. But they're, to all intents and purposes, a team, because without Viktor connecting with Yuri, reaching out to him, giving him strength, just as his team does for a lost Iwashimizu, Yuri's miracle would never happen. All Out!! fans probably liked that Kanagawa High School team members needed each other to stand up and fight, exactly as Yuri needs Viktor to stay positive and skate the best.. So, if you're looking for an anime about that mental connection that's able to give birth to the best teamplay ever, don't miss Yuri!!! on ICE, or you'll regret it!
---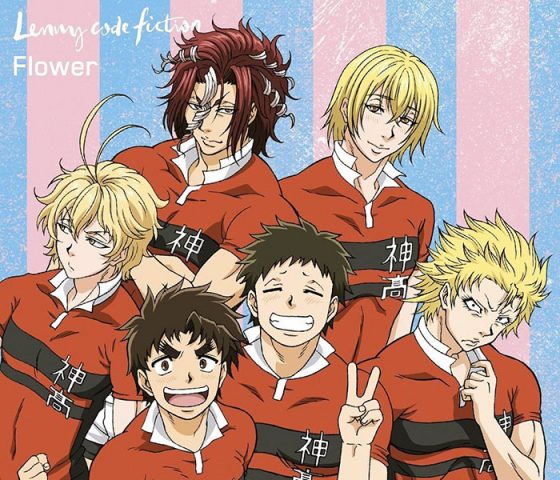 Final Thoughts
Sacrifice, hardship, wins and losses: that's what the world of sports competition is. There are more behind an athlete's performance than the performance itself, and it's a whole life made both of privation and dedication, where your teammates, the only ones that can really understand you and how much you've tried, represent your strong points. And anime as DAYS, Yowapeda, Haikyuu!!, and of course All Out!!, through their characters' journey, are able to show us what lies under the magic of sporting events.
Did you like the list? Do you agree with us? Tell us your opinion by leaving a comment below! See you on the next article!
---