También puedes leer este artículo en:Español
The definition of romance is - a feeling of excitement and mystery associated with love. Now that you know this, you should also know that many fans of this series have experienced such excitement from this omnibus story-telling staple, known as Amagami SS. Here is what you should know.
The journey that Junichi Tachibana takes is similar to the visual novel, which this anime is based off of. The video game was released on the PlayStation 2 in Japan on March 19 2009. It bears the same name and it follows an omnibus format, in which each of the six females Junichi meets will have their own storyline and arcs allotted to their own episodes.
Like most romance anime, there is going to be ups and downs in the feelings department. There'll be some main heroines you dislike rightfully, and there should be some that you take a liking to. It's all a matter of taste but there should be enough there for everyone. At the conclusion of this anime you will hopefully have made a decision on who you would like Junichi to be with. For some, you might have concluded that within the first ten episodes.
It's an anime format that isn't for everyone but for the ones that are searching for shows likes this one. Here are 6 anime that are similar to Amagami SS:
Similar Anime to Amagami SS
1. Photokano (Photo Kano)

Episodes: 13
Aired: Apr. 2013 – Jun. 2013
As you might have gathered from the title, this is about a mild-mannered teenager named Kazuya Maeda and his camera. As his uneventful summer break comes to an end he receives a gift. What he received was that aforementioned camera. The prospect of gaining that camera was intriguing to say the least for him because photography happens to be an interest of his.
While in his possession he snaps a "trial" photo session with his younger sister Kanon. Needless to say, he wanted to continue photography within a school club. He receives a couple of offers from clubs. This is where things pick up and it would lead to some highly regarded decisions for young Kazuya.
This anime fits in the same category as Amagami SS because of its romantic visual novel influence. The omnibus route it takes, as the audience tries to come up with their own choices on what female he should be with by its conclusion.
Photo Kano Anime Trailer
---
2. Amnesia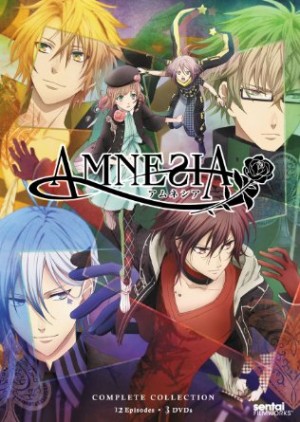 Episodes: 12
Aired: Jan. 2013 – Mar. 2013
This visual novel was also made into an anime and its similarities are apparent to Amagami SS. They both highly rely on romantic match-making; however the difference is that in this case it's a heroine meeting many different males. It's a reverse harem if you will.
The story is about this shy and clumsy heroine who awakens one morning, only to find that all her memories are gone. Amnesia is nothing to joke about, what a frightening situation to be in. All she has left are notes, numbers and names of people that she doesn't recall ever adding to her phone. Oh and one other thing, a boy named Orion who shows up on the scene to assist her.
With the guidance of this unknown character, she has to try and piece everything back together in her life. Needless to say, it's not an enviable task. As the story progresses she starts to meet guys that she may or may not have had a past with. It ultimately leads to several different character arcs throughout the anime that might excite the viewers.
Anime "AMNESIA" PV (AGF2012 public version)
---
3. Koitabi: True Tours Nanto

Episodes: 6
Aired: Apr. 2013
The feelings are real in this romantic short animation. It's comprised of six episodes telling three different love stories. All are compelling stories and have a different tale to tell. The three couples were all bonded by love, but are played out quite differently. It's sweet, sometimes funny and heart wrenching at times.
The first story has Youji and Chiaki's five-year relationship put into jeopardy from an announcement made by Youji. The next story involves childhood friends Aoi and Haruki, who come across new feelings from a triggered event. Lastly, Takumi meets this girl named Natsuko at a ski lift on the mountain in Nanto, and he develops feelings for her quickly.
Clocking in at roughly seven minutes per episode it almost felt like an extra-long trailer. Sadly, it was such a short anime but the three stories did an exceptional job in that time frame. Whether or not you were affected by all three or just one of them, it left a strong impression on us.
Koitabi: True Tours Nanto - PV
---
Any Anime Like Amagami SS ?
4. Koi to Senkyo to Chocolate (Love, Election and Chocolate)

Episodes: 12
Aired: Jul. 2012 – Sep. 2012
Just like many of the others on this list, this also was based off a visual novel that was released in Japan on October 29, 2010 for PC. Koi Senkyo to Chocolate has the high school romance; it has the drama and the comedy that you come to expect from this style of anime.
The main character Yuki Ojima you might say is a slacker. He joined the Food Research Club as a way to satisfy his extra-curricular activities. It's far from the strains of other more active clubs and it enabled him to do as little as possible. All is well and good, until he finds out that a new candidate is running for student council president and she plans on abolishing the club. How does he combat that? Run against her, in a struggle to keep his precious club around.
This has some of the makings of being yet another Amagami SS to a degree. There is a lot of tongue-in-cheek humor that goes along with this one. The main difference is the story arc doesn't "reset" after the main character meets up with all the different ladies involved. It's a fun-filled, romantic-comedy, which should get you on a number of levels.
Koi to Senkyo to Chocolate Anime Trailer
---
5. Kono Aozora ni Yakusoku wo

Episodes: 13
Aired: Apr. 2007 – Jun. 2007
Kono Aozora ni Yakusoki wo brings the heavy nature of the harem genre to the table. You can expect to see the usual suspects, from the comedy and romance genres as well. It's based off the 2006 visual novel on the PC, which was later ported to the PS2 in 2007.
The series starts off with the main character Wataru Hoshino waking up and finding an unknown female sleeping in nothing but her pink underwear, in his room no less. She wakes up only to punch him in the face and then escape out his window. What a great start to his day eh? We later find out that the girl goes by the name of Rinna Sawaki. She is a new transfer student who now lives in Wataru's dormitory.
One of the major companies on the island had an aviation cancellation which now leaves the four females Wataru is living with only a years' time before they have to leave. Knowing this Rinna doesn't want to be friends with them because of the inevitable separation they will encounter. Wataru, has other plans. The school romance and the comedy do share some parallels to Amagami SS.
[Licons] [OP] Kono Aozora Ni Yakusoku Wo
---
6. Kami nomi zo Shiru Sekai (The World God Only Knows)

Episodes: 12
Aired: Oct. 2010 – Dec. 2010
This anime is the second one on our list that doesn't get it source material from a visual novel; it comes straight from a manga. Keima Katsuragi is a self-proclaimed "God of Conquest" online with dating-sim games. He accepts a request to prove his title and worth by unknowing helping this demon from hell Elucia.
He is now shackled to this demon via the deadly collar he's wearing around his neck, he now has no choice but to help her return the evil spirits back to hell. How does he have to go about that you ask? Well, he now has to put all his gaming to the test against real-life females and "conquer" their hearts.
Like in Amagami SS this story follows the omnibus pattern of following Keima's adventure with one of the girls and then hitting the "reset button" and starting over with another adventure with a different lady. The romance and comedy are strong in this one and it comes complete with the entire ensemble of your prototypical cast of personalities. Those include such characters like the sporty one, the tsundere and an introvert to name a few. What differs in this anime is the added supernatural element that we haven't seen much of on this list.
The World God Only Knows - Official Trailer
---
With the diversity of females offered in Amagami SS, there's little to believe that you wouldn't naturally gravitate to one of them. They all were so unique with different traits and personalities. Sae Nakata stuck out to us for her shy and well-developed physical nature.
If you mix comedy and uneasy situations with some proper romance and sprinkle in some heartbreak, you will get a perfect concoction for all of these anime mentioned above. If that intrigues you, go ahead and give them a shot, you may find a gem amongst them.
Please don't hesitate to let us know if there were some omissions to this list or tell us which heroine from Amagami SS you liked the best in the comments section below.
---