There's a plethora of reasons why fans like anime. Lovable characters, headbang-worthy opening themes, unforeseeable plot twists - the list goes on and on. But as fans, how often do we stop, think and appreciate what goes on behind the scenes. More importantly, how often do we think about the people who make the anime we have grown to love and cherish?
Bakuman. demonstrates all of the values that make a great anime while serving as a constant reminder of the time, energy and dedication that real-world mangaka commit to. By throwing the supernatural and god-like abilities out the window, what is left is a story that is still thrilling and enticing, but also inspiring to anyone who's ever had to overcome adversity.
Without further adieu, here are 6 anime like Bakuman. for you to fall in love with.
Similar Anime to Bakuman.
Similar Anime to Bakuman.
1. Gekkan Shoujo Nozaki-kun (Monthly Girls' Nozaki-kun)

Episodes: 12
Aired: July 2014 – September 2014
Gekkan Shoujo Nozaki-kun opens as a typical story of unrequited, high school love – girl likes boy, girl professes her love, boy tosses her aside with an autograph, and the two begin to collaborate on a manga together. Perhaps the latter half of that sentence isn't quite as relatable (or believable) as the former, but it's a representative of the hilarity that ensues throughout the course of the anime. As you follow Chiyo Sakura on her never-ending quest for the love of the titular Umetaro Nazuki; you will find yourself laughing, face palming, and ultimately rooting for her success.
The ratio between story and comedy are mirrored between this and Bakuman.. While Bakuman.'s story-driven plot is sprinkled with instances of comedic relief, Gekkan Shoujo Nozaki-kun's light-hearted nature is at the forefront of its charm. Despite this, both anime demonstrate the underappreciated effort real-world mangaka put forward in order to produce their works. If you want a sweeter, more comedic take on Bakuman.., look no further.
[PV] "Monthly girls Nozaki-kun" animated decision PV ver.1.5
---
2. Sakurasou no Pet na Kanojo (The Pet Girl of Sakurasou)

Episodes: 24
Aired: October 2012 – March 2013
Have you ever seen a stray animal so cute that you wanted to do nothing more but take care of it as if it were your own flesh and blood? No? What about seven, cute stray animals? These are the exact events that set the story of Sakurasou no Pet na Kanojo into motion. Second-year student, Sorata Kanda, finds himself struggling to get accustomed to his new dorm mates after being kicked out for smuggling cats into his old residence. In his quest to return back to the safety of his old dorm, Sorata finds himself in situations that test the limits of his shy personality, resistance to love and value of friendship.
Sakurasou no Pet na Kanojo invokes the same traits that make the characters of Bakuman. so great and memorable. Through the bonds of love, friendship and with a lot of hard work, the characters in both works elicit the power of comradery and perseverance to the viewer. While Bakuman. focuses on the life of becoming a successful mangaka, Sakurasou no Pet na Kanojo, explores other art forms in addition to the aforementioned. Nevertheless, we are left with an anime that is just as inspiring.
[PV] TV anime "of Sakura Zhuang pet her" promotional video 2nd
---
3. Barakamon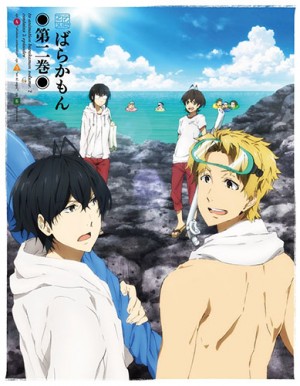 Episodes: 12
Aired: July 2014 – September 2014
Whoever said that violence never solved anything clearly didn't tell Seishuu Handa. Barakamon follows the story of this young and talented but slightly arrogant calligrapher. After having his work insulted by an elderly, exhibition curator; Seishuu returns the blow to his ego with a blow to the elder's face. As punishment for his actions, Seishuu travels to the Goto Islands of Kyushu to reflect and re-evaluate his choices. However, those plans fall through after meeting the energetic, clingy villagers – atypical of what one would normally expect when visiting the rural side of the country. Despite the odds, Seishuu's experience in the village brings him closer and closer to perfecting his craft, as well as aiding him in his own self-growth.
The main characters of Bakuman. and Barakamon have similar ideals – both are equally talented in the respective art forms that define them as people. However, the similarities between the characters stop there. While Bakuman.'s themes of friendship and love are a major driving point for its large cast of characters, Barakamon is largely focused on its one main character on his path to self-discovery. Furthermore, Seishuu's arrogant and cocky attitude on life serves as a stark contrast to many of the characters found in Bakuman.. As such, Barakamon serves as a nice compliment to the shounen qualities that make Bakuman., while being just as inspiring.
Barakamon PV 3rd [Barakamon]
---
Any Animes Like Bakuman. ?
4. Shirobako

Episodes: 24
Aired: October 2014 – March 2015
There's nothing worse than working at a job that you hate. In the case of Aoi Miyamori – not only is her job stressful and time-consuming, it also has diminished her love for her most cherished pastime. Shirobako follows Aoi and her 5 best friends – Ema Yasuhar, Shizuka Sakaki, Misa Todo, and Midori Imai – as they come to realize the struggle of making their high school dreams a reality as adults. While they have all done their best to get their feet into the doors of the animation industry, it still feels insufficient. Thus, the story unfolds as these 5 friends hope to finally release their own, professionally-made anime.
Like those that preceded it on this list, the similarities between Shirobako and Bakuman. are obvious. Both revolve around a group of friends trying to make it big in the Japanese entertainment industry – Bakuman. is to manga as Shirobako is to anime. While Shirobako lacks the romantic elements that make Bakuman. memorable, it makes up for it with its realistic depiction of post-graduate hardships.
TV anime "SHIROBAKO" C87 public PV
---
5. Beck (Beck: Mongolian Chop Squad)

Episodes: 26
Aired: October 2004 – March 2005
If you were one of the many people who fell into the Guitar Hero/Rock Band craze from almost 10 years ago (or perhaps its recent attempt to become relevant again), then you remember how fun it was to jam out with your friends into the wee hours of the night. Now just imagine what it'd be like to part of a real rock band – one that is just gaining traction and has the potential to be a global success. Beck tells the story of Yukio "Koyuki" Tanaka and how he, through a strange unfolding of events, somehow becomes the newest member of an American rock band. With that much fame and fortune however, Koyuki and his friend Ryusuke are put into situations that push their strength, willpower and friendship to the limit.
Beck differentiates itself on this list by straying away from the Japanese art forms of manga and anime production in favor of Western centric music. Nevertheless, the main themes and values remain largely the same to those found in Bakuman.. Mirroring the friendship between Moritaka and Akito, Koyuki needed Ryusuke to give new meaning to his otherwise uneventful and boring life. For these reasons alone, any fan of Bakuman. should be a fan of Beck.
Beck: Mongolian Chop Squad -Trailer
---
6. Uchuu Kyoudai (Space Brothers)

Episodes: 99
Aired: April 2012 – March 2014
Uchuu Kyoudai is a tale of (space) epic proportions. One night in the summer of 2006, brothers Mutta and Hibito Nanba see a UFO fly off towards the moon. So what would a normal pair of brothers do after seeing such a spectacle? Make a pact to become astronauts and go to the moon and Mars respectively, that's what. Almost 20 years later, only one of the brothers held up to their agreement. While Hibito is training to be the first Japanese astronaut to go on a lunar landing mission, Mutta is busy getting fired for head butting Zidane-style circa the 2006 FIFA World Cup Final. However, things change for the better when Hibito steps in to give his older brother the push he needs to achieve his dreams.
Uchuu Kyoudai goes one step further and adds familial ties to the mix in addition to the common themes of friendship and romantic love seen in the other recommendations. What remains the same is a character that is going through a depressing life-hurdle – one that can only be overcome by a significant other who must reignite the blown out fire from within them. While it may seem hard to compare manga production with space travel, Uchuu Kyoudai is a must-see for not only Bakuman. fans, but for fans of great storytelling.
Space Brothers Anime Trailer (English Subbed)
---
Conclusion
At its core, Bakuman. was a story of perseverance, bravery, and how they are strengthened when surrounded by friends and loved ones. While its use of manga creation as a central plot device isn't always relatable (especially to those who live outside of Japan), anyone and everyone can relate to the ordeals of achieving one's lifelong goals and dreams.
If you were left at the end of Bakuman. yearning for more, you will not be disappointed by any of the anime already listed. And if you are, just don't punch or head-butt me like some of the guys mentioned above.
by Alex Argyrides
---