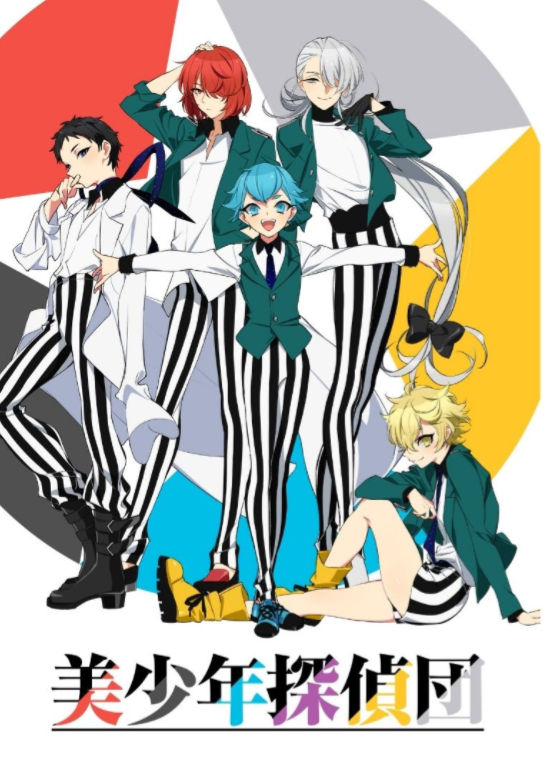 Bishounen Tanteidan (Pretty Boy Detective Club) is a NISIOISIN x Shaft anime—if you are familiar with their work, their credentials are enough to make you pick it up. NISIOISIN's narrative style is an acquired taste, but many swear by it. It's lengthy, wordy, and purposefully obtuse, while the animation includes a healthy dose of fanservice and genderbending. We picked six anime with reverse harem elements, long dialogues, philosophical undertones (or not), mystery, coming of age stories set in a school, and of course, pretty boys. Let's take a look!
Similar Anime to Bishounen Tanteidan / Similar Anime to Pretty Boy Detective Club
1. Ouran Koukou Host Club (Ouran High School Host Club)

Episodes: 26
Aired: April 2006 - September 2006
Haruhi comes from a humble background and gains a scholarship to attend Ouran Academy, an elite school for the rich. Due to an accident, she ends up owing a hefty amount to the school's Host Club, a group consisting of the most sought-after guys of Ouran Academy. Thanks to her masculine looks, Haruhi becomes a member of the Host Club and works towards repaying her debt.
We welcome nostalgia with Ouran! This is the anime series that first came to mind when we read the synopsis for Pretty Boys Detective Club. The mystery element is lacking, but it ticks several other boxes, such as rich school kids, a boys-only club, a crossdressing female lead, reverse harem, and wacky humor that breaks the fourth wall. All the boys stand for a specific stereotype, playing a role to entertain their customers, from the mischievous twins to the princely Tamaki, much like the detective bishounen. Both anime are very aware of the tropes they're playing into which is refreshing!
Ouran High School Host Club Trailer
---
2. Bakemonogatari

Episodes: 15
Aired: July 2009 - June 2010
Koyomi Araragi survives a vampire attack which leaves him with special skills, such as fast healing and night sight. He crosses paths with classmate Hitagi, who weighs very little due to an incurable disease and decides to help out this super tsundere girl. Koyomi can help those with supernatural diseases and Hitagi's case is just the beginning.
Bakemonogatari is a well-known series that has reached cult status, spanning several different iterations. Based on the light novels written by NISIOISIN, Bakemonogatari shares a very similar dialogue style to Pretty Boy Detective Club. The main cast includes attractive girls that get help from Koyomi to solve the mystery behind their supernatural diseases. There is a veneer of lightness, due to the attractive character designs, but each character is quite complex. Bakemonogatari's main argument is between rationality and idealism, while Pretty Boy Detective Club deals with the nature of beauty and aestheticism.
Bakemonogatari Trailer
---
3. Hyouka

Episodes: 22
Aired: April 2012 - September 2012
Houtarou Oreki spends day after day in school lazy and bored until he joins the Classics Club where he comes across Eru Chitanda, an easily excitable girl with endless curiosity. Chitanda is the president of the Classics Club and is obsessed with solving mysteries! Oreki can't resist Chitanda's charm and from an apathetic guy, he turns into a devoted detective, like the beloved Sherlock Holmes books read in the Classics Club.
High schoolers solving mysteries and referencing classic literature, need we say more? Hyouka, like Pretty Boys Detective Club, serves several short arcs revolving around a specific mystery. The club members' roles are pretty set, Oreki deduces like Sherlock Holmes, and Chitanda investigates. There's also an evolving romantic dynamic between the main duo, adding a sweet tone to this exciting coming-of-age anime series.
Hyouka PV
---
Any Anime Like Pretty Boy Detective Club / Any Anime Like Bishounen Tanteidan ?
4. Chuubyou Gekihatsu Boy (Outburst Dreamer Boys)

Episodes: 11
Aired: October 2019 - December 2019
Outburst Dreamer Boys invites us to take a peek into the Hero Club. The members of this club are affected by different types of Chuunibyou, or grandiose delusions influencing teenagers. Yamato Noda is an athletic hero, Kazuhiro Nakamura says he is the reincarnation of "Touga Ryushouin", half demon and half angel, Tomoki Takashima is an otaku obsessed with 2D girls, and Rei Tsukumo is a schemer extraordinaire. The sole girl member Mizuki Hijiri is not going to have the calm high school experience she was hoping for…
Another title with a school club involving boys with distinct abilities, poking fun at anime tropes! Outburst Dreamer Boys is a series with frenetic energy and rich with moments of hilarity. Poking fun at the reverse harem, isekai, and other popular genres, Outburst Dreamer Boys is a lively anime with a cast of self-involved teenage boys and one girl!
Chuubyou Gekihatsu Boy PV
---
5. Yamato Nadeshiko Shichihenge♥ (The Wallflower)

Episodes: 25
Aired: October 2006 - March 2007
Sunako looks like real-life Sadako from The Ring, with long black hair, bangs that cover her eyes, and pale skin. She loves creepy things and lives in her aunt's mansion along with her favorite skeletons. The tenants of the mansion are a bunch of extremely beautiful guys, Kyouhei who looks like a j-rock star, Ranmaru an attractive womanizer, Takenaga a serene beauty, and Yukinojo a cute youthful guy. The guys take it upon themselves to turn Sunako into a "lady" according to her aunt's wishes.
The Wallflower is such a fun, over-the-top comedy! It's a bit vintage by now but really, the temperamental humor holds up really well. Again, a school-life anime with a reverse harem dynamic, The Wallflower is unique in its character design, thanks to the recognizable style of creator Tomoko Hayakawa and akin to Yazawa's Nana of the same era. You will recognize the strife over beauty and attractiveness here too, while the team of bishounen try and fail to reform Sunako from her commitment to the creepiness.
The Wallflower Trailer
---
6. Princess Princess

Episodes: 12
Aired: April 2006 - June 2006
Tooru is a new student at a prestigious all-boys school. He doesn't know that his school has a weird tradition of picking the prettiest first years to play the role of Princess, much like an idol, to boost the students' morale. Tooru is picked for his good looks, and he soon meets Mikoto and Yuujirou, the two other Princesses. Together they work to do their best in their unconventional circumstances.
The 2000s were a good time for anime with bishounen. We've got the recipe to success and all fangirls' dream, pretty boys in an all-boys school and a weird tradition that involves cross-dressing. Needless to say, the setting invites a lot of opportunities for BL fangirling! Princess Princess focuses on beauty and good looks, as well as not just looking beautiful but also acting in a dignified manner, like Manabu the pretty boys' leader loves to remind us. This is for the Bishounen Tanteidan fans that wish there were more BL moments in this season's anime.
---
Final Thoughts
So there you have them, six anime that are similar to Pretty Boy Detective Club! From lengthy dialogues with a deeper meaning to bishounen galore, and from cross-dressing cuties to mystery-filled plots, we've got it all. Have you watched any of our recommendations? Which anime picked your interest? Let us know in the comments below and thanks for reading!
---