También puedes leer este artículo en:Español
Black Bullet is a pretty good anime in a post-apocalyptic setting where some agents have to fight against monsters with help of Cursed Children, who are hated by most of the population. This show is full of action, comedy and has some dark moments with some acts of discrimination. With this altogether, makes the anime really interesting.
So, if you liked this show and you don't know what to watch after seeing it, you should check out the list of recommendations below! The 6 anime mentioned are all interesting and similar to Black Bullet in a lot of ways, so don't hesitate!
Enjoy!
Similar Anime to Black Bullet
1. Guilty Crown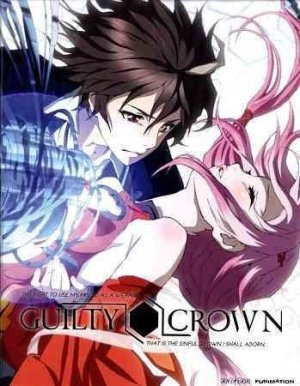 Episodes: 22
Aired: Oct 2011 – Mar 2012
In 2039, Japan is under the control of a coalition. Ten years ago, the country was mostly exterminated by a pandemic, but the country was able to rise up again thanks to other foreign countries. The country is now in fear of the Anti Bodies organization, who's goal is to eradicate the remaining virus by imposing its power with impunity.
Shû Oma, who is a high school student, meets a female member of a resistant group who is also the vocalist for a music band. Shû already knew about her and wanted to help her during a certain situation. He ends up in the middle of a fight, which he acquires a rare capacity named, Void Genome, that allows him to use weapons from a persons heart. Because of this, Shû finds himself joining the resistance.
In both shows, there is a strange disease which leads its victims to death or to be changed into monsters. The topic of discrimination is also strong in the two anime and the ambiance is pretty ch the same as well. Moreover, Guilty Crown and Black Bullet have in common is a duo of main characters who fight together.
Guilty Crown – Official Trailer
---
2. Hidan No Aria (Aria the Scarlet Ammo)

Episodes: 12
Aired: Apr 2011 – Jul 2011
Toyama Kinji is a student of the Butei High School, an institution specialized in forming mercenaries. No one knows, but Kinji has a peculiar ability which transforms him into an ace killer when turned on by a woman. After being involved in a bomb attack, he meets Aria H. Kanzaki and finds himself teaming up with her to accomplish some missions.
In both anime, we have guns and/or sword fighting, though the supernatural aspect is more present in Black Bullet. The main character duo is also similar and brings the same atmosphere. This show is also full of comedy and humour; well-mixed with the action to the story.
TV Anime "Aria the Scarlet Ammo AA" PV Vol.1
---
3. Machine-Doll wa Kizutsukanai (Unbreakable Machine-Doll)

Episodes: 12
Aired: Oct 2013 – Dec 2013
In the 20th century, Machine Magic (aka Machinart), is an advanced system of magic, allowing to instill life and a personality in a puppet to control it. These puppets are used by the army to accomplish missions.
Akabane Raijin is a Japanese puppeteer, followed by his puppet Yaya, he left his home country to attend the Royal Academy in order to be the best puppeteer of the world. In this academy, puppeteers are fighting each others with their partners.
In both Machin-Doll and Black Bullet, we have the same discrimination towards the main character's partner because the girl is not exactly human or because of her differences. Both shows are similar because of their ambiance and there is a lot of humour and comedy in the two anime. The girl is crazy for her partner in both shows, so you will probably like Machine-Doll as much as Black Bullet.
[PV] TV anime "exquisite contrivance girl (machine Doll) does not hurt the" PV 2nd
---
Any Animes Like Black Bullet?
4. Plastic Memories

Episodes: 13
Aired: Apr 2015 – Jun 2015
Because he failed the school entrance exam, Mizugaki Tsukasa finds himself introduce to the SIA Corporation, thanks to his father's influence. The SIA Corporation is famous for their production of androids called Giftias, who have human feelings. Tsukasa is full of hope to work for this company.
Unfortunately, he is assigned to the Terminal Service Department, the smallest service which is charged with recovering the androids after their expiration. From now on, in order to do his job, Tsukasa will team with Isla, a Giftia whose only mission was to serve tea in the service.
In both Machin-Doll and Black Bullet, we have the same relationship between the two main characters, with the girl not being exactly human but looking like one. The setting is not exactly the same and there are no fighting scenes, but this is a very moving show in the same futuristic aspect with a lot of comedy and sadness.
Plastic Memories- PV
---
5. Gunslinger Girl

Episodes: 13
Aired: Oct 2003 – Feb 2004
In Italia, the Social Welfare Agency visits some hospitals to retrieve sick or injured little girls in order to give them another life. After a specific surgery, the girls' bodies are artificially modified and trained to become assassins to take care of some dirty work for the Italian Government. Each girl, still humans in heart, are under the care of an agent.
In Gunslinger Girl, the girls are brainwashed and because of the surgery, aren't exactly humans anymore. So, this aspect is similar with Black Bullet where the girls are seen as not being human because of their genes. The fighting aspect of guns is also pretty similar and the girls are under the care of another person. However, the ambiance is more mature in Gunslinger Girl but that's why the show is interesting.
---
6. Chrome Shelled Regios

Episodes: 24
Aired: Jan 2009 – Jun 2009
In a post-apocalyptic world, human kind is living in large mobile cities and have to learn how to use the power of Kei to defend themselves against large mutated monsters.
Layfon Alseif left his past behind him in order to live a normal life in an academy in the city of Zuellni. But because of his abilities, he is noticed by Nina Antalk, captain of the 17th Military Arts Platoon, and will enroll in her division, even though he didn't plan on joining the Military Arts.
Both shows have a post-apocalyptic setting and there are also monsters who attack mankind. In Chrome, there is also this supernatural aspect with action and some dark moments which you can also find in Black Bullet. If you liked Black Bullet, you should like this show as well.
TV Anime "Chrome Shelled Regios" trailer ~CHROME SHELLED REGIOS~ PV
---
That is all for our recommendations list!
Do you agree with it? Of course, we could mention other shows that are similar to Black Bullet, like Owari no Seraph or Attack on Titan, but we wanted to shed light on other series not mentioned or known by others. So, if you would like to mention another anime similar to Black Bullet, don't hesitate to let us know!
---