Saving the world from the apocalypse is a very cliché storyline used in countless anime. Blassreiter is one that stands out in the crowd. Taking place in modern Germany, Joseph Jobson is faced with an outbreak of demonic blood that can merge with technology to create unstoppable weapons of destruction, known as Demoniacs. Joseph, who happens to be infected, has one trait that makes him stand out from the rest of the violent beasts. He has full control over his powers. Able to transform at a moment's notice, it's up to Joseph to fight back and reign over the rest of the Demoniacs and become known as the Blassreiter.
Filled with drama and action-packed sci-fi themes, Blassreiter is an anime that offers more than one can chew per arc. If you're looking to get pumped up and ready to root nonstop for more vicious brutality, look no further as we discuss six similar anime that are worth the watch!
Similar Anime to Blassreiter
1. Devilman: Crybaby

Episodes: 10
Aired: Jan 5, 2018
Devilman: Crybaby is an anime that does not shy away from making a bloody entrance with ripped flesh. A faithful adaptation of Go Nagai's ordinal Devilman, it stays faithful as to what is drawn on the panels. As the world is under attacked by a race of deadly demons, Ryo asks the help of his pure-hearted friend Akira to defeat the army of evil.
Akira merges together with the devil, Amon, to become the Devilman. Gaining tremendous power to fight against the demons. Akira may now have the body of a devil, but he still possesses the heart of a human, which becomes an important weapon in the war against demons.
Protagonists in both anime, Akira and Joseph, are misunderstood humans that struggle to fit in. Fighting their own kind to save humanity, they gain the ability to transform into indestructible monsters to protect those that they deem worth saving. Plus, they're both action-packed anime and filled to the brim with tons of gore. If you enjoy one, you will enjoy the other for the brutal fight scenes!
Devilman: Crybaby Trailer [HD]
---
2. Darker Than Black: Kuro no Keiyakusha (Darker Than Black)

Episodes: 25
Aired: Apr 6, 2007 to Sep 28, 2007
Studio Bones knows how to wrap together the dark and suspenseful sensation of the unknown. Plunging you straight into a world full of mystery, you are narrated throughout a sequence of stories that overlap one another. With the appearance of Heaven's Gate in South America and Hell's Gate in Japan, no one has any idea as to what lies beyond the gates. People who possessed certain special abilities emerged alongside with the gates, who are known as Contractors. In exchange for their powers, they lack human emotions.
Following the story of a Contractor known as Hei, who performs various tasks for the Syndicate of Tokyo. As Hei may be lacking human emotion, he's on the search for finding the truth of what's beyond the gates and the fate of his sister after a non-stop war that's fought in the shadows of society.
Sharing strong dark themes, Darker Than Black seems to be the older brother of Blassreiter. Having the drive and need to find out more about the past of both protagonists lives, that objective only becomes more evident as both characters continue to fight for a common goal, to protect and survive. As slow of a build up at the start, it may take a bit to get hooked on the story, but they equally leave you wondering what could possibly befall on the characters. They may even keep you wondering what it truly means to be human because it sure kept us reflecting on it many times!
Darker Than Black: Kuro no Keiyakusha PV
---
3. Fullmetal Alchemist: Brotherhood

Episodes: 64
Aired: Apr 5, 2009 to Jul 4, 2010
Fullmetal Alchemist: Brotherhood focuses on the journey of brothers Edward and Alphonse Elric. A journey that began with human transmutation, the forbidden act of alchemy, which Edward and Alphonse paid the price for. With their unique ability to form weaponry through the art of alchemy, they both work together to track down the mysterious Philosopher's Stone.
Brotherhood is a much more faithful adaptation of the original Fullmetal Alchemist manga. With minimal fillers and a more in-depth story. As Edward and Alphonse join the military, they soon discover something much more mysterious than the Philosopher's Stone. As you begin your adventure with the Elric brothers, you'll quickly be enticed by the many lovable characters met throughout their expedition. Even with its dark tone, Brotherhood is an anime that's comedically fun to watch!
On the surface, Fullmetal Alchemist: Brotherhood and Blassreiter may not seem like they have very much in common at first sight but as you dive deeper into the story, you may come to find that they're not that far off from one another. Both set in an alternate reality of Europe, Joseph and Elric find out that they're handling much more than they can bite. Both make great use of editing and visual amplification to establish an otherworldly but relatable tone to their stories. Christianity proves to be one of many compelling reasons both characters are pressured to find out the truth of what lies behind the organizations trying to stop them.
Fullmetal Alchemist: Brotherhood Trailer
---
Any Anime Like Blassreiter?
4. Bungou Stray Dogs

Episodes: 12
Aired: Apr 7, 2016 to Jun 23, 2016
Are you into the supernatural? Have a thirst for mystery and uncovering the truth? Here at Honey's Anime, we hunger for uncovering the truth! If that's a resounding 'Yes!', you'll fall in love with Bungou Stray Dogs. Adapted from the popular manga of the same title, studio Bones masterfully delivers this adaptation with a beautiful shine that brings the animation to life.
Following the story of Nakaima Atsushi, an orphan that was kicked out of his orphanage. He and the members of the Armed Detective Agency team, who possess supernatural powers are tasked to deal with cases that happen to be too dangerous for the police. With many relatable characters, it's hard not to find yourself bursting in laughter! As heavy as it may be with its dark tones, it's packed full of surprises just waiting to be uncovered.
Despite the plot of both series diverging away from each other, they connect through the collaboration of both main characters who endeavor to find out the truth. Fighting to solve their darkest mysteries while surviving in a world that's out to tear them apart if they're not careful with the powers they possess. Atsushi is kicked from the orphanage and is trying to survive just like Joseph, who was adopted by the church as a child. Both characters are tasked with a job that no one else has the capability to take as they move forward in a world that's not willing to accept them, they each have to pave their own rightful path in life.
Bungou Stray Dogs Trailer
---
5. Towa no Quon (Towanoquon: The Ephemeral Petala)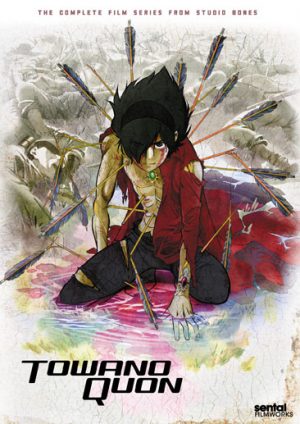 Episodes: 1
Aired: Jun 18, 2011 to Nov 26, 2011
The story follows a boy named Quon, who finds out of the existence of the Attractors, which are human beings with supernatural powers. The Attractors are being hunted down by a secret organization called Custos, and it's up to Quon to save all Attractors. Towa no Quon, follows Quon along with a unique group of Attractors as they defend their utopia and defeat the secret organization. A tale that clearly separates good and evil may be a bit cliched, but its plot and characters leave more to be desired as the series progresses.
Much like Blassreiter, a notorious organization brawls to the world's end to dispose of these monsters that have emerged in a world that's not willing to comprehend the unknown. In Blassreiter, one must be infected to have such remarkable abilities as opposed to Towa no Quon, where one is born with these abilities. This allows Chris and Joseph being able to control their powers and battle to defend what's right in their hearts.
Towa no Quon Trailer
---
6. Ajin (Ajin: Demi-Human)

Episodes: 13
Aired: Jan 16, 2016 to Apr 9, 2016
Fascinating yet strange monsters known as Ajin were discovered in Africa 17 years ago. These creatures were quickly labeled as dangerous due to their strange powers and immortality. One cannot know if they're an Ajin or a normal human until a situation arises where they're killed. Known across the world to be considered violent, the intellectual Kei Nagai finds himself to be an Ajin after a tragic accident with a truck left him with another chance at life. Now on the run from the government in fear of being captured for intentions unbeknownst of, Kei will soon enter a war among humans and Ajin who wish to be treated like humans.
Struggling with morality is a subject that appears often in both Ajin and Blassreiter. With the intentions of both organizations saying one thing in both series, we see that the underbelly of them is not so clear as they may seem to be. Driving Kei to struggle with the realization of being an Ajin but he soon realizes that more of his own kind may be closer to him. As he quickly forms together an alliance with other Ajin to vanquish those threatening their existence, Joseph in Blassreiter falls into the same endeavor. With both series accompanied with their extensive use of CGI, it doesn't become just an annoying gimmick but creates a blend that adds a striking punch to the animation and stunning action scenes.
Ajin: Demi-Human Trailer
---
---
Final Thoughts
At first glance, Blassreiter belongs with the rest of the dark sci-fi anime franchises but as you plunge further into the rabbit hole, Blassreiter shines like a bright light in a dark pit. A fantastic gateway to satisfy your hunger for action and drama, there are plenty more anime than those listed here that you can feast your eyes on! Have any suggestions? Share your thoughts and let us know in the comments below!
by Chris Clear